Lark and Owl: Your New Favorite Bookstore and Study Spot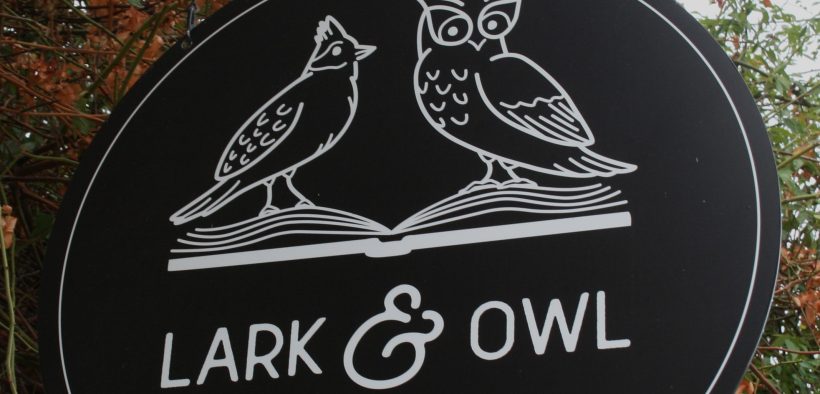 The first thing you'll see when you walk into Lark and Owl is a warm smile. As your eyes shift from the friendly employees, you discover a whimsical world of books, merchandise, plants, and more. This isn't your typical bookstore. Whether you're a student seeking a new study spot, a little kid discovering the magic of books for the first time, or a parent learning to nurture their inner child, Lark and Owl is sure to bring you joy.
Lark and Owl is currently open from 10 a.m. to 3 p.m. from Monday through Wednesday and 10 a.m. to 7 p.m. the rest of the week. However, they hope to shift back to daily 10 a.m. to 7 p.m. hours in October.
The dream for Lark and Owl became a reality with the ten women who founded it, each contributing their unique skill set. From what started as a small book club, grew to the size of a business. Now, Lark and Owl has three owners and executive managers – Misty Adair, Rachael Jonrowe, and Jane Estes.
Lark and Owl opened in April of 2019, completing their first year as a business just before the pandemic hit. Although they are still adapting, much of their normal vision has been set back on track.
The mission of Lark and Owl is community and inclusivity oriented, as it offers community-driven events. There are monthly late night events, each with a different theme. This Saturday, September 23, from 5 p.m. to 9 p.m., Lark and Owl is manifesting fall by lowering the AC and serving cozy autumn drinks. Other upcoming events include a Jekyll and Hyde musical preview and Halloween "Spooky Soiree." All events can be found on their website and eventbrite. For a weekly update on events, you can subscribe to their newsletter.
Also on September 23, there will be a raffle event, where everybody who is entered has the chance to win a $250 gift certificate to the bistro. There are multiple ways to enter, including tagging them on social media.
Lark and Owl provides a safe space that is open-minded and welcoming to all. According to owner Misty Adair, Lark and Owl encourages conversation that can't be held anywhere else. There is a blend of serious conversation and witty humor.
"I just think the feel of the store is different from anything else in Georgetown. It appeals to certain people," Adair said. "If you walk in and you're like 'this is my vibe,' then you're our people, and you should be hanging out here."
Customers can choose from the curated selection of books, ranging from popular books to more independent bookstore books. Lark and Owl has a diverse selection of children's, YA, fiction, romance, mystery, fantasy, sci-fi, and nonfiction books and more. Currently, the most popular genres are romance and horror.
Blind date with a book is another fun activity that customers can participate in. For those willing to go beyond their comfort zone and not judge a book by its cover, they can buy one of these. These books are hand-selected, wrapped and hidden in paper, and labeled with clues or tropes. The purpose of blind date with a book is to bring focus to books that may usually go unnoticed.
The staff also has a tradition of writing "shelf-talkers," or placards that recommend books to customers. Many of these notes are witty and lighthearted, some even decorated with small drawings. Occasionally, customers can even write a shelf talker themself.
With the hot issue of banning books, Lark and Owl has dedicated itself to sharing all perspectives, educating individuals, and promoting banned books. The goal is to bring more visibility to them.
"We don't mind facing controversy, to a certain extent. We figured out that as a bookstore, you have to do that," Adair said. "There's actually a long history of independent bookstores having to kind of be the voice for the community and leading the charge on controversial issues."
Students can get involved in a variety of ways. Lark and Owl hosts different book clubs frequently, as well as author events. Recently, Ali Hazelwood, a popular romance author, spoke at an author event at Lark and Owl. There are also author events that showcase local authors. Bigger author events are held offsite, while smaller events are held in the bookstore itself.
If you're interested in working for Lark and Owl, they accept applications online all the time. Hiring season usually aligns with fall and the start of school.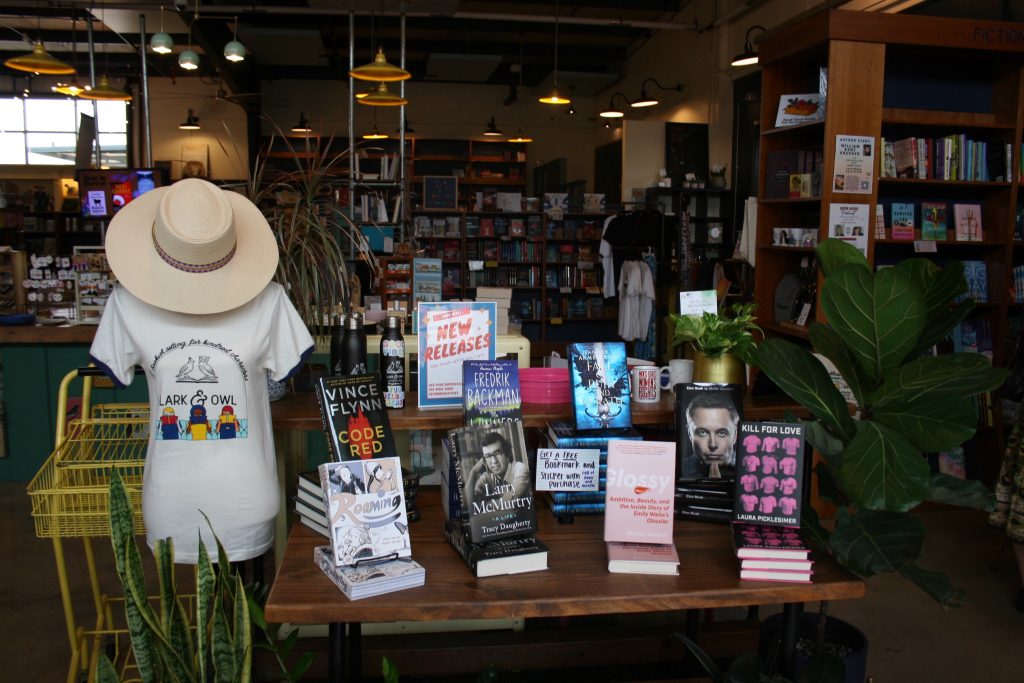 Lark and Owl also sells a variety of merchandise, from Lark and Owl branded items to wacky, unique gifts from outside vendors. Most of the items are supplied by indie, women, LGBTQ+, and minority-owned businesses. The goal is to give these companies a platform, while also selling merchandise that other stores wouldn't. The merchandise stays on brand for Lark and Owl – bookish and making a statement about pop culture. From t-shirts to tote bags to stickers, Lark and Owl has it all.
You may even notice that a lot of the merchandise has a slogan on it, or is even covered by a card with this slogan – "just a little sweary." Originally, this phrase simply served as a disclaimer to customers for content with swear words. However, it stuck as a brilliant marketing strategy. Now, many of the stickers and t-shirts proudly display "just a little sweary" to entertain customers.
The in-store bistro, Alouette Bistro, provides a calming and motivating environment for students to study. The perfect pairing with a book is a good coffee or tea, along with some kind of pastry or snack. From soups to flatbread pizzas to their famous Chocolate Cheddar Brownie, everything on the menu is made in-house, from scratch, and fresh.
For now, the Georgetown location houses the one and only Lark and Owl in the nation. However, the business could eventually franchise other stores, extend to a publishing arm, or form a literacy-based non-profit.
At heart, the store is a space to reconnect with your inner child and make discoveries. There is a sense of wonder and magic at Lark and Owl.
"We are your home away from home," Adair said. "I know that students can get a bit isolated on campus, so if you want to extend into the community and find something new, then we're your place. There's so much that students can take part in here."
Be sure to follow Lark and Owl on Instagram and Facebook!