Pirate Football Returns!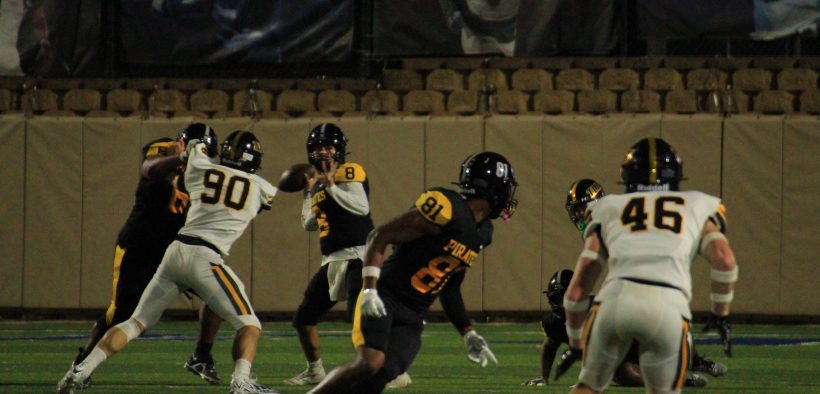 Written by Vedant Polepally
The crowd was electric, the field was hot, and the players were pumped. Last Saturday, September 9th, the Southwestern Pirates butted heads with the Texas Lutheran University Bulldogs. After a beautiful National Anthem recital, and the accompanying SU Cheer team, the Pirates' first home game went right into action.
From the start, the game was a definitional gridiron; with neither team relenting, helmets crashed and turf flew. Eventually, the Bulldogs scored the first points of the game with a 1 yard running touchdown from Jacob Forton, followed by a good extra point by Joaquin Rodrigu.
This slow crawl was short lived as TLU had different plans. After their initial touchdown, the Bulldogs' Set Cosme went on to score two more touchdowns before the end of the half: Following a Pirate fumble, Cosme ran 6 yards for a touchdown; and with less than a minute on the clock, he ran another 8 yards for a second touchdown, leading Bulldogs 21-0 against the Pirates.
Despite the disappointing scoreboard, the crowd cheered on and the players kept on giving their all. When asked about his insight into the game, Coach Bishop commented that "staying positive, staying the course, making less mistakes…[and] keeping a cool head" were the most important.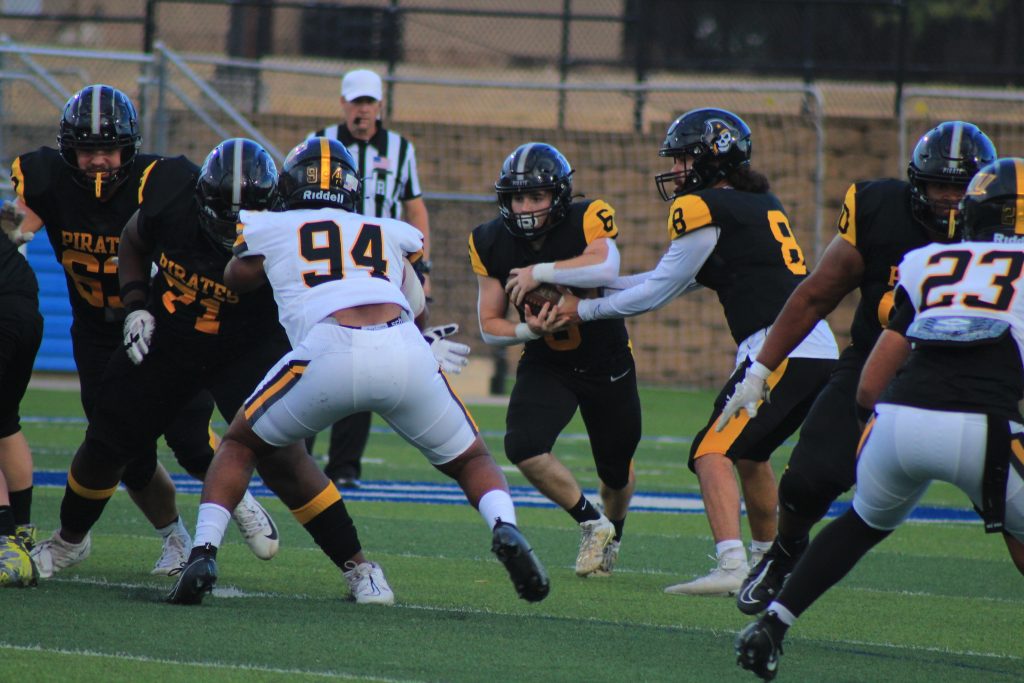 Coming into the second half, some changes came into play: the Pirates played more aggressively on both sides of the ball, Jaylen Spriggs saw the ball more as QB, and the offensive line tightened their formation. This reinvigoration is highlighted by Damian Gomez's 10 yard passing touchdown to #83 Coleman Robertson, evading two direct defenders with his fancy feet.
While the Pirates worked hard regaining their grip, through Robertson's touchdown, there were not enough minutes left in the game to further close the gap. As Brandon Jennings remarked, it is "hard to win with seven turnovers." Jennings was a visiting running back for the class of 2020. The Bulldogs' Cosme and Forton went on to score two more touchdowns, while Rodrigu scored 3 more points with a 17 yard field goal.
Although the game ended with a score of 7-39, the Pirate pride never let down. Throughout the entire game, the hundreds of spectators and cheer team shared their support and love for their team. One such member, Aniston Lovetinsky from the SU Cheer team, could not hold her excitement: "Never back down. Never what? Never give up!"
With many hours to practice and hone their skills, the Southwestern Pirates will return blazing this Saturday, September 23, against the Birmingham-Southern Panthers.
We, the students, believe in you Pirates!