Constant Updates on the Burger Spectacle: Ed Spotting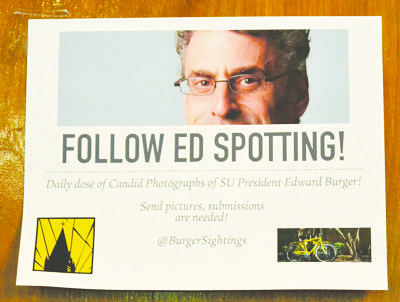 Photo by Natalie Young
By: Aiden Steinle
"If you spot him…"
This is the tagline for Ed Spotting, a Twitter account that posts candid pictures of Southwestern's President Edward Burger. The account has quickly amassed over a hundred followers (among them, Burger himself) in just a few weeks.
The account's popularity stems largely from first-year students. Among the students interviewed for this piece, nearly all who were aware of the account were first-years.
"At first, I thought it was a little ridiculous," first-year Darwin Johnson said. "But now I think it's hilarious."
Ed Spotting has also gained attention among some of the faculty. Many professors are unsurprised by the account and think it is very reflective of Southwestern's small-town culture.
"Dr. Burger is larger than life," assistant professor of Computer Science Chad Stolper said. "I think that there would be a Twitter account in which he is larger than life."
President Burger himself is amused by the account. While he is surprised that the novelty hasn't worn off yet, he is flattered by the enthusiasm of the students.
"I was impressed by the creative and clever energy put forth to engage students," President Burger said. "I also appreciate the underlying respectful and supportive nature of the tweets, as well as the quirky school spirit."
This account may be new, but the idea isn't. A few years ago, a Facebook page took submissions for pictures of President Burger. This fascination with the President stems from his involvement with the student body.
"Compared with other liberal arts colleges, Dr. Burger is unusually focused on spending time with students," professor of Political Science Eric Selbin said. "If students think it's fun, then I agree with it."
This is how many students feel as well. According to first year Aidan Buck, the personability of the president is very unusual.
"It's an excellent way to show the humility of the university's president," Buck said. "In most colleges the president isn't out and about so much. It's very personal."
The creators of the account said that they represent the student body. They also wished to remain anonymous, as they believe that it makes the experience more fun.
"We think the account is made to have fun, and to bring us together as a collective," the account management said. "Burger was just the perfect person to unite the community over something silly."
Where some might be irritated by the unusual attention, President Burger embraces it, saying it is well-intended and positive.
"Every once in awhile, someone posts a decent picture of me," President Burger said. "I must confess that a couple of times, on those rare occasions, I have even texted a copy of the picture to my mother. So even she has enjoyed these antics from afar."
However, this type of account is often short-lived. While it likely won't become a fixture of the Southwestern community, the account is enjoyable for as long as it lasts.
"It's not hurting anybody, but things like this usually come in waves," senior Emily Moore said. "The people running the account will get bored or forget that they're running it."
Until then, we can continue to enjoy pictures of our President in quirky situations.