Kevin Young Visits Southwestern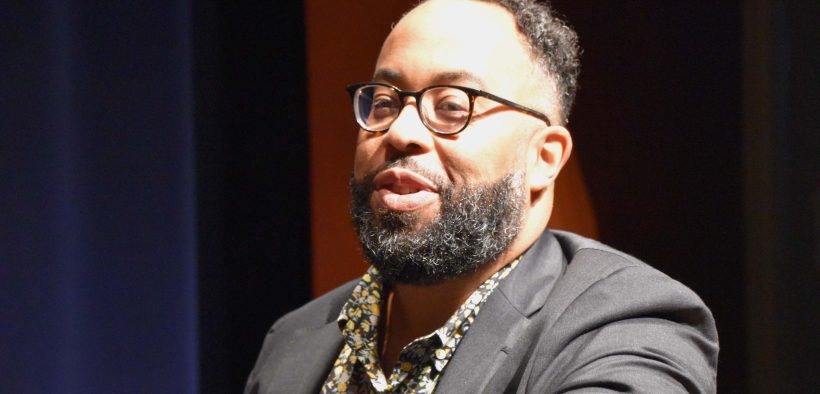 On October 13, 2023, scholar Kevin Young gave a talk entitled "The History of Poetry & The Poetry of History," as part of the biennial Roy and Margaret Shilling Lecture series.
Kevin Young is a prolific writer, having written fifteen books of poetry and prose as well as serving as the poetry editor for the New Yorker Magazine. His work ranges nonfiction (Bunk: The Rise of Hoaxes, Humbug, Plagiarists, Phonies, Post-Facts, and Fake News), to deeply personal poetry, such as his poetry book Stones, which focuses on themes of family, grief, the American South, and how they constitute his history.
The evening began with a greeting from President Trombley, and an introduction by Dr. Michael Saenger. Saenger described a recent English department event in which students ooh-ed, ahh-ed, and hmm-ed as they read Young's poetry aloud. He listed Young's many, many achievements, and invited Young to take the stage.
Young greeted the audience, emphasizing the statement piece of his outfit: a maroon fedora, which he told the audience not to forget. He began by discussing the ways that poetry and history interact—how metaphor makes meaning, how we recognize ourself in poetry, and how the things we read come to construct our own personal histories. Robinson Crusoe and Gulliver's Travels weaved together with stories of moving from New York to "the sun" (Kansas). Young took the audience through comics, english textbooks, old readers' digests, and hymns. The transitions from his poetry readings (Aunties, Brown) to his own were effortless, as his speech took a naturally poetic rhythm.
Next, Young turned to the construction of history through literature and curation. He described his time archiving his mentor's many papers. Through this process, he learned more about this man than anyone had ever known. He prepared a compilation of this work, and realized the charge of a curator/writer: What is most important? Curators and writers choose what will be remembered. Young describes the job as part editor, part archivist, part onlooker, and part snoop. He asked the audience to think about how our stories in history have been chosen, and what has been left out.
Lastly, Young turned to poetry as a vessel, specifically how African American history has been carried across space and has been hidden. He spoke of Phyllis Weatley and her oceanic poetry, allowing for histories of slave ships to be formed. Poetries are vessels for stories of vessels—vessels for history and community. He described David Drake, an enslaved man who sculpted poetry into his clay work. Young referenced the physicality of history repeatedly through his lecture, from physical papers to literally carving history into stone. Additionally, he spoke of Zora Neale Hurston's poem Barracoon, which told the story of the last survivor of the middle passage. Both of these vessels were hidden in archives for years, again asking the audience to consider the curation of histories. Archives keep things and histories safe, but also hide them.
To round out the lecture, Young read his poem Skeleton Key as a tribute to his grandmother who recently turned 100 years old. As he concluded, he left the audience with thoughts of histories, hidden and curated and constructed through the things people create.
After the lecture, there was a brief Q and A session with students McKenzie Rentie and Natalie Gonzales. These students had been training for this opportunity with Professor Eileen Cleere, and their efforts showed. Young was very impressed with their questions, and had to think before answering each one. One such question referenced his book Bunk, asking about the significance of what young has coined the Phantom Black Man. His improvised answers were as eloquent as his written lecture, with just as much wit and charisma. This section was cut slightly short, but only because these questions and Young's answers were so complex and interesting.
The lecture was followed by a book signing and reception on the Smith Library Center patios.
Through his lecture, it is clear that Young is a very intelligent and reflective person, who naturally speaks in poems. His words were eloquent without trying to be, and the lecture flowed casually from one topic to the next. A highlight of his talk were his multiple poetry readings. He has the ability to capture the essence of a poem and project it as if he is experiencing its content. The oohs, ahhs, and hmms described by Dr. Saenger were certainly present in the Alma Thomas Theatre as these readings were weaved into his speech as easily as they were weaved into the histories he described. This lecture will be remembered for Young's maroon fedora, his easy and profound way of speaking, and the question of how our histories and poems are constructed.