Cozy Up With a Book as the Fall Season Ends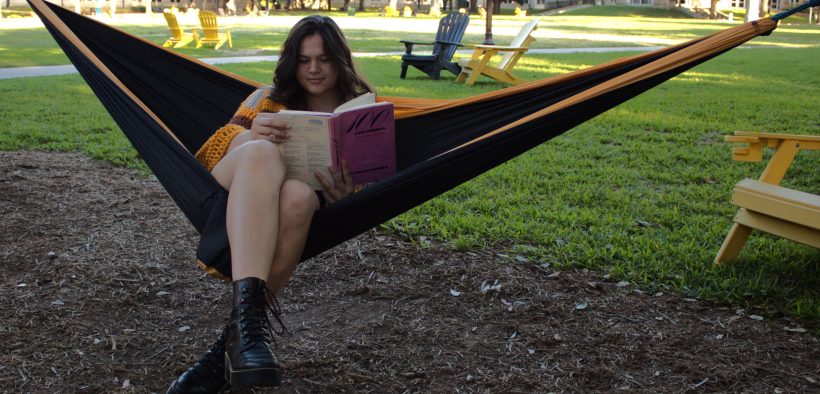 November has begun; it's time to enjoy the last month of fall before December closes in! The best way to enjoy the lovely autumn wind is through curling up with a life-transforming novel–although I might be biased. This eclectic collection of fall-reads explores modern struggles like navigating life as a queer in a majority heterosexual world. Look through our recommendations, select a book or two, and soak up the chill air of autumn in the hammocks on the academic mall; these cozy books might just remind you what it is to be human!
Content warnings are given along with each book, and they are listed from most severe to least.
Skye Falling by Mia McKenzie
Skye, middle-aged and stubbornly a loner, moves through life attached to no one. All that changes when she meets a twelve-year-old girl—the daughter born when Skye sold her eggs fourteen years ago. As Skye learns what it is to let people both support and challenge her, this book explores family, race, community, and queerness, delving into the relationships we need to survive. It is available at Georgetown Public Library in physical copy or in audio or eBook form. Content warnings include police brutality, child abuse, cancer, death of a parent, transphobia, and racism.
What You Are Looking For is in the Library by Michiko Aoyama and translated by Alison Watts
Sayuri Komachi is a librarian who can read the souls of those who visit her and know just what they need in life—along with a book recommendation to help them find it. While we don't have a magical librarian, this book will be a balm for your soul as you relax in the black and yellow hammocks on the academic mall. You might just close the book to find that it's already winter! This is available as a physical copy in the Smith Library Center and Georgetown Public Library. Content warnings include fatphobia, body shaming, sexism, and death.
The Housekeeper and the Professor by Yōko Ogawa and translated by Stephen Snyder
She is a young woman hired to care for a math professor, afflicted with head trauma and who can hold only eighty minutes of short-term memory. Even though he forgets her from one day to the next, his world of numbers provides shelter to the housekeeper and her son. As his memory slips further, he draws them closer together and reveals what it means to be family. This unconventional story of friendship and found family is a must-read! It is available in physical form at Georgetown Public Library. Content warnings include dementia, chronic illness, car accident, blood, injuries, death, and death of a parent.
The Heartbreak Bakery by A.R. Capetta
When Syd, a teenage baker at the queer community space the Proud Muffin, bakes a batch of brownies in the wake of a breakup, everyone who eats them breaks up too. Now it's up to Syd and Harley, the bike delivery person, to bring the lovers back together. Set in Austin, this story about magic and love in the queer community will warm your heart. This book is available at Georgetown Public Library as a physical book. Content warnings include dysphoria, transphobia, biphobia, fatphobia, and minor sexual content.
When the Angels Left the Old Country by Sacha Lamb
Uriel the angel and Ashmedai, called Little Ash, are the only two supernatural beings in their tiny shtetl. As many of the young members of the shtetl leave to find a new life in America, one goes missing, and it's up to the pair to find her. As the angel and demon travel to America in their search, they learn how every person finds purpose, how identity is ever-changing, and how love is the force that lets us all endure. It is available at Georgetown Public Library as a physical copy or in audio or eBook form. Content warnings include antisemitism, death, gun violence, fire injuries, homophobia, and deportation.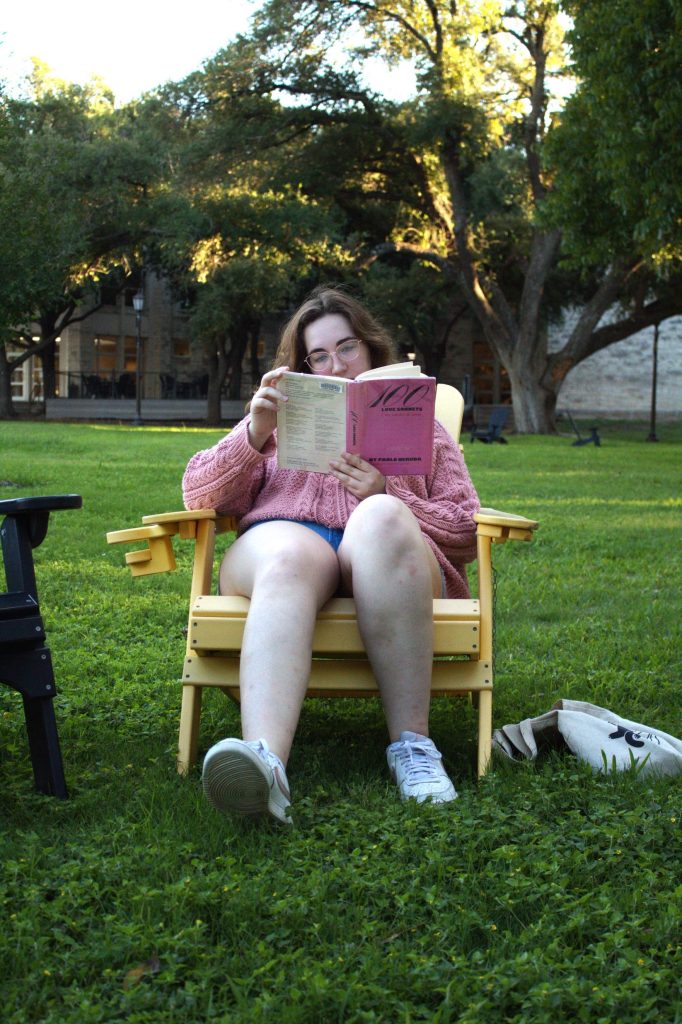 Legends & Lattes by Travis Baldree
Vic the orc barbarian, burnt out from her decades as a warrior, settles down in Thune to open its first-ever coffee shop. This dream is far from a guarantee, as old shadows and Thune's dark streets attempt to upset her plans. She'll need some help. Legends and Lattes is a slice-of-life, domestic fantasy about self-reinvention and new love. It is available at Georgetown Public Library in audio or eBook form. Content warnings include fire injury, violence, and sexual harassment.
A Psalm for the Wild-Built by Becky Chambers
The robots of Panga left for the wilderness centuries ago, laying down their tools as self-awareness flickered behind their eyes. They have long faded into legend. Now, however, the life of a tea monk is abruptly disrupted by the arrival of a robot, here to fulfill an old promise to check in on humanity. The robot cannot leave until it knows "what do people need?", a question that has far from a simple answer. In a world where people have everything they want, does having more matter? This book is available in physical form at the Georgetown Public Library. Content warnings include death, animal death, alcohol, and blood.
100 Love Sonnets (Cien sonetos de amor) by Pablo Neruda and translated by Stephen Tapscott
Nobel laureate Pablo Neruda wrote his series of a hundred love sonnets in celebration of his beloved wife, Matilde Urrutia de Neruda. Joyful and sensual, these poems put forth a boundless open affection and appreciation. It might not be February, but you will definitely fall in love as you flip through Neruda's pages! It is available in physical form at the Smith Library Center. Content warnings include possessive behavior and mental illness.
The Anthropocene Reviewed: Essays on a Human-Centered Planet by John Green
This series of essays focuses on the Anthropocene, the current geologic age which has been defined by its human presence. Reviewing different parts of the now human-centered Earth, it shows the inherent contradictions of our species and celebrates finding our own way and falling in love with the world. This book is available at Georgetown Public Library as a physical copy or in audio or eBook form. Content warnings include mental illness, death, grief, child death, suicidal thoughts, panic attacks, and cancer.
Eating to Extinction: The World's Rarest Foods and Why We Need to Save Them by Dan Saladino
As globalization continues to homogenize what we eat, and the diversity of food grows smaller, distinguished BBC journalist Dan Saladino sets out around the world to document the quickly vanishing foods and the stories of those who cultivate them. From the chefs of Indigenous America to the red pea farmers of the country of Georgia, these individuals hold close to their traditional foodways and reveal to us how we can eat with more flavor and meaning. It is available at Georgetown Public Library in physical form. Content warnings include animal death, blood, slavery, alcohol, colonization, pandemic, animal cruelty, and fatphobia.