Empowering Students and Celebrating Community: Getting to Know Amalia Merino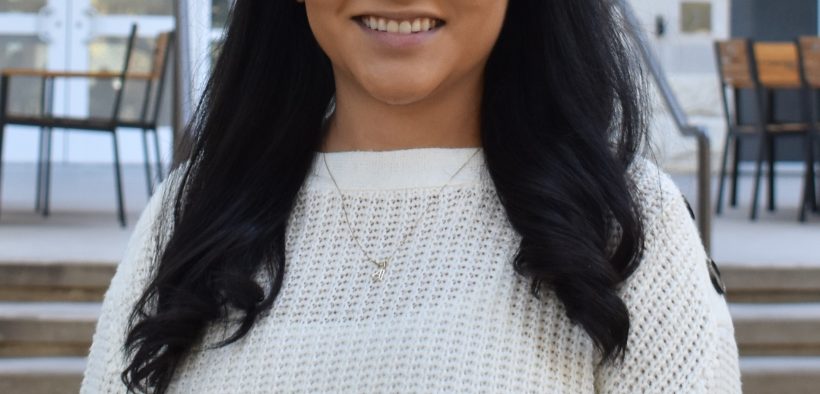 For those who do not know (but seriously, how could you not) on July 1st 2023, Southwestern University became federally designated as an HSI (Hispanic Serving Institution), meaning SU has a Hispanic student enrollment of at least 25%. I talked with Amalia Merino, the Hispanic Student Success Coordinator, about her career journey, new position, goals and some advice for students.
Amalia is from the border city of Brownsville, Texas. "Brownsville is a very bilingual, bicultural and binational community" she notes. Merino completed both her undergraduate and graduate degrees at UT Austin. As many college students can relate, Merino experienced culture shock in her new surroundings. "Going from the diverse, Hispanic-dominant city of Brownsville to the majority white Austin, as a first-generation Latina student pursuing, at the time, a STEM degree, was very challenging to say the least" she recalls. Merino's experience navigating undergrad was something she did not want other students to face alone and without support. This inspired her to pursue a mentoring position in graduate school.
Merino reached out to students, met them one-on-one and shared her experience about navigating higher education. Mentoring was rewarding and something she enjoyed doing. This led Merino to work at St. Edward's University for the McNair Scholars program while teaching part-time. She changed career paths and began working in Academic Affairs as a mentor.
What is the Hispanic Student Success Coordinator?
As part of our HSI designation, the Hispanic Student Success Coordinator was created. Here is the rundown on Merino's position:
While Amalia's title is Hispanic Student Success Coordinator, she assists all students of Latino/a/x heritage. "At the Kickoff event for Hispanic and Latine Heritage Month, some of those countries are not labeled Hispanic because they are not Spanish-speaking countries," she notes. Latine encompasses people with heritage from Hispanic and non-Hispanic identifying countries in Latin America. Merino is someone whom students of all Latine heritage and Hispanic backgrounds can go to for academic, professional and personal support. During a one-on-one, students can discuss their goals for the semester and brainstorm potential professional, personal and academic goals. Even if she can not assist a student with something, she will find someone who can.
In Texas, the Hispanic and Latine community are the largest population group, so SU's HSI designation is just natural. Merino's position is about representation and opening conversation about inequities between Hispanic and Latine students and non-Hispanic white students. Her position is not favoring one group of students over the other, rather, it is to address and close the gaps and discrepancies by supporting students who need that attention and support. "Despite being the largest population in Texas Hispanic and Latine students still lag behind in higher education, graduation and retention compared to non-Hispanic and Latine students," she notes. Inaccessibility to resources and support is one of the many factors contributing to this gap. "This gap is something we need to be working on narrowing" she says. And while these disparities are smaller at SU, it is still a gap regardless and worth addressing and narrowing.
Goals as an HSI
As our newest University staff member, Amalia has many goals for our campus.
"Now that we are an HSI, one of the bigger goals I have, even personally, is for students to realize how big [the Latine and Hispanic] community is on campus," Merino says.
Amalia notes that many students have expressed that there is not much Latine and Hispanic representation among faculty, staff and students. President Trombley stated at the Kickoff that Hispanic and Latine students make up 28% of the SU population. "At the Kickoff there was a big percentage of our [SU] community that identifies as, and are allies to, the Hispanic and Latine community," Merino says. The success and turnout at this event relate to Merino's goal of ensuring that Hispanic and Latine students feel represented, seen and know that there is a team actively working to improve campus culture.
Opportunities, Multi-department Collaborations, and LatinXcel
Instagram has become a mainstay amongst Gen-Z, so Amalia launched @LatinXcel for the new Academic Success program. "The account was created to get information to as many students as possible," she says. Find out about LatinXcel's professional development and social events, and see the upcoming events from HALO, JEDI and CCPD. "As a student myself, I know how easy it is for emails to somehow get ignored and unnoticed because of our busy schedules," notes Merino. Sharing campus events on social media is not only useful for students but for faculty as well. @LatinXcel is another platform for community building, promoting events, representation and a visual break in our barrage of emails.
Amalia is committed to initiating programming that students will attend, even with their busy schedules. She worked with Captain's Academy to co-host a workshop on supplemental material for scholarships. She also collaborated with CCPD. Amalia hopes to work with the Alumni Relations Office to create a panel with alumni of color. This panel would allow students to connect with alumni of color and ask various questions. Additionally, Merino encourages students to join programs like the CCPD Mentorship Program and hopes to facilitate more mentoring opportunities through these alumni connections. These alumni contacts would help Amalia encourage her students to initiate these connections and show them that it is not as intimidating as it seems. "Sometimes when you see alumni who look like you it may ease things and have you reach out and take these opportunities," she says.
Now that we are an HSI, students have access to nationwide opportunities. "For example, [SU] will be sending six students and one student sponsored by Capital One, to the HACU 37th Annual Conference" Merino notes. Additionally, Adrian Ramirez, Laura Senio Blair and Amalia will be accompanying them.
Resources and Advice for Students
Since Amalia is also a student, I asked her for some advice. First she recommends seeking mentoring opportunities by reaching out to professors, staff, and alumni. Talking to faculty and staff, who have gone through your experience, can help you generate ideas and gain valuable advice. Amalia and other staff members can aid students at all levels of their professional and academic journey including job searching, graduate school and applying for other work experience.
She also suggests embracing the unknown and having a "go with the flow" mentality. "I went in with an Engineering major, changed to Linguistics, went to graduate school for Linguistics and Spanish and here I am, now the Hispanic Student Success Coordinator, focused on the success of our Latine and Hispanic students," Merino says.
Merino notes how accessible support and mentorship can really determine a student's sense of belonging and success. "I have felt there is a common perception, and almost imposter syndrome, that as underrepresented students we feel we do not belong in certain spaces or feel not as qualified to be there," Merino says. It is important to honor and acknowledge how those experiences may be different from others. "Our life experiences can be very different, some of us have had to work our whole lives, some of us are working throughout college, maybe working multiple jobs to support ourselves and some of us are dealing with familial things or helping our families back home," she adds. A lack of easily accessible resources like tutoring and mentoring for students who are juggling these responsibilities and their schoolwork, can negatively hinder their educational experience. We are lucky to have these free resources and opportunities at SU, so she recommends making use of them.
Amalia's Motivation
Amalia is a mentor, leader, creator and supporter; which is a large role for any individual to fill. But even when times are tough and the workload is heavier, she says it is rewarding to see the excitement and happiness from students experiencing and seeing their own culture. "I can't find another word other than rewarding; this work is what I like to do and it is worth any hassle and exhaustion just to see them happy," she concludes.
Even weeks after my interview with Amalia, my heart is full. I am so grateful for the work she has done and continues to do. I am also dedicating this closing section to educational, professional and academic resources. All in all, it is important to learn more about people and how to be an ally to them by listening and valuing their experiences (even if they are not quantitative).
Amalia's email: merinoa@southwestern.edu
LatinXcel instagram: @su.latinxcel
Career for Center And Professional Development instagram: @pirate2pro
Captain's Academy instagram: @sucaptainsacademy
Hispanic and Latine Organization (H.A.L.O.) instagram: @su_halo
The Justice, Equity, Diversity, and Inclusion Center (JEDI) instagram: @southwesternjedi
Schedule a one-on-one with Amalia: https://www.southwestern.edu/offices/success/latinxcel/
Free on-campus tutoring: https://www.southwestern.edu/offices/success/tutoring/
For your further research: https://www.edexcelencia.org