Anderson Interview: Profile an Athlete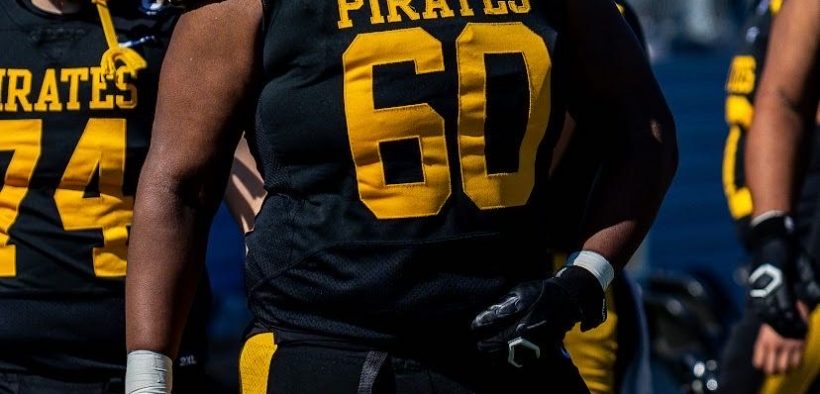 Written by: Aleena Khan
Welcome back to ESUPN (entertainment and SU sports programming network). Tonight, we have an insider on one of SU's star football players. Majoring in business and raised in Cypress, Texas, rising senior Anderson Johnson spoke with me about his life on and off the field.

Since Day One

Football has been a part of Anderson's life for as long as he could remember. Although Anderson officially began his football career at the age of four, football was always a component of his life. He recalls watching football games with his Dad.

"When my Dad brought me home, I basically had a football in my hand,"Johnson said. His birthday aligned with the Texan's third preseason game, and watching the game became a tradition for Anderson and his Dad.

For Anderson, continuing football at SU was pretty much a no brainer.

"I always loved the game and every fall no matter what was happening, I knew that I would be playing football," Johnson said when reflecting on his career. Playing football at the collegiate level meant Anderson could continue doing what he loved.

Discipline and A Good Ol' Google Calendar

I asked Anderson how he stays disciplined and organized with his busy schedule.

"If you can't manage your time, you're gonna be running around like a chicken with your head cut off," Anderson warned. When it comes to time management, Anderson uses the college student essential: Google Calendar

. "As soon as someone sends me an email about something, I immediately put it in my calendar," Anderson commented; even a star player like Anderson can be forgetful, after all no one is perfect. But his calendar keeps him motivated and helps him stay on track throughout the semester.

Johnson Motivation: Mom and Inky

As students, we know the importance of staying motivated and not burning out. For Anderson, two people come to mind.

"My Mom" He stated immediately. "She has been through a lot growing up. Despite all of the struggles, she went and beat the odds. She graduated college, got married, had me and continued to fight. Even through her own sickness, for many years, she fought through. She is the strongest person I know. She is my rock, she is my everything."
Anderson also turns to the wise words of the motivational speaker, Inky Johnson, through his podcasts and videos.

"I even follow an account on Tik Tok that highlights motivational quotes from The Bible" Anderson added.

Clubs, Chess, Cove and Chillin

In his free time you can find Anderson hanging out with friends, grabbing some food from his favorite taco place, Mikey Vs, listening to his hype song "F— Wit Dre" or hanging out in The Cove. However, something a lot of people do not know about him is that he plays chess. When Anderson is not playing chess, chillin' or at The Cove, he is working hard as the Vice President of E.M.P.I.R.E or as a proctor in Student Activities.

Underneath the Helmet

Something worth discussing is the disconnect between non student athletes and student athletes. While Anderson personally does not feel this disconnect, he acknowledges that for other students that may not be the case. He explains that since the football team arrives a few weeks before the rest of the school, it is easy for the team to get closer and rely on one another.

"You might not leave that niche for the next four years" he states."It can be hard for student athletes to break out of that niche" so this could contribute to the disconnect amongst the broader student body.

Furthermore, stereotypes circulate around student athletes in terms of their work ethic and ego. In reference to how others perceive student athletes, Anderson states that people think "

"We (as student athletes) don't like to do our work, [and that] we think we're above everyone," Anderson stated in regards to people's perceptions of student athletes. Anderson does not think this is true and believes getting to know student athletes and where they came from would help in dispelling these misconceptions.

Its all about "getting to know them as a person" he concludes.

Beyond SU
Anderson hopes to attend law school in the near future. Beyond that, he wants to focus on his career, build a family, have kids (hopefully playing sports) and have his parents stay close. He also hopes to venture outside of Texas, considering he has been here his whole life.

Anderson has enjoyed his time here at Southwestern through the valuable connections he has made. In making SU more like home, Anderson states it is "all about the people I surround myself with." He adds "my friends are like brothers to me. Nobody can break our bond and I wouldn't trade them for anything in the world."