Limited Time: McDonald's Spicy Chicken Nuggets are BACK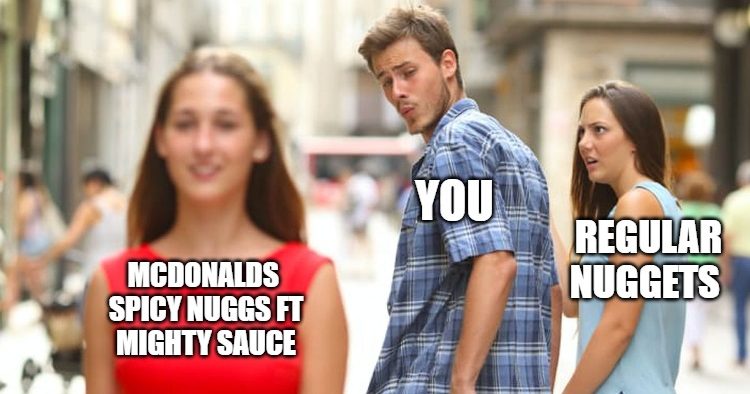 Known to you either for its unbeatable prices that can't be topped or from their reputation in the documentary Food Inc., the global phenomenon, McDonald's, has finally listened to the twitter-verse. On the first of the month, they brought back their spicy chicken nuggets along with the iconic Mighty Hot Sauce, and if you have had them before you understand why this is such a big deal. The subtle spice of the nuggets paired with either your favorite sauce or the newer sweet and spicy Might Hot Sauce is something that can only be beaten by next month's Shamrock shake. Until then, this savory favorite is a close second that has shaken the corporation's menu for the better.

Released originally last year, the spicy chicken nugget acted as the first flavor innovation done on the nuggets since its release in 1983. McDonald's has done several things to change the original recipe, from changing the batter to removing the pink goop. However, it wasn't until a year like 2020 acted like a Bat-Beacon for new nugs. As a true southern gal who often carries Tabasco in her bag and ventures out to try new hot sauces around the country, the Mighty Hot Sauce is a classic favorite that I have craved ever since its release in late 2020. Made of crushed red and cayenne peppers, balanced with savory garlic and with a sweet initial flavor, it goes well with its partnered nugs battered in its traditional tempura featuring both cayenne and chili peppers. Since writing this article, I have already had them three times, twice with the new sauce and once with my personal favorite. They are as addicting as they are delicious.

While the nuggets themselves are a bit of a disappointment, allowing for Wendy's spicy chicken nuggets to rise to first, it truly is the sauce that makes this limited-time meal option a winner. For those who are not fans of spice, the nuggets alone are still a great standalone item for the classic Mcdonald's menu, allowing them to still mesh with your favorite sauce, (mine being the not-so-hot cult classic the Hot Mustard). While the heat of the nuggets is merely an aftertaste, the nuggets paired with their intended sauce deserve all the hype they have received. Get them before they run out to keep warm from this cold front.