Pirates Stay Strong Through Defeat Against Mary Hardin Baylor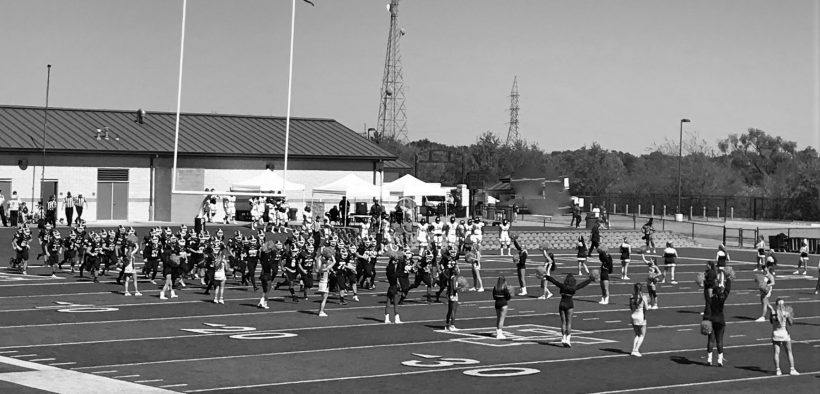 The Southwestern Pirates played against the Mary Hardin Baylor Crusaders this past weekend. Although the game was a loss, our pirates did better against the Crusaders than most of the other opponents that Mary Hardin Baylor has competed against. Going into this game, Mary Hardin Baylor Crusaders were undefeated 5-0. The Pirate defense started off strong in the first quarter, only letting 10 points to the Crusaders. Leading the Pirates defense was Josiah Minnifield with back to back to back tackles on the ball carrier.
By the end of the first quarter, the game was starting to look like a shutout, similar to all the other games that have been played against the Crusaders. In the second quarter, the defense was still doing better than most other of the Crusaders opponents, keeping the score down to 19-0 in total. There was a forced fumble on the play which put the ball back on the Pirates side. By the half, the defense and offense were exhausted in the 90 °F heat.
At the half, the pom squad put on a wonderful performance. The audience also got a treat with the Sun City Georgettes putting on a show that they have done all over the state including our neighbors at the University of Texas Austin. The Southwestern Band of Pirates also played during the half.
The beginning of the third quarter started off with a bang with our Southwestern Pirates scoring three points with a field goal. The last score that the Crusaders made was in the third quarter with a fifty yard pass to a touchdown. The Pirate defense was able to hold the Crusaders off for the rest of the fourth quarter, making the end score 33-3. While this is not a great final score, it is one of the best scores against the Crusaders all season, with the worst being 79-0 against the McMurry University, who the pirates play next week. The Pirates are now 3-3 in the season and 2-3 in the conference. The game next weekend will be on the road at McMurry University. There are two more home games in the season, back to back November 2 and 9, and four more games in total.