Homecoming Game Tragedy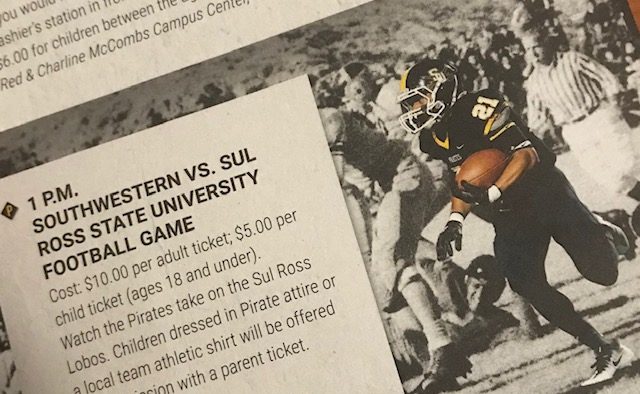 Southwestern University celebrated being the first college ever to put on a Homecoming in 1909, so this past homecoming football game loss hit deep. Southwestern Pirates have beaten the Lobos all three other times they have gone against each other in the history of our football program. Our very own Southwestern Pirates suffered a 21-9 loss for our one hundred and tenth homecoming. They played against Sul Ross State who is currently 2-3 in their season. In the 100 °F weather, the game seemed hopeful in the first half, with the defense holding strong, and Southwestern leading 6-0 by the end of the half.
The whole first half, the Pirate defense held 64 yards of total offense and three first downs, keeping the Lobos far from their goal line the entire half. The Sul Ross Lobos were kept from crossing the fifty yard line the whole half, and it seemed promising with Hayden Smith intercepting a pass from the Lobos quarterback in just the third play of the game. Injuries were starting to pile up on both sides before the half ended, with the Pirates third string quarterback injured, and leaving the team with their fourth string quarterback in as many games. By the halftime show, put on by the Southwestern Pom Squad as well as the cheerleading squad, the game seemed like an easy sweep.
 In the second half, the Lobos came back full force in the third quarter with a 44 yard touchdown. The Pirates were able to hold them off until the fourth quarter where the Lobos pulled off two more touchdowns, but not without racking up a couple more points. They finished it off with 39 yard Wil Herbst field goal halfway through the fourth half, bringing the score to 21-9. With this loss on the books, the Southwestern Pirates are now 2-2 in the season and 1-2 in our conference. Not only was this a season low, but a school pride low with it being the homecoming game.