Worlds in Writing: Book Recommendations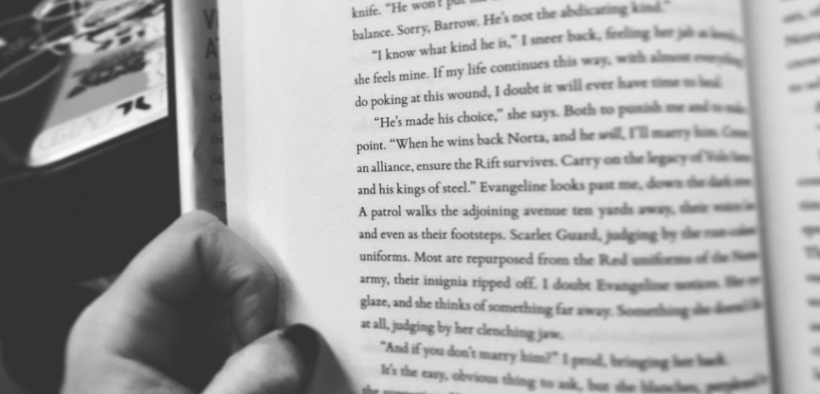 Books have always been amazing little worlds that you can carry with you anywhere. A couple of recommendations that took my heart and soul are all here:

Passenger by Alexandra Bracken.
Passenger is a duology that follows "Etta Spencer, a modern Manhattan teen, and Nicholas Carter, of 18th century Manhattan as they race against time itself to find an object of untold value and save Etta's future." (Bracken, Alexandra. "Passenger Series." Alexandra Bracken, www.alexandrabracken.com/passenger-series.)
This novel pulls in elements of time travel and leaves you hanging on to the edge of your seat the whole time. It is fast-paced and jumps between two characters points of view. Of course, there is a little bit of romance involved as well as some time jumping. If you love adventure,I would definitely recommend it. The ideas in this duology are refreshing, it not only uses the elements of time travel, but the twists and turns are exceptionally unexpected.
Books: Passenger & Wayfarer

Red Queen Series by Victoria Aveyard
Red Queen is a fantasy Series, the first novel being called Red Queen, that follows Mare Barrow, a Red girl. In this world, people are separated by the color of their blood: Red or Silver. Red people are commoners who live in poverty, and the Silvers are the elite warriors with god-like powers. However, Mare Barrow takes on the role of a long lost princess, because (surprise), she is a Red with powers. But who does not want the rest of the Nortan country to know? The Silvers, also known as, Nortan Elites. To Mare, it seems this type of world will never change no matter the power she beholds.
THIS SERIES IS SO FANTASTIC. While others have had mixed feelings about this novel, personally, I loved it. There is a lot of talk of war and politics in this series, but it only makes it better. The antagonist is one you just want to loathe, and there are a lot of FEELINGS. The feelings of frustration, betrayal, and love for the characters, as sarcasm spills from their lips. The character development in these characters is absolutely wonderful. Revolution, war, and personal battles bring this story depth. Currently, there are four novels with two novellas out. Aveyard is writing one more novella to tie up ends in her novel. It is worth the read.
Books: Red Queen, Glass Sword, Kings Cage, War Storm
Novellas: Steel Scars, Cruel Crown
A Court of Thorns and Roses Series by Sarah J Mass
A Court of Thorns and Roses is a series that is placed in the world of Throne of Glass. If you do not know that world, it is a world where (what looks like) the UK island is split between Faeries and Humans by a literal wall. Now, Feyre (fay-ruh) is our main character in this novel. A human that "accidentally" kills a faerie, because the faerie looks like a wolf. Tamlin, a Faerie, comes and takes her away because of a pact made between the Faeries and humans, and she has to live with him for the rest of her life in the faerie land.
On top of that, there is A LOT of romance. However, there is plenty of fantasy to follow the romance in order to balance it out. These books bring people into the world of magic and monsters, with wonderfully created villains and heroes. Throughout the series the characters only get better. The sass is unbelievable and wonderful. I absolutely love the characters Sarah J Mass put into this world of hers. They are more than just surface level, and there are so many little things that tie into other novels and bring the worlds full circle.
Books: A Court of Thorns and Roses, A court of Mist and Fury, A Court of Wings and Ruin, A Court of Frost and Starlight.

A Room Of One's Own by Virginia Woolf
Who doesn't like to read a fancy way of trashing society? This novel is essentially a long essay about what it takes to have A Room of One's own. I wrote an entire research paper on it, basically arguing that Virginia Woolf was hiding her depression within her writings. This was an extremely enticing essay with the way Virginia uses imagery in her writing. She explains the October crisp air, and other details that make you think deeply about the world surrounding you and her.

Most of these novels take their readers out of this world or back in time. They have been popular across all age groups. The characters are well written and so are the plots. If you like fantasy or the fight for equality, then these books are for you.