Men's Soccer Struts Through September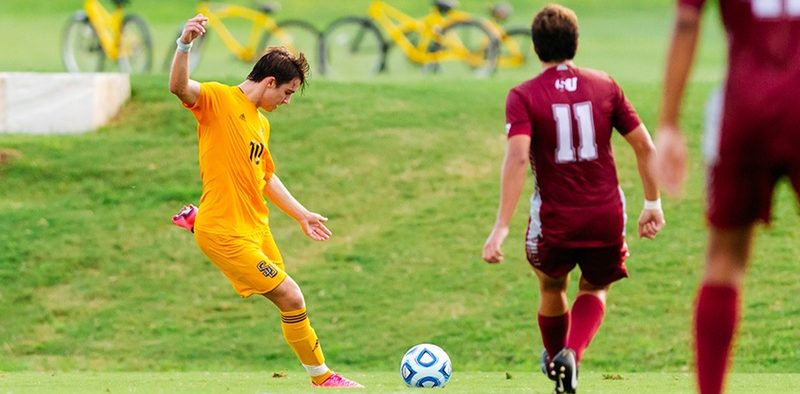 September has been a great month thus far for the Southwestern men's soccer team with a great run of form. Along the way they've had spectacular overtime wins and triumphs over nationally ranked teams such as Rutgers-Newark, and they are currently ranked third in the West Region (6-2-1 overall, 4-1-1 in conference).
Their solid defensive showings alongside clinical attacking play have contributed to their success. As they press on further into conference play, I got a chance to catch up and interview three teammates, Alex Newel, Dejan Savic, and Kip Karschnik.
I began by asking Kip how he felt when he scored in overtime to seal the win over Colorado College. He told me "It was awesome. I don't know if I was more excited that the game was over or that I had just scored a game-winner. It was a great feeling to finally get on the scoresheet and help my team secure the three points."
I asked him how it feels to be unbeaten in September, and how it will affect their aspirations for the season ahead.
"It's definitely a good feeling to go unbeaten in September as we have worked really hard to prepare for this. It helps build a sense of confidence as we are in the thick of things in conference and approaching the conference tournament."
After interviewing Kip I moved on to Alex, one of three seniors on the team in what is a fairly youthful squad. When asked about how it felt to be a senior on the squad with added responsibilities as a leader, he told me "It feels strange to finally be in my senior year on the field knowing that my soccer days are coming to an end. But at the same time, it's awesome to know that my influence on the underclassmen will help them become better teammates and ultimately better people."
Knowing their form, I asked Alex what he and the team's goals and dreams were for the year. Boldly, he replied "I want to win the conference tournament. It's my last season, we're hosting the tournament and there's nothing to lose. It would be great to go out with a ring and the memory of winning a final."
Confidence will continue to grow for the team if they keep putting up good results. But every side, even if they're high flying form wise, must grind on the practice field to succeed. So I asked Dejan how the team approaches practice. He told me "We address practice as a place to get better, build confidence, and prepare for matches. Once we get on the practice field, it's only about soccer. You leave everything else back in the locker room and focus solely on bettering yourself and your team." That level of focus has shown in their last few games.
Every team, no matter the success, must be a unit, so my next question for Dejan was that of the team's culture. Do they gel?
"Both on and off the field, there is a feeling of camaraderie. We win together, and we lose together. There's competition, hijinks, and everything in between. But at the end of day, we are a family."
A family is prone to hijinks of all kinds, but especially on road trips. I asked the three of them what their funniest moment was so far. Kip answered for the three of them and told me "The funniest moment has to be in Colorado. We were doing our cool down in the hotel when coach walked in on twenty dudes making a giant whirlpool in a small hotel pool by running around in a circle together."
It's always good to have fun and be idiots every once in a while. Even the best Premier League teams will have their designated goofballs. With such confident players forming such a tight-knit family and playing with both focus and joy, the men's soccer team is ready to make a deep run into conference play with hopes of bringing a trophy and some rings to Georgetown. Their next home game is against Trinity University, on October 2nd.