Georgetown City Manager David Morgan Visits SU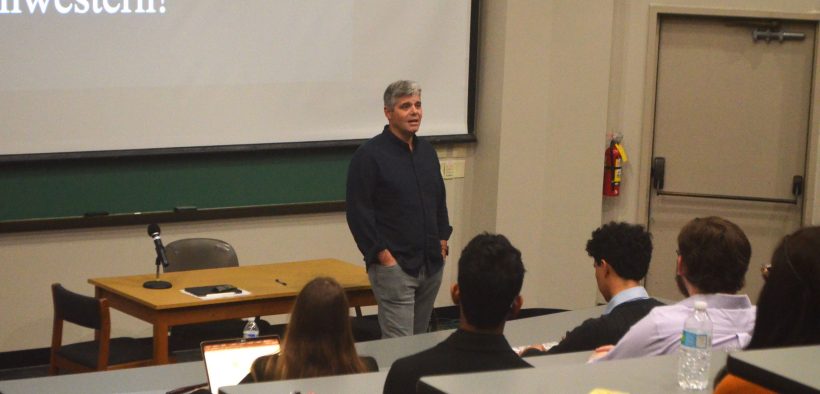 On Wednesday, November 15, 2023, Georgetown City Manager (CM) David Morgan came to speak and participate in a Q&A session with the SU Student Government Association (SGA). Introduced by SGA President Bryce Stiemert, CM Morgan gave answers to provide insight into the thoughtful questions SU students posed.
He began by giving a civics explanation of Georgetown's form of government, and how he is contracted by the city government to facilitate local government projects and programs, working to advise the city council. After his opening remarks, with the exposition detailed about the nature of his position, the highlights of the evening's discussion covered a variety of topics from national politics seeping into localities, the traffic on University Avenue, and the involvement of SU students in the Georgetown community.
"Fixing a pothole is not a Republican or Democrat issue," CM Morgan emphasized when the importance of merit in qualifications for public service, and how the top issues for cities are not partisan politics, but rather issues of transportation, safety, and variety of other utilities.
He mentioned that city council member elections are non-partisan, and, in his professional capacity as a CM, he refrains from engaging in partisan activities or expression. When asked about the nationalization of politics and how it remains an important issue, he noted controversies have particularly arisen with books in public libraries. On this issue, he outlined that Georgetown attempts to have age appropriateness based on where a book is within the library. However, while national politics have impacted the perception of access to books, he added that the state legislature and their laws have more impact on how Texas city governments can approach policies than national politics.
When asked about the traffic on University Avenue, he noted how while there had been a previous suggestion to widen it to four or six lanes, such an expansion would impact historical properties. Rather than expanding the roads, he expressed that within a year a roundabout around Georgetown would hopefully reduce traffic congestion from those commuting through the center of the city.
When it was mentioned that there could be a lack of incentive for SU students to participate with the Georgetown community, CM Morgan took a positive approach, encouraging students to feel welcome to participate. He cited a lack of participation in local off-year elections and meetings as a detraction from the ability of a government to be representative. He made the case that city government has a far greater impact on the day-to-day lives of those in communities than the state or national government, and that even while SU students may only be in Georgetown for a few years, their input is just as valuable, referencing a variety of ways to get involved and pay attention to the current events in Georgetown, including watching the live-streamed city council meetings.
SGA President Stiemert has mentioned the possibility of Mayor Josh Schroeder or other elected or government officials speaking here on campus. Stay tuned as The Megaphone continues reporting on SGA updates.