Recap on Women's Basketball First Home Game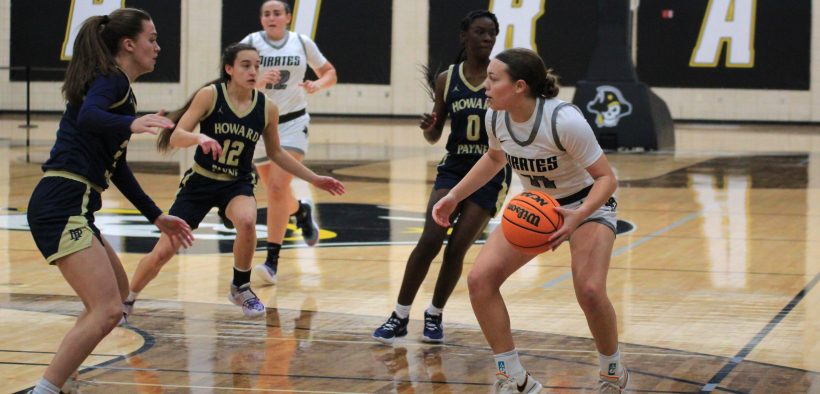 As the weather is cooling off, the sports industry moves indoors. The Pirate's Women's basketball team appeared on the courts, ready to face off the Howard Payne Yellowjackets from. The stands were filled with families there to support their respective teams "Usually, not a lot of people show up to women's sports, so it's nice to see a good amount of spectators in the stands." said first-year Verdant Polepally. The girls hyped up their starters with whoops and hollers as they prepared to play. The game kicked off, and the Pirates were first to gain possession of the ball. Throughout the first quarter of the game, the Lady Pirates stayed on the defensive; the Yellowjackets held the upper hand and scored 15 points. It wasn't until there was just under 5 minutes left of the first quarter that SU began to put some points up on the board.
Moving into the second quarter, the pirates held their defense thus slowing down the Yellowjacket's barrage of points. Two  minutes and 24 seconds into the second quarter, #33 Aniyah Burke scored 2 points to begin a chain reaction of her teammates scoring. With their defense tightened, not only did they stop some points going up on the board for the Yellowjackets, but they ended up scoring more than them at the end of the second quarter.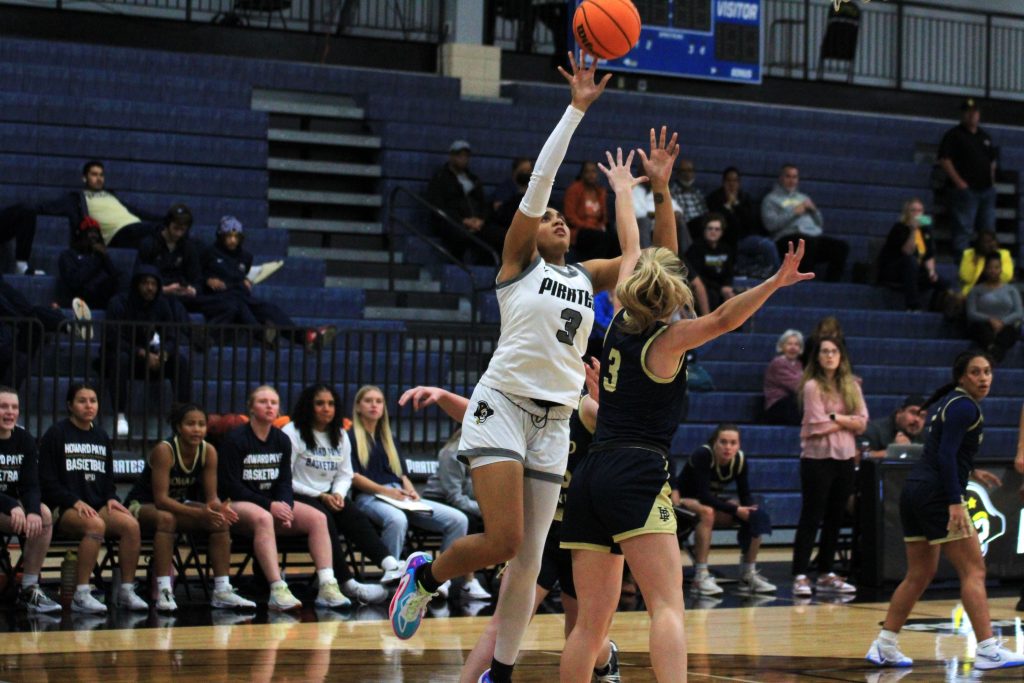 The Pirates were down ten to the Yellowjackets who had 23 points. The Yellowjackets, at the start of the third quarter, it seemed like the Pirates has a chance to come back. After catching their breaths during halftime, both teams took the court, ready to face off. The Pirates continued with their tight defense and improved on their offense. This led the Yellowjackets to miss some of their layups and jumpshots. While they missed on some shots, the Pirates took advantage of the opportunity and put some points on the board, closing in the gap. However, the Yellowjackets managed to recover and maintain the 10 point lead towards the end of the third quarter. For the remainder of the match, Howard Payne continued to score, putting distance between the two teams, and remained on top.
After saying "good game" to their opponents, the team gathered their belongings and walked into the locker room. As they walked into their locker room, the men's basketball team gave them high fives and made sure that the girls' knew that their hard work would pay off eventually. In the locker room, the girls and their coach discussed how to improve for their next game. However, their game against Howard Payne did not affect their performance the next day. The Pirates won against Concordia Texas, 60-56, which marked Coach's Kriesel-Bigler's first win as head coach. As of right now, their overall record stands as 1-3.