Chamber Music Rings Through Alma Thomas Theater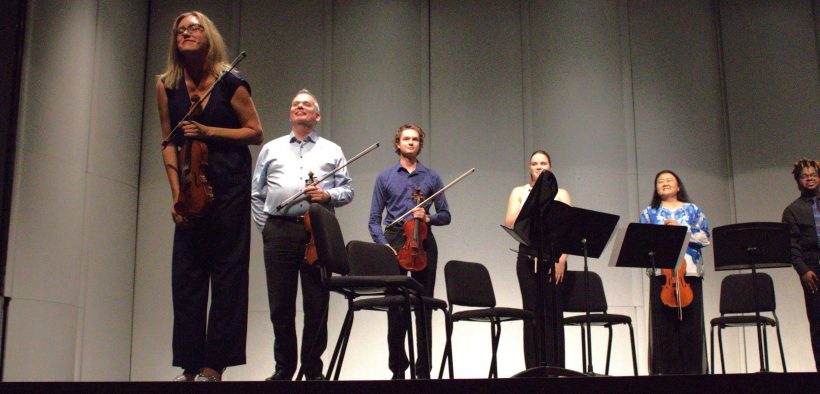 On Sunday, November 5, as soon as the audience filled the Alma Thomas Theater for the chamber music concert, the lights dimmed, indicating the commencement of the performance. As the four performers walked to the stage with their instruments, a wave of claps broke the silence to welcome them. After they placed their violins and cello in front of the music stand, the performance featuring the Mendelssohn Octet and Schubert String Quartet began.
The chamber music concert was divided into two parts and took the audience on an hour-long melodious journey; in the first half, the performance consisted of the Schubert String Quartet in a minor, "Rosamunde". It was performed by Jessica Mathaes (Assistant Professor of Violin at SU, Austin Symphony Concertmaster), and joined by her international colleagues: violinists Tomoko Iguchi (Kansas City Symphony) and Simon Smith (St. Martin in the Fields Octet, UK), and cellist Greg Clinton (Omaha Symphony, Associate Principal).
Performer Simon Smith said, "I came over here to play music with Jessica who I have known for 15 years or so, but had never played chamber music together before," he continued, "to meet together and in three or four days to produce a quartet and play, it was really a beautiful experience."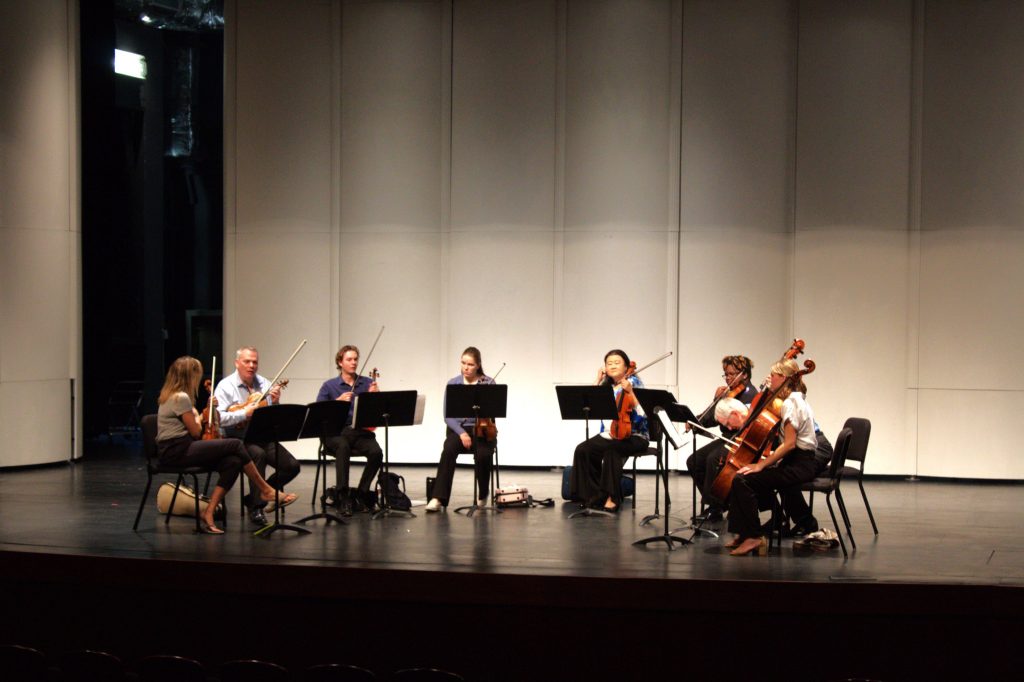 After a brief intermission, the performers resumed the second half of the concert with an energetic Mendelssohn Octet. Coached by Jessica Mathaes, this was a collaborative performance between the four performers and SU Sarofim School of Fine Arts' top chamber music students: Mack Nixon-Hoxie '26 on viola, Anna Martens '26 on cello, and Chelsey Southwell '24 and Seth Sagen '26 on violin. What a beauty to witness the performance of a music piece that was composed almost one-ninety-eight years ago! 
Southwell, who played the violin, said, "The fourth movement is just my favorite. It's really fun and energetic." "Everyone has a different part, but you're not alone. So it was really fun to have that collaborative environment," she continued.
The show ended with a heartfelt bow from all the performers, as a gesture of thanks. The excellent performance was lauded by the audience. The team effort is evident in the planning of this performance; despite the strict time constraint, the department of music strategically organized and presented this concert. The performers, on the other hand, practiced and carried out the concert to perfection! For more upcoming performances in the Sarofim School of Fine Arts, make sure to keep an eye out and grab your ticket from the SU box office!