Frustration at Administration: Southwestern Students Raise Concerns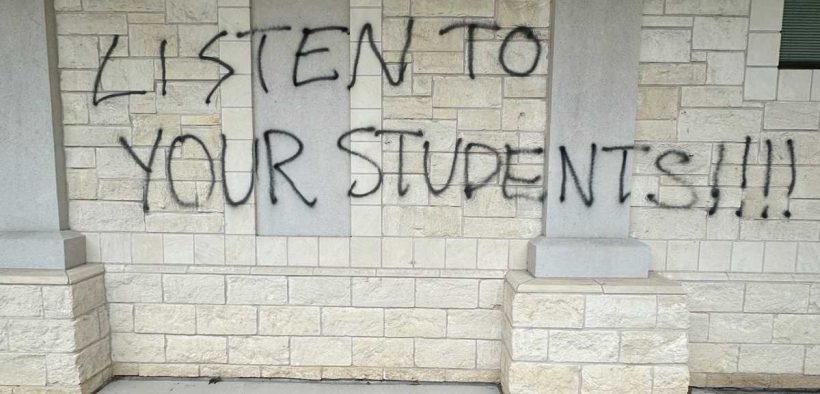 As the Southwestern community walked through the Arch in the early hours of Monday morning on November 13, a large graffiti message was spotted. In big, bold letters, "LISTEN TO YOUR STUDENTS" was marked on the inward facing side of the Wilhelmina Cullen Welcome Center. Students speculate that the graffiti is connected with ongoing frustrations Southwestern students have towards senior administration, although no motive has been confirmed. These frustrations are in regards to continual DIBE (Diversity Inclusion Belonging and Equity) issues that they feel have not been resolved. According to Chief Klepac, the graffiti took place early this morning at 3:36 AM before Pirate Preview, a day where prospective students tour the university—which might have been the vandal's goal according to police speculation. The culprit is believed to be a male, although no one has been found or come forward.
Southwestern students being unhappy with the Senior Administrative staff is not a new issue. Recently, Senior DeVonte Rogers released a school-wide petition, where 184 people signed to call Southwestern's Senior Administrative Staff to action in regards to institutional concerns. Signatures include organizations such as Pirates4Pride, Black Student Union, Alpha Xi Delta, and SU's Drag Haus of Vitality. Rogers' petition contains a list of institutional concerns such as various racial crimes that have taken place on campus without a culprit being found or coming forward. Institutional concerns are not limited to unsolved racial hate crimes but extend to the student sentiment of financial autonomy, ethics, and core values being compromised. Various instances related to these intersectional issues are detailed in Rogers' document called "The Receipts."
On November 10 at 3:30 PM Rogers met with the Director of Student Inclusion and Diversity Dr. Malissa Ismailia and Interim Associate Vice President for Student Life David Tuttle over Google Meets to talk about concerns with University transparency, inclusivity, and accountability; Rogers believes these issues intersect with ongoing socioeconomic related issues. The meeting was apparently canceled and rescheduled five weeks in a row. Rogers expressed frustration towards these delays; he felt that as a first generational queer black male student, he and his peers were not treated as a priority. Rogers brought these frustrations to administration. Tuttle reassured Rogers that the delays in meetings were circumstances beyond Katz' control.
According to Rogers, Tuttle was empathetic telling him, "I am sorry that this is all taking a toll on you personally," in an email.
Brit Katz was unable to be in attendance, so he responded to Rogers' petition through google docs after expressing sincere apologies for missing. However, Rogers did not feel like Katz' responses were sufficient.
"Seeking inclusivity, transparency, and accountability is not a demand, but a call for a fair and just community. My attempt to address demands head-on with the administrative staff was met with loose "point-by-point" answering. I was primarily told to speak with various department heads and was even met with some complete dismissals, ultimately steering me on a fruitless endless cyclic journey. It's clear that Dr. Katz's selective responses to certain demands and issues undermine the essence of our pursuit for a better environment. Real progress requires a commitment to addressing all concerns and reiterating protocols and policies is not a sign of weakness but a step towards fostering genuine change for the benefit of all. I am just asking for the University to literally put its money where its mouth is!" –DeVonte Rogers
The Megaphone reached out to Katz and Tuttle to see what their thoughts were on the perceived lack of transparency; however, we did not hear back from Katz in time.
Tuttle has only been staffed since July 2023, and his position is interim. "All racial crimes are condemned and antithetical to the values of the institution," he said, in regards to the ongoing DIBE issues.
A common student body complaint is the believed lack of transparency between administration and students. "If that is the perception then we must all work to break down that barrier," said Tuttle. "The meeting last week was a great starting point and I hope we can move forward together as we all want the same things. Students here have tremendous access to faculty and staff, serve on important committees, meet with the Board of Trustees, and are treated with respect."
The Megaphone also contacted President Laura Trombley via email to ask her thoughts on the students body's perceived need for transparency on DIBE issues. She responded quickly as follows: 
I encourage students to review the webpage for the Black Student Union Protest List of Demands (https://www.southwestern.edu/my/DIBE-initiatives/black-student-union-protest-list-of-demands/) and our progress date.  I also recommend that students review the webpage listing the University's Progress on DIBE initiatives (https://www.southwestern.edu/my/DIBE-initiatives/).  Both webpages are public, fully transparent, and list actions in progress, planned or completed.
According to Tuttle, who has other experience with higher ed., the lack of trust in authority is common, but he believes that unity is possible.
"College is where students should have a safe space to learn, challenge, express opinions, and engage in civil discourse. It is very common to not trust authority – it's not new. But we can work on that here, and come together. There is a lot of common ground."  
The Megaphone will continue to update as progressive initiatives are revealed and undertaken.