Fall Comes to International SU Students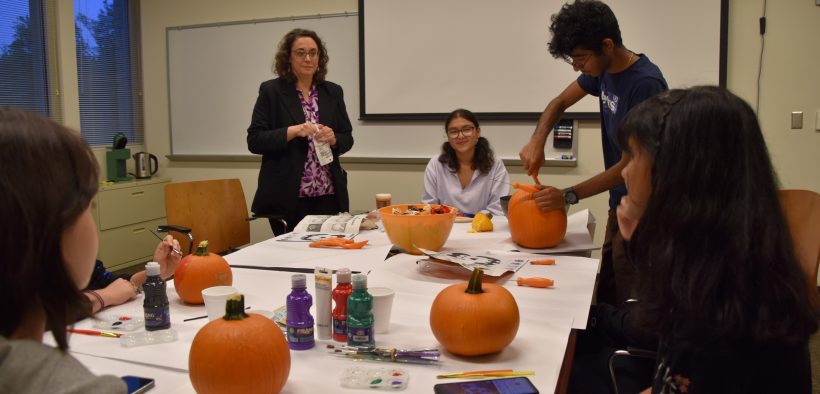 While the pumpkins were waiting to be transformed into jack-o-lanterns and cookies into sweet frosted delicacies, the international student community gathered for the fall social event on Tuesday, October 24. The Prothro center greeted them with candies and art supplies as an effort to briefly introduce the cultural American traditions of Halloween, a week before it would arrive.
Halloween would be incomplete without creative pumpkin decorations. So what better way to explore an unknown tradition than to involve and participate directly in it? As the students used small pumpkins as canvases and covered them with colorful painting strokes, stories of Halloween and the reason for its celebration was narrated by the coordinating faculty. One student painted a cat in an eerie forest setting; another painted the furry creature Totoro from My Neighbor Totoro with exaggerated facial expressions. Two large pumpkins were also carved into beautiful lanterns; one was a witch's hat, and the other one was a classic spooky face to scare Jack away!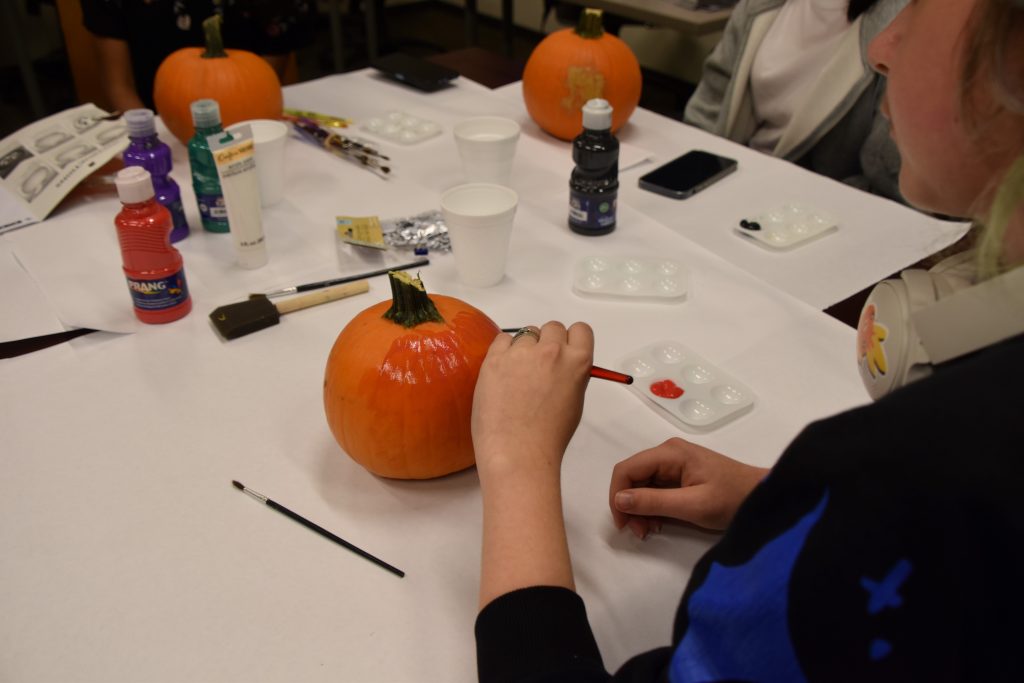 The fall event was strategically coordinated as a group effort between Monya Lemery (Director of the Office of Study Abroad & International Student Services), Sandra Hancock (Assistant director), and a team of student workers (Caleb Hammons for administrative support, Katie Markey for marketing and communications, and Mia Martize for on-site support at the event). Thanks to their efforts, the event was a success.
Coming from different backgrounds and various countries like Uzbekistan, Mexico, and India, the students seized the opportunity to socialize and share the uniqueness across their diverse cultures and festivals as well. Although the main goal of the fall event was to make sure SU's international students felt welcomed in the United States, they were also able to find a community of people who shared experiences similar to their own. The fall event ended with the students carrying the pumpkins they designed and decorated back to their dorms, along with boxes they filled with their choice of candies and cookies. Keep an eye out and make sure to join the upcoming Christmas event for international students—more information will be sent via email—and SUnity Day for fun events that are planned for all students!