The Lady's and Men's Pirates Soccer Teams Destroy the Dallas Crusaders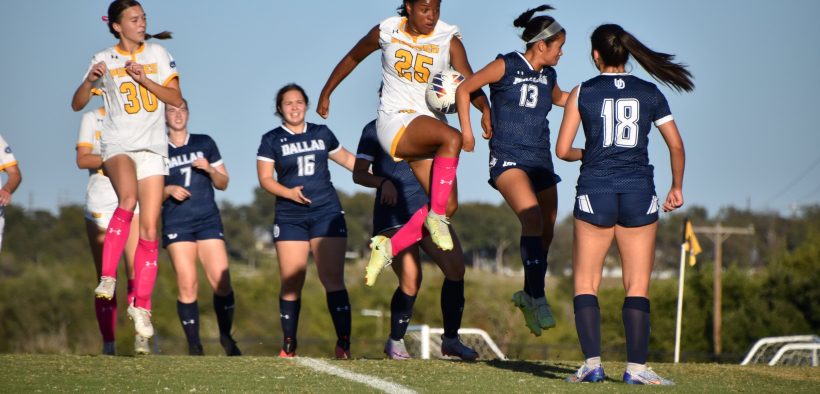 On October 20 2023, Southwestern and University of Dallas fans packed the stands to witness two amazing soccer games, the women started off great and the men followed in their footsteps.
Our Lady Pirates started off the game with a fire in their eyes–anytime the defense stole the ball from Dallas and passed it towards our offense, the ladies went straight down field and sent it towards the Dallas net. The first goal of the night was scored by Midfielder #24 Mia Reyna. Dallas reciprocated SU's quick fire by becoming more aggressive with their offensive tactics; they scored one goal but the Lady Pirates defense came back and kept them far away from SU goalkeeper #1 Johnna Cambell during the second half of the game.
The offense wasn't finished with Dallas' second half, they needed to show that the Pirates don't just rule the seven seas but also the field. Forward #3 Sydney Boswell followed by an assist from #12 Samantha Hazen scored the second goal for the Lady Pirates that night. The Lady Pirates took the win that night 2-1.
After this astounding play by the Lady Pirates, Pirate and Crusaders fans were only halfway done with their night, the SU boys are back in town from playing in Colorado and are ready to show what happens when you play in Pirate territory.
Men's Soccer
The Men's Pirates showed no mercy to the Crusaders the first half of the game, with the first goal of the night being scored by #21 Ashton Bynum. His teammates followed suit with #5 Raghav Sharma and the defense holding back the Crusaders for the first half. Unfortunately for the Pirates the Crusaders were aggressive and scored a goal towards the end of the first half.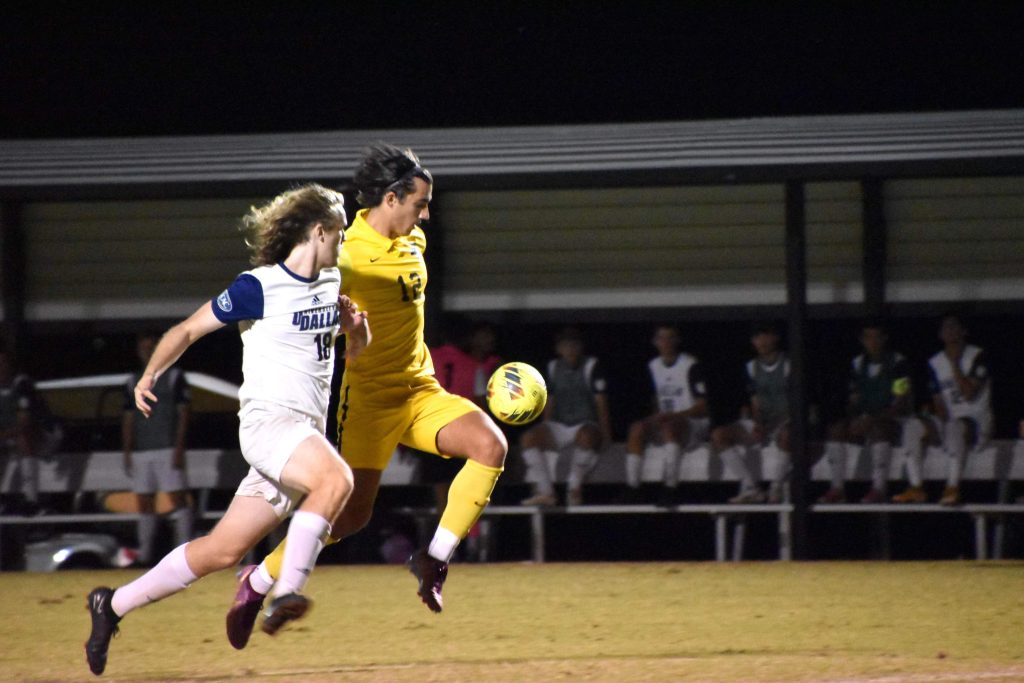 Pirates #21 Ashton Bynum scored the first goal of the second half, showing the crusaders that he is not to be messed with. Pirate defense manages to keep the crusaders at bay for this half, as the only goals scored this half are by us. #18 Nathaniel Blake and #24 Colin Otten scored the next goals, but the Pirates aren't done until that clock hits 0. With the last ten minutes of the game left, #27 Lucas Nowlin scored the final goal for the night, it is also his first career goal. Pirates win by an amazing 6-1.
Friday night is always an exciting night to be a Pirate fan!