Sister Rivalry: SU Pirates Brawl with Trinity's Tigers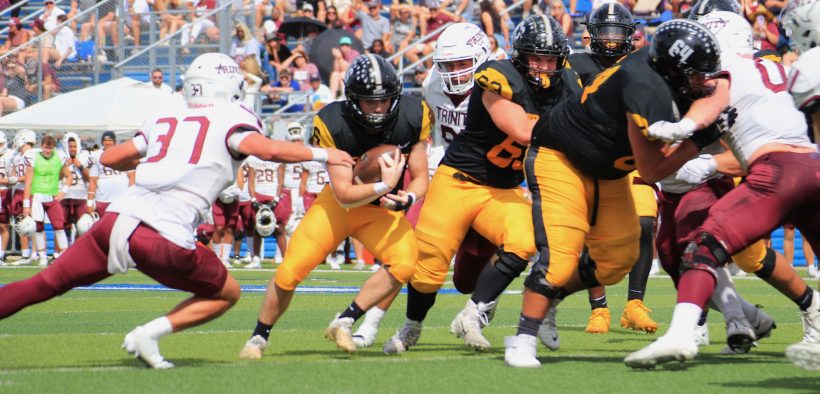 With scorching temperatures in the middle of October, the Pirates pirates butted heads with the Trinity Tigers at Birkelbach Field. This game was dedicated to the Southwestern faculty and staff who made the Southwestern Athletics department possible. Each player invited a Southwestern member, who has helped them on their journey, to the field. To also recognize Breast Cancer Awareness Month, the cheer team and some players adorned themselves with pink equipment.
Trinity was not going to let this game be an easy one; from the very first drive, the Tigers' #5 Tucker Horn rallied his team and scored a passing touchdown to #13 Ryan Merrifield. Horn went on to make a 10 yard passing touchdown to #3 Casey Hampton and a 40 yard passing touchdown to #19 Caleb Crawford. The Tigers' #21 Caleb Harmel even managed to pull off a fake punt-fumble 52 yard rushing touchdown.
Regardless of their struggles, the Pirates' #15 Jaylen Spriggs pulled his team together and ended the drive with a 3 yard rushing touchdown by #6 Kolby Bartlett.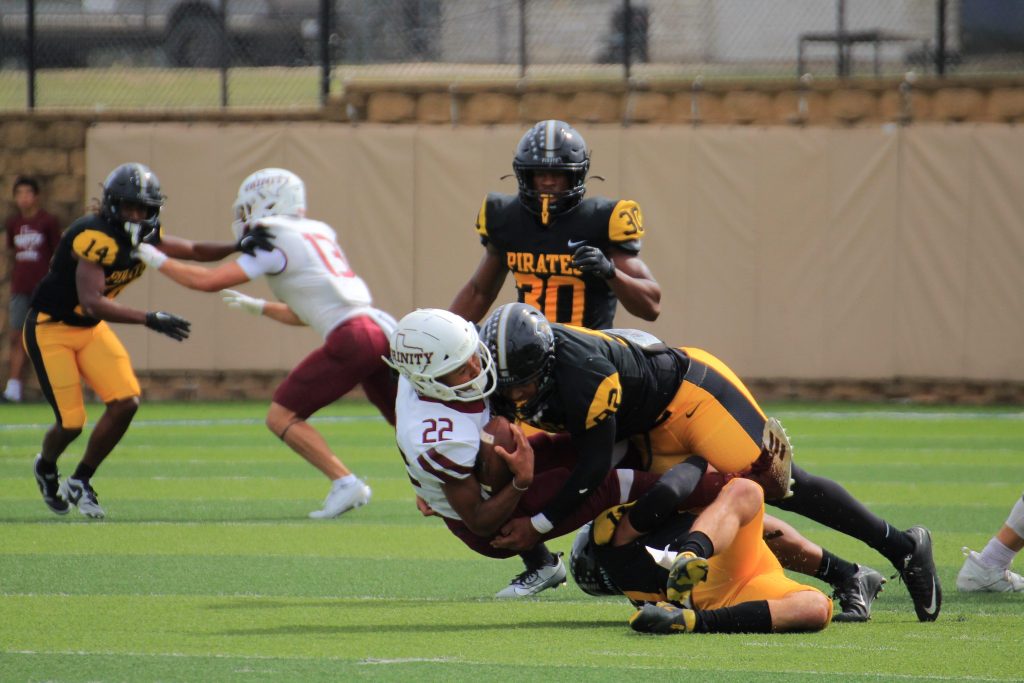 However, this satisfaction was short-lived as the Tigers scored a 20 yard field goal, 22 yard passing touchdown to Merrifield, 39 yard passing touchdown to #7 Ethan Boyer, 41 yard passing touchdown to Hampton, and a 47 yard passing touchdown to #26 Berend Kahlden.
While the game ended in a brutal 57-7 Tigers victory, the Pirates refused to go down quietly. Both the players and crowd expressed themselves through a combination of energetic shouting, chanting, and banter. At one point, the crowd even began to rapidly stomp on the bleachers to create a deafening distraction for the Tigers' offense.
From the Tigers' 560 net passing yards, it is clear that the Pirates need to work on their mid-deep pass coverage. The Pirates will return to the field after their bye week against the Millsaps Majors away on November 4. As for the next home game, expect the Pirates to play their last game of the season against the Sewanee Tigers on November 11.