Rules for Thrifting in Austin (Do NOT Break!)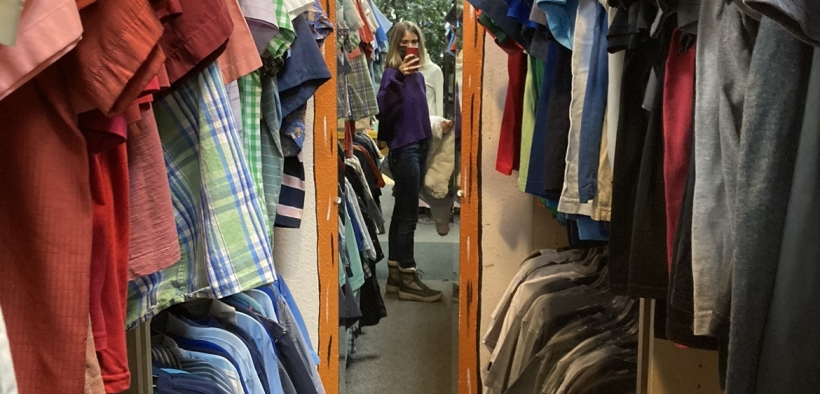 The first time you walk into a Goodwill can be overwhelming. There's so much stuff it's easy to turn around and never come back. I'm going to give you a rundown of dos and don'ts of thrifting. Also, I will let you know where you should consider hunting for pre-owned clothes in Austin. Whether you're a professional thrifter or have never been to a secondhand clothing store in your entire life, I've got some tips for you. So hear me out!
You may ask yourself: why even bother taking the trip to Austin to thrift? Target has almost every closet staple you could ask for. Plus, the Goodwills scattered around Georgetown have some surprisingly high-quality finds, that is, if you don't mind digging around for half an hour. If you're like me, you love making a statement with your clothing and your fashion sense literally changes every week. Besides– life is boring when you're wearing boring clothes–all the cool kids shop sustainably.
So let's dive into some thrifting trips! First off, bring headphones. Most thrift stores in Austin play the most random music (notably Pavement's two locations). Don't get me wrong, it can be fun to bop to some quirky trap tunes– but it tends to get pretty old pretty fast.
When thrifting: Have a particular clothing goal in mind. If you keep your eye out for one or two particular articles of clothing, it prevents you from becoming overwhelmed. There is a massive amount of apparel to sift through. Maybe you're looking for: a cozy sweatshirt for the one week it gets cold in Texas; a multi-color button-down for throwing over tanks; or maybe a pair of pants to match that one shirt you never wear but refuse to get rid of. If you have a certain item in mind, it'll also save you from the pangs of regret you feel after making a dumb purchase. A purchase such as buying items that you don't really need or that something that doesn't match the clothes in your closet. My rule of thumb is that if it takes me longer than fifteen seconds to decide whether I want to buy something –I put it back on the rack. My next tip may sound counterintuitive after the last one, but it's also what led me to thrift my favorite shirt in the whole world. When thrifting, keep an open mind. If you see a really funky patterned shirt that gives you a flood of endorphins, try it on! Even if you feel like you might not be able to 'pull it off.' You might just find that it's cute as hell, and you won't be able to stop picturing all the places you could wear it. f it makes you feel like yourself when you wear it, it's worth the purchase. Take the risk and evolve your style.
The next piece of advice I have is specifically for people thrifting in the men's section. A fair amount of Austin thrift shops have a limited selection of men's clothing. Unfortunately, fewer guys sell their clothes to thrift stores than women. If you're going to shop in the men's section; it may behoove you to do some snooping before picking a place to thrift. Pull up some images on Google maps of the inside of the store you plan to visit to scope out their merchandise.
Finally, it's important to take a break for food and/or coffee and (especially) water if you're going to multiple stores. You're not a thrifting machine. Please take care of yourself. This will limit the retail-induced brain fog you're likely to feel throughout the process. I suggest checking out Ramen Tatsu-ya for lunch or dinner! There are several locations around Austin.
Every young Austinite seems to flock to Buffalo Exchange and Pavement (the Guadalupe location). These stores sometimes have some decent finds because they are right next to the UT campus. But they are basically always busy and picked over. However, it may be worth the trip since they're right next door to each other. This makes it easy to check out both of them at once.
But if you know what's up: you'll travel south to thrift. I like to start at Uptown Cheapskate for affordable, trendy pieces of clothing. Also, make sure to keep an eye out for their semi-annual sales. Next, I like to hit up Stardust Vintage for unique pieces. Stardust tends to have fashion from the 1960s to the 2000s. They also have niche Y2K graphic t-shirts. This is a vintage rather than thrift store, so keep in mind that prices will be on the higher side since the selection is curated. If you're willing to go super far south you might want to pay a visit to Thrift Land. If you do decide to go, make sure to bring cash because they don't take credit cards. There are hidden gems tucked away in every section of Thrift Land. Pay special attention to their jacket selection- it's huge.
If you take my advice, you'll have a super successful Austin thrift trip. If nothing in this article resonates with you, just remember to have fun and get out of your fashion comfort zone. I can't wait to see all of y'all's thrifted fits on campus!