The Pictures and Paint that Compose Our Minds: Black History Month Art Exhibit at the Georgetown Public Library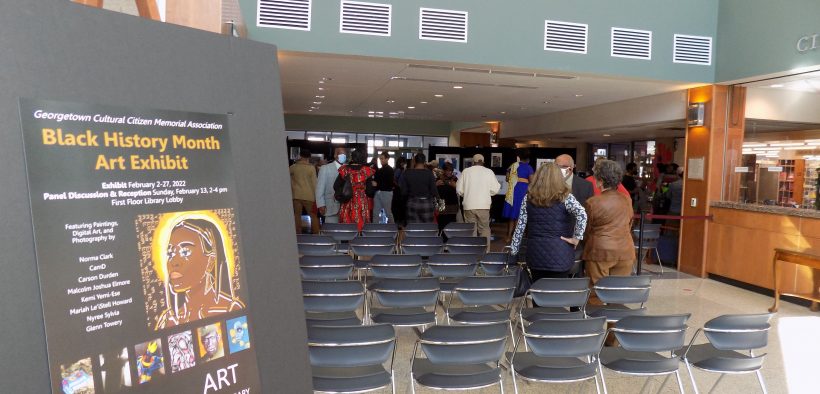 On Sunday, February 13, my partner and I had the opportunity to attend a discussion panel at the Georgetown Public library, a panel featuring local black artists and their work. We walked to the library in the cool February afternoon, chatting with shared anticipation. Rows of metal poppies greeted us at the entrance, and we stopped briefly to take photos before entering. There were already people milling about, the warm buzz of conversation filling the entryway of the library. Several dark panels adorned with artwork stood proudly in the center of the room, right in front of the doors. We slipped through the throngs of people to find a couple of seats before the discussion panel began.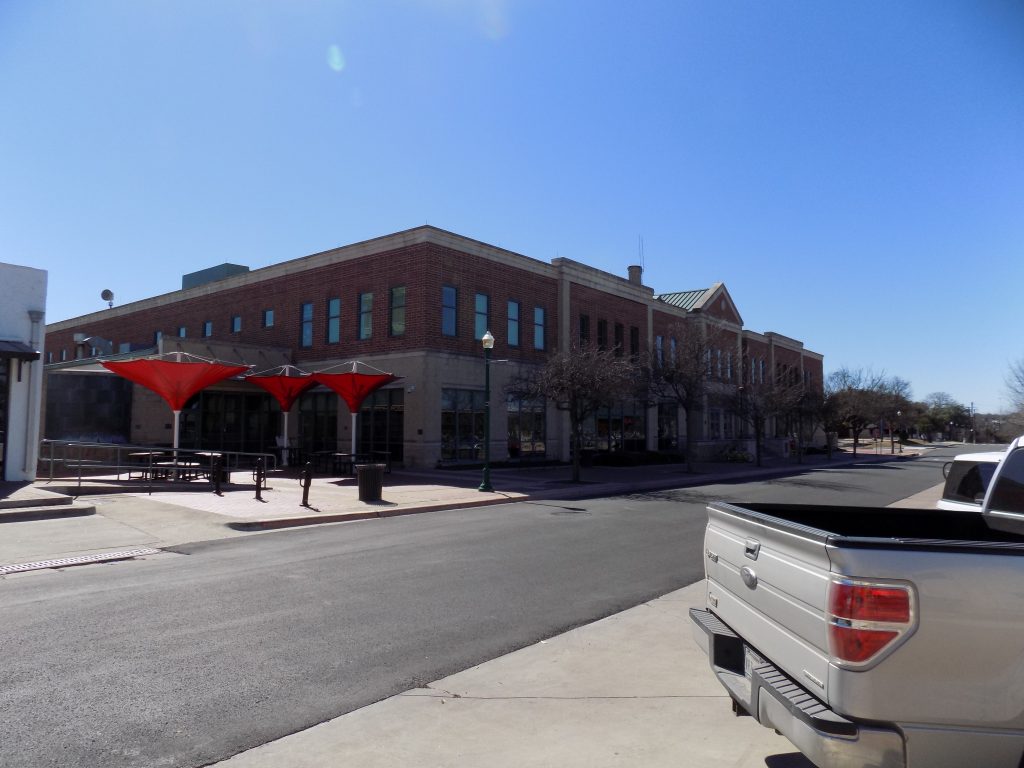 This event was organized by the joint effort of the Georgetown Cultural Citizen Memorial Association (GCCMA) and the Georgetown Public Library as part of a series of local events to celebrate Black History Month with the goal of preserving, teaching, and celebrating Black history. The exhibit will be set up from February 2-27, 2022, and features "artwork from eight artists in various media, including photography, digital art, mixed media, pen and ink, and paint." The panel was a special day to meet and listen to the artists discuss their work. It began with a speech from Paulette Taylor, president of the GCCMA, to highlight the work of the people who hosted the event, then audience and panelists alike stood to listen, sing, and sway to "Lift Every Voice and Sing," also known as the "Negro National Anthem." The mediator of the panel, artist CamD, then introduced each of the panelists, whose names and social media information I will include below:
As I am a white journalist discussing this event, I want to be careful not to include too much of my own narrative. For the rest of this article, I will be paraphrasing and highlighting quotes from the artists themselves. The group of panelists passed a microphone from hand to hand, up and down their line throughout the discussion, making a visual show of their collectivity. Each statement seemed to be made through the group in solidarity. Imagine this as I continue.
The conversation began with questions designed to get to know each of the panelists. Many of them noted the healing and therapeutic nature of their encounters with art, and mentions of the Covid-19 pandemic began pretty early on. For many of the artists, quarantine was either the beginning of their interest in art or a major block. As Towery stated, "I spent so much time pondering… and feeling these things that I really have not addressed them on canvas."
But their art was inspired by so much more than just the pandemic: they acknowledged the influences of pop culture, the Civil Rights Movement, Black Lives Matter, other artists, their own lives, peers, and the other panelists. Many of the group had met before at a similar panel two years before, and others continue to work together on various projects.
Since many had attended the previous panel, and most have been artists for years, they reflected on how much they've grown and expanded their art over time. Howard emphasized her increased confidence, Clark reflected on her process, how she "[doesn't] have an idea of what the final painting [will] look like… until [she] gets there," and Elmore reflected on how "[his art] grows with [him]… you can see how [he] perceive[s] life."
Each artist expressed the entanglements between the climate around them and their work. "There's some real stuff going on that we have to address," mused CamD, things that "[make their] art feel more urgent" (Howard) and energized Towery's proclamations about being an "activist artist." The panelists keep creating because "no one can paint [their] art like [they] can" (Clark), and in continuing to create they might be able to "bring true change to the world" (Towery). This work is not solitary, however. Each artist has goals, and many of those goals are rooted in their "group of weirdos who love art" (CamD), the families they've created among each other.
One of the final questions CamD asked was for each artist to give a short description of their work in the gallery. Durden, smiling, replied, "Hollywood, make better movies and represent better." Howard followed with an elegant proclamation of "the beauty of the black body" in her photography. Elmore photographed his "Black man's therapy in the city," and CamD urged through pop culture references that "it's time to speak up." Towery hoped to "evoke thought and feeling." Clark laughed about how when she hears people talking about her art, she thinks "I wasn't thinking any of that," and she loves it. Sylvia creates with "open-mindedness and representation" at heart.
The final question, asked by an audience member, was "how would you guide younger artists?" The love and passion that flowed out of each panelist in their response was undeniable. Elmore stressed "understanding yourself, growing within other people, loving everyone." Clark, who has a master's degree in abstract art, advised to "continue to create no matter what… as an artist it's what [we] have to do." The varied mediums and deep conversation sparked by this group of panelists and the diverse range of audience members truly emphasized that "art can be anything… it can be the way you dress, the way you talk, the way you handle things" (Sylvia). Art can even be the community you build.

Note: the event was recorded and will soon be posted to the GCCMA Youtube channel