Georgetown Coffee House Crawl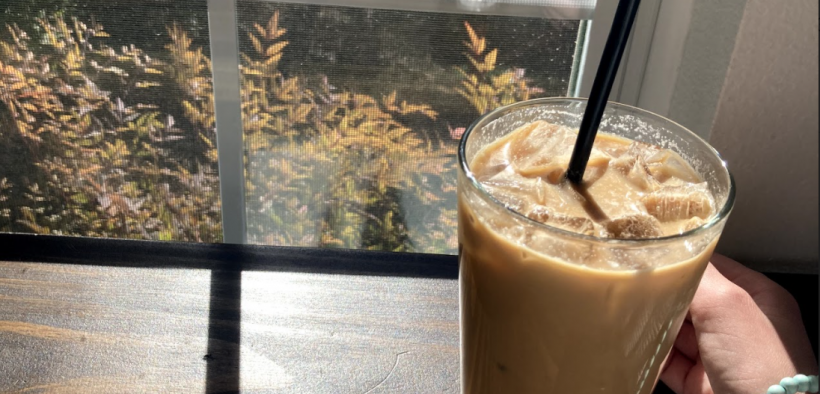 As the semester ramps up and the piles of homework start to grow, we're all desperate for our next caffeine fix to keep the deadlines at bay. And while Mrs. Dora at the Cove may make the best Iced Caramel Macchiato this side of the Southwestern seal, sometimes a coffee adventure off campus is the best way to get over a homework slump. Whether you're an early-morning coffee drinker or a late-night study session aficionado, these Georgetown coffee shops are the best places to grab a cup, meet some friends, or finish off that last assignment. While I, like any self-declared coffee snob, off course have my own personal preferences, I guarantee that any of these places will satisfy your caffeine crave and provide a great environment for all of your favorite activities.
Within walking distance of campus is Lamppost Coffee, a cute little place in the square that boasts a wide range of different syrup flavors and a charming atmosphere. While a bit on the pricey side, this coffee house has many different sizes to choose from and offers all of your traditional coffee options, as well as some specialty drinks like kombucha on tap. Their indoor seating is great for studying alone, and their outdoor picnic tables are a great place for meeting a group of friends after a class. Lamppost also allows local artists to display and sell their art in the cafe, which is a great way to support local businesses in Georgetown! The vibe in this coffee house is definitely tote-bag chic, with hints of big city mystery while still maintaining that classic college town familiarity.
A few blocks down from Lamppost (and also within walking distance of campus) is 309, my personal favorite coffee shop in Georgetown. The baristas are the best-dressed individuals in town, and every drink is made with love. If you're a hot coffee drinker, their specialty espresso drinks never fail to surprise; if, like me, you prefer an iced coffee to beat the September heat, their cold brews are smooth and robust, and pair well with their seasonal syrups (try their summer mint!). 309 has a lot of indoor seating for studying, but you'd better get there fast before it fills up. If you do happen to come during a rush, though, there are plenty of picnic tables where you can sit under the shade of the pecan trees. This coffee house is a great getaway for both families and college students, and they often have vendors selling baked goods on the weekends. I highly recommend to anyone looking for a tranquil environment or outfit inspiration, where your wildest dreams of iced lattes and hipster tattoos can finally come true.
Also in the square is Black Sugar Caffe, a lesser known, but worthy addition to Georgetown's coffee house scene. Black Sugar offers a wide array of sweet, espresso-oriented coffees, as well as boba tea and other popular sweet drinks. They also have, in addition to the traditional pastry coffee shop fare, full sandwiches and meals for when you need to take a break from the books. The ambience tends to be a little more distracting than the other two due to its loud music and bright color scheme, but it's an invigorating place to meet friends, or pose with the Jack Skellington figure that they have during Halloween (a word to the wise: he moves). This is a perfect place to grab a coffee if you're strapped for time, or if you're looking to wander the square while sipping.
A bit of a trek from campus, but worth it for their lattes, is Rivery Coffee House. Situated in an up-and-coming part of Georgetown, this cafe has comfortable outdoor seating and a clear, bright atmosphere. Its distance from downtown makes it a bit of a quieter spot, which means it's perfect for studying or having a long talk with a friend. Their coffees are bold, bright, and reasonably priced. Whether you're looking for that modern on-the-town feel or a quiet afternoon pick-me-up, look no further than Rivery.
Some honorable mentions to this list are the Sweet Lemon Kitchen and Lark and Owl Booksellers. Neither of these locations define themselves as coffee houses, but don't let that fool you; good drinks abound in both of these places. Sweet Lemon is a sit-down restaurant that specializes in cafe food, but they also have take-out options for coffee. They offer a surprising range of coffee options, which are perfect on their own or when paired with a light snack or meal. I highly recommend sitting outside and reading a book, people watching, or listening to their live music on weekends. For the distinguished book-loving coffee drinker, the interior of Lark and Owl features a counter for Nightingale Bistro. Their specialty drinks offer a unique peek into what feels like the high-society of coffee, and they often have unconventional and creative options for the daring coffee connoisseur. Plus, there's nothing that feels fancier than drinking a coffee while you peruse poetry, prose, and plays.
While this is by no means an exhaustive list of coffee house locations in and around Georgetown, it does highlight some of the local places that make this town so special and so beloved by Southwestern students. Each of these coffee houses comes with its own unique charm and appeal, and I challenge you to try them all. So the next time you wake up exhausted, or feel the midday drudge setting in, try a quick coffee adventure! I promise, you won't regret it.