Cruella, A Look At The Dalmatian Dutchess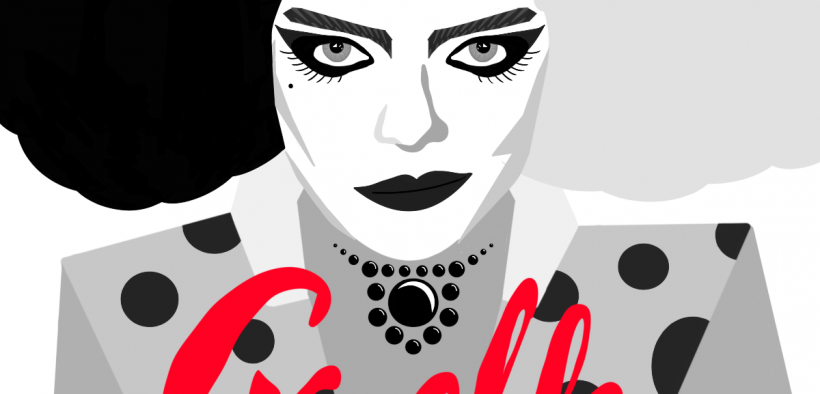 101 Dalmatians was released in January of 1961 and has gone through several iterations throughout the years. Although these iterations have slight differences from one another, they all feature the iconic antagonist, Cruella De Vil. Cruella is often portrayed as a bitter old materialistic woman who wants to turn the dalmatian puppies into a fur coat. In Disney's new movie Cruella, released this year, we dive into the past and mind of Estella, a troubled orphan living on the street whose passion for fashion and internal struggle will lead her down a long and twisted journey.
The movie does an excellent job developing Cruella's character as the movie goes on. She is seen as "weird" or "different" at first for her unique sense of fashion and her intense desire to dominate the world. She makes mistakes but she never questions her worth, no matter how many times she's mocked or overlooked. She also has a great support system, with her friends Jasper and Horace going along and helping her with her plans and schemes. Although the dalmatian puppies don't make an appearance in this movie, we still get some animal companions through Buddy and Wink. Although at first, they seem like an unnecessary addition, they add an element of humor, with the way they help carry out heists for the rest of the team.

We also get another character known as Artie, who helps Cruella design her outfits and applies creative suggestions. While queer representation in mainstream movies usually consists of a token character who has a couple of lines, Artie has actual conversations and appears multiple times throughout the film, which seems to be a step in the right direction. The film also does a good job of keeping the audience guessing, with many twists and turns to her story, and red herrings that distract the viewer from answers presented to us from the beginning. The fashion is also very bold and unique, as Cruella whips up public stunts and jaw-dropping garments in order to assert herself in the fashion industry.

Despite its compelling story and amazing characters, Cruella is not without its flaws. For one the run time is pretty long, and certain parts of the film have small fillers that can drag on and don't provide much for the story. Also, there is a disruption in the continuity of the franchise. In the cartoon, Cruella came off as a more arrogant, old, and tacky person, while in this film she is young, vigilant, and artistic. Lastly, in order to watch the movie when it first came out in March of this year, you had to pay an additional fee of $30 on top of the streaming service fee for Disney Plus. As of August 27th of this year, you can watch the film with a regular subscription without any additional charge.

With a sequel to the film already in the works, it is safe to say that Cruella isn't going anywhere. The twist on the iconic character is refreshing and exciting, and it will be interesting to see where Disney will take the character next. So grab your fur coats, sit back, relax, and enjoy this movie.