Men's Lacrosse Team Finishes Close Game with a Win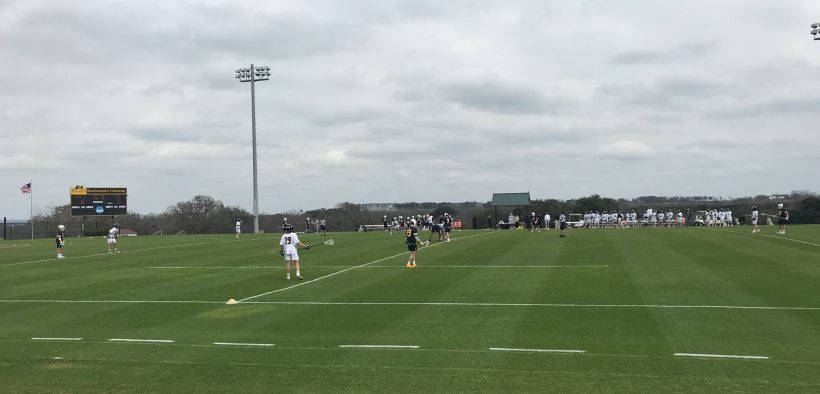 After five years of losing against Birmingham Southern Panthers, the Southwestern men's lacrosse team won this past Saturday, with a score of 12-11. Within the first six minutes of the game, the Panthers already scored two points against the Pirates, which did not bode well for the rest of the game. After that, the game was a large back and forth, with the face offs split fifty-fifty in the first quarter of the game. The Birmingham Southern goalie worked hard this game, making five saves in the first quarter, the other five shots on goal going wide or high. Tommy Saueressig scored the first goal of the game in the first quarter, with Jacob Hamilton following in suit, leaving the game tied at the end of the first quarter.
The second quarter started strong for Birmingham Southern again, with a score forty-five seconds in. Four minutes later Southwestern Pirates came back with a goal themselves by Jack Doloszycki with an assist by Blake Sitterly. Another goal was scored a minute later for Southwestern by Jacob Hamilton, which started to make Birmingham Southern sweat, causing them to call a timeout directly after. The ball went back and forth between the Pirates and Panthers for six minutes more before the Panthers scored two more goals, one after another. Southwestern came back shortly after with goals by Tyler Johnson then Nick Doxey, tying up the second quarter with the Southwestern Pirates leading by one, 6-5.
Southwestern won the first face off of the second half, with a pickup by Paul Zajac, that immediately went to a shot on goal that went wide. A goal was not scored by either side until seven minutes into the half, with a goal by Birmingham Southern at 8:08, and another two minutes later, leaving Southwestern down by one. By the end of the third quarter the score was Birmingham Southern 8, Southwestern 9.
The last quarter was a real nail-biter with Southwestern going up by four, just to have the Panthers come right back. Birmingham Southern almost closed the gap between the two teams just before the game ended, but left the field losing 12-11.
This is the first loss of the season for the Birmingham Southern, and the second win, in a streak of wins, for the Pirates team. This next Saturday is another game for the Pirates at home against Berry at 1pm.