Enneagram Workshop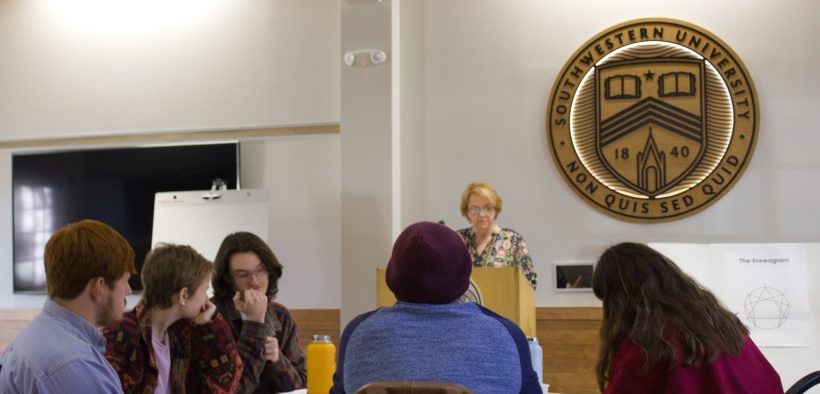 To learn about the Enneagram of Personality, students and faculty gathered in the Julie Puett Howry Center at 10 am on Saturday, Feb. 1. According to truity.com, "the Enneagram is a system of personality typing that describes patterns in how people conceptualize the world and manage their emotions." Rev. Dr. Georjean Blanton, a retired Elder of the United Methodist Church who has been learning about the Enneagram for about 15 years, shared her knowledge of the Enneagram with the group.

"I'm always grateful to share this wisdom," Blanton said. "There are many layers, and each layer opens us up to more and more awareness of our motivations and challenges as well as the beautiful uniqueness of each of us."

Blanton began by introducing herself and describing the historical context of the Enneagram. The Enneagram originates from oral tradition. The Enneagram guide Blanton distributed to those who attended the workshop said that "the Enneagram offers not only a lens to understand differences, but resources for spiritual growth and emotional balance, maturing beyond the limits of our personality."

"Those who go deeper in their study of the Enneagram have a great resource for finding balance in their lives and having a more intimate relationship with the Divine," Blanton said.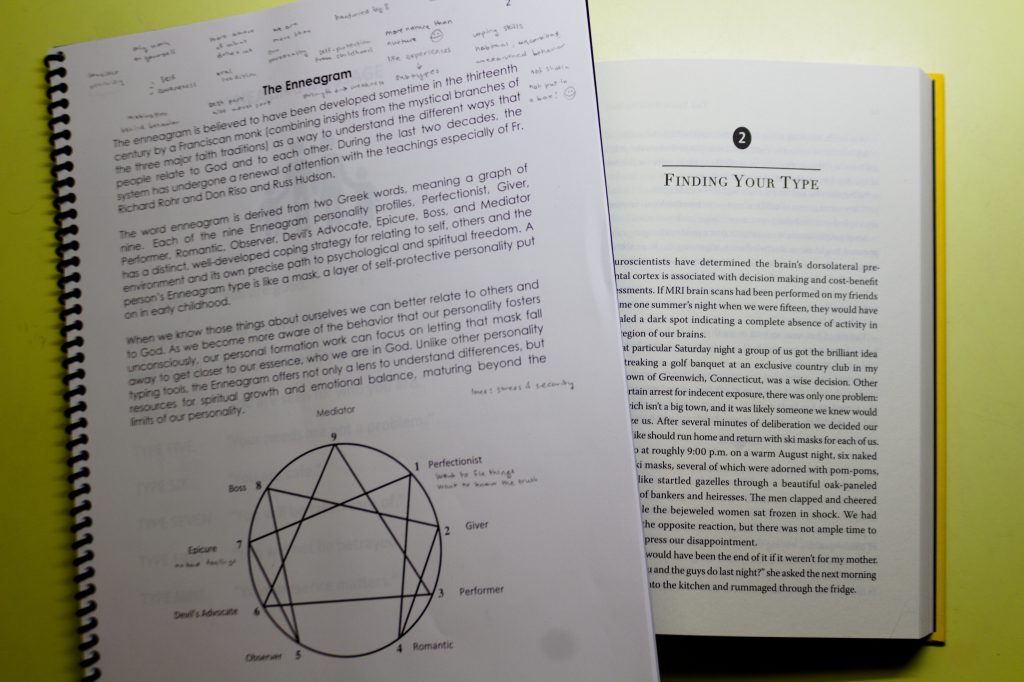 The Enneagram, Blanton said, is also about the motivation behind behaviors.

"The Enneagram is not static, and it does not put us in a box," Blanton said. "It tells us we are more than our personality."

Students who attended the workshop had different views about the Enneagram. Lolo Maze, a first-year student and a worker for the Office of Diversity Education and the Coalition for Diversity and Social Justice, said she "figured it would improve [her] capacities as a leader."

"I thought we would be interacting in-depth with the Enneagram system to better understand ourselves," Maze said. "I'm not sure any of the interaction was actually in-depth or personalized, and it was not particularly helpful to me."

Maze also discussed how her perspective of the Enneagram had changed.

"Before, I thought it was harmless personality test silliness," Maze said. "Now, I feel it is somehow so limiting that it defines people and they become self-fulfilling prophecies, and so vague that it cannot offer more than the most generic level of advice."

First-year student Nafisa Nazeer said she has been studying the Enneagram since age 12.

"It provides me with reasons that describe why I am the way that I am," Nazeer said. "We can each identify with a type, and with that type, we can create our own contributions."

Nazeer said the test "helps [her] figure out what [she] need[s] to work on and what [her] strengths and weaknesses are."

"If you know what your strengths and weaknesses are, that could help you during interviews," A common interview question is: What can you as an individual do to contribute to the group or organization? When you are self-aware, you are better equipped to answer those questions."

The Enneagram Workshop was co-hosted by the Office of Spiritual and Religious Life, the Center for Career and Professional Development, (CCPD) and Alumni Network Mentoring Program. Julianne Snape, the Interim Director of Spiritual and Religious Life, was present during the event.

"The Enneagram is a great tool to help us learn more about who we are," Snape said. "As we learn more about who we are, we learn how to better accept and love ourselves as well as others."
Every Wednesday in Feb. from 11:30 am to 12:30 pm, students can meet in the Margaret Shilling Room of the Commons to discuss the Enneagram. The discussions will be led by Snape.