Are Imagine Dragons the New Nickelback?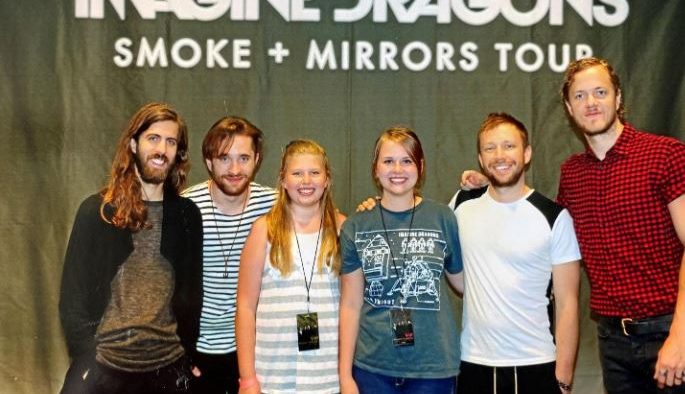 Corey Taylor, the front man for Slipknot, recently stated that Nickelback has handed their position as the most hated rock band to Imagine Dragons. I would like to state upfront that I disagree with this opinion, as Imagine Dragons are my favorite band; I also never truly agreed that Nickelback was terrible. I personally know 105 songs by Imagine Dragons, I did not include song covers they have released. I know it seems manic, but I feel that this lunacy leaves me in a unique position to analyze the bands recent fall from grace.
Imagine Dragons, a rock band consisting of Ben McKee, Daniel Platzman, Dan Reynolds and Wayne Sermon, gained major popularity in 2012 after the release of their hit song "Radioactive." A common opinion on Imagine Dragons is that their music all sounds the same, and the few songs that manage to escape the monotony lack sentiment. Yes their radio worthy songs are very similar: "Radioactive," "Thunder," "I Bet My Life," and "Natural". But, these are the songs that manage to become popular outside of their dedicated audience, so it is your fault, and, actually, these songs are written by the same people, so of course they will sound similar. The band has dozens of songs outside of their radio hits that are much better.
With my overzealous knowledge of their discography I would like to suggest a few songs to you: "Dream," "30 Lives"—a song with an orchestral component that varies from the bands usual sound—and "West Coast", a song on their most recent album that resembles the folk genre with acoustic guitar. I would also recommend that you look at the artwork for their album Smoke + Mirrors. They paired with artist Tim Cantor who created original pieces for the album cover and each individual song.
Part of the unpopularity of Nickelback is that their frontman Chad Kroeger is easy to poke fun at. While Dan Reynolds' rat-tail hair is an easy target; his honesty about his struggle with depression and his LoveLoud organization dedicated to helping the LGBTQ community makes it easy to forgive his fashion flaws.
Dan Reynolds has stated about his band that, "We are authentically ourselves and strive to bring positivity and empowerment to the world."
Dan Reynolds addressed the popular criticism of his band on his personal Instagram writing, "I've gotten over the fact that guys in other bands feel a need to talk badly about my band for whatever reason. I don't feel anger towards them actually, just more of a sadness that this industry embraces, even celebrates this mentality. I wish it felt like a place where artists stood by each other and supported one another—regardless of our different tastes and voices."
It is hard to disagree with the band, but with hate being so popularized it is hard to form your own opinion of their music. I was lucky enough to start following the band before "Radioactive", and while I have not loved every one of their songs, I cannot convince myself to start hating their music now, just because people think that my taste in music is uncool.