Ceramics Professor Studies LGBTQ Culture Overseas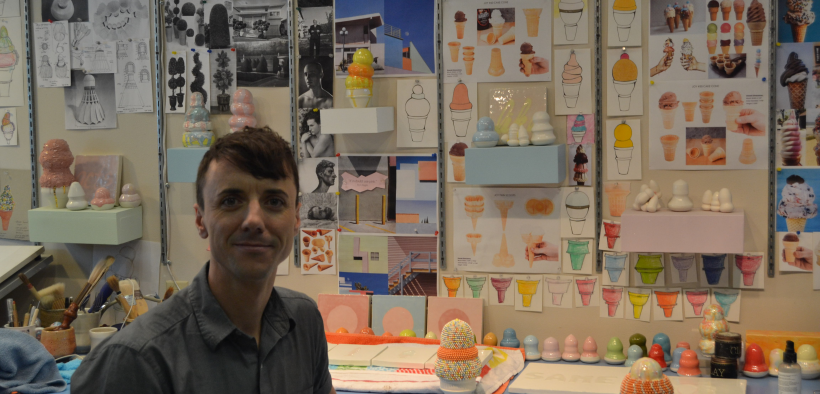 This summer, ceramics professor Ron Geibel traveled to the Netherlands and stayed an hour from Amsterdam at the European Ceramic Work Centre. While overseas, Geibel worked on pieces for his solo art show coming up this June, Pride Month 2020.

"I started to make flat work while in the Netherlands, and I focused on making my work more subtle," Geibel said. "The tiles are hand-pressed, and the glaze work is drawn on and hand-brushed. I used the idea of camouflage, so you have to be at a certain angle to notice the pattern. The floor tiles I made were all-white porcelain with a clear glaze."

One of Geibel's most recent pieces, Untitled (glory hole no. 1), is a depiction of the average single person European toilet floor.

"It's about what you share with people versus what you conceal," Geibel said. "I use patterning and references in my work that deal with private issues in private spaces and how those ideas align. I decided to make the edges look cracked to contrast the pristine glaze. It's weathered to make it look like someone has walked on it before or to give it a history."

Much of Geibel's ceramic pieces deal with identity, gender and sexuality. Geibel approaches these topics differently than other artists.

"There are a lot of artists who make work about similar issues," Geibel said. "They approach the matter in a more confrontational way. That is one way to approach it, but my way of approaching it is a lot more subtle. I want people to walk into the conversation without knowing that is where they are heading until they are there."

While in the Netherlands, Geibel studied Dutch culture and the experiences of individuals within it who identify with the LGBTQ+ community.

"The reason I went to the Netherlands was because of its history," Geibel said. "The Netherlands is known to be at the forefront of LGBTQ+ rights. They were the first to legalize gay marriage and the first for equality."

Geibel spoke with members of Dutch culture from rural and to get the inside scoop. He contacted people of all ages, from college students to recent retirees.

"On paper, the community seems to be accepting," Geibel said. However, that's not necessarily the case. There was a general consensus between all generations: it's not as accepting as it seems from the outside."

Geibel also spoke with people who have resided in Amsterdam their entire lives, people from small towns who later moved to Amsterdam and people who live in rural areas of The Netherlands.

"Part of this research was to compare the experiences of LGBTQ+ people in the United States versus in the Netherlands," Geibel said. "I found some of the stories I heard while in the Netherlands were parallel to the experiences of those who live in the US."

Geibel had the opportunity to eat dinner with gay refugees. The dinner was organized by a Dutch organization that finds mentors to help refugees adjust to living in the Netherlands as they wait to be naturalized.

"I didn't go into that dinner explaining my research because that dinner wasn't about the research, it was just about hearing stories and understanding," Geibel said. "I didn't want people to think I was there getting information for artwork I was making. It was more about hearing their stories."

There were about 30 refugees at the dinner, some from Poland, some from Middle Eastern countries and elsewhere.

"Whatever my most challenging experience could be as a gay man in the States is nothing in comparison to their stories. I recognize my privilege, and the dinner was eye-opening."

Geibel said he is also inspired by the queer artists who confronted inequality in the 1980s and lived through the AIDS epidemic.

"Their work was much more confrontational in a time when confrontation was necessary," Geibel said. "I think that's my responsibility of my gay man, to know the history."

Geibel said that while art is a vulnerable form of expression, he encourages others to get outside their comfort zone and create something meaningful.

"Art is a communication tool," Geibel said. "There are endless possibilities within the art realm. It's a way for people to find their voice, to bring communities together, to start conversations. I like to do that through a coy, playful, political angle."