Women's Soccer Takes the Weekend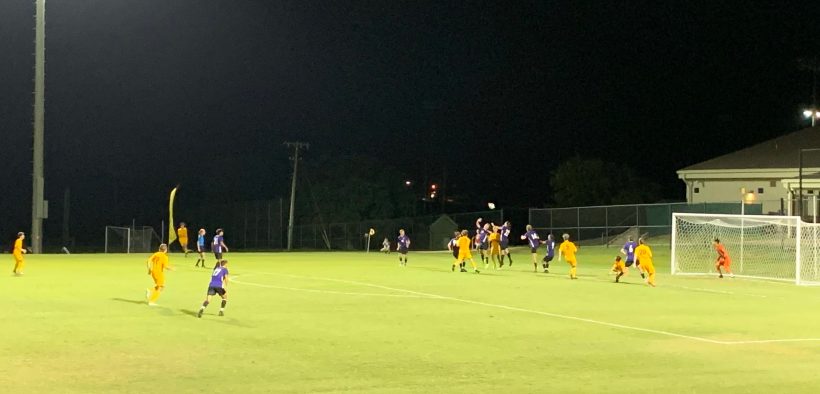 Women's soccer played like true Pirates as they stole the gold for a kickstart to their fall season against Sul Ross State University Lobos. The lady Buc's seemed to find their rhythm in the last weekend of August along with the net as the final score ended with 2-0. The two and only goals scored during this game were during the first half. The first scoreboard change wasn't even done by a Pirate; Hannah Sanderson of the Lobos had unfortunate luck and put up a point for Southwestern. Shortly after Pirate So. Hallie Rutherford scored with an assist from Fr. Juliet Pridgen. Goalie and Sr. Mary Cardone stood out in the goal, making eight saves out of the eleven shots on goal. The afternoon heat didn't seem to hinder the team as they continued to fend off any chance at a goal against them.
The winning pattern continued throughout the weekend for the Women's team when they returned to the field on Sunday at twelve o'clock. Their competitors–St. Thomas–presented an exciting and low scoring match, finally ending with a goal from the Southwestern side when Sr. Defender and Captain, Romie Reyna launched a left-field shot that resulted in a win for the home team.
Southwestern came out strong with both defense and offense during the first half, leaving Lobos with only one shot on goal compared to their six. Penalty numbers were low for both teams; St. Thomas player Olivia Urrutia was the only one to receive a yellow card. Low penalties did not necessarily mean a low-intensity game on Sunday though, Southwestern seemed to have gotten a good night's rest in preparation for the Sunday game. Their drive and team dynamic shone brightly on the home turf.
A great opening weekend for Southwestern's soccer can only point to a successful season ahead. Team dynamics and skill can only improve as summer turns to fall in Georgetown! Go Buc's!