OPINION: Visit Southwestern's 3D Printing Studio
You probably know about 3D printing, but did you know that students have access to professional quality printers?
The Pirate Studios in the Smith Library Center have two printers available for student use. The Ultimaker 3 Extended printer features dual filament extruders for multiple colors and materials, and the Formlabs Form 2 boasts lasers to harden resin to create a more smooth surface.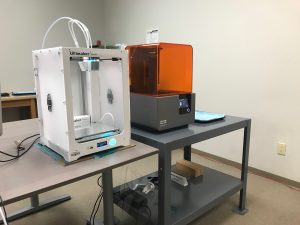 Available materials include PLA, ABS, and resin, with many color choices for each. The 3D studio also has stations to polish and finish projects after they come off the printers.
Currently on display in the entrance of the library are some examples of student and faculty work. Dr. John Ross of the math department has some forms relevant to his areas of study on display. Dr. Fumiko Futamura, also of the math department, has a few examples of student collaborations as well as individual work. Professor of Sculpture Mary Visser is displaying an example of her personal work.
This exhibition is a great showcase of what is possible through 3D printing that would otherwise be difficult through traditional sculpting. However, prints don't have to be purely technical. They can also be fun, like this fox: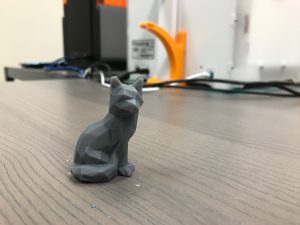 This low-poly fox was made using the Formlabs Form 2 printer with grey resin and then sanded. The resin is more expensive than the filament but offers more precision and a cleaner look.
Students interested in printing their own files can make a reservation on the Pirate Studios website, accessible via the library directory. Files should be either .stl or .obj and can be made by the students or downloaded from the internet. A good repository for .stl and .obj files is www.thingiverse.com.