SU Robotics Club Experiences Renaissance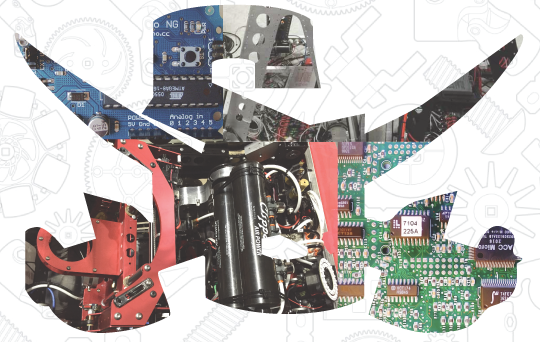 On the Thursday before spring break, while many of us were packing suitcases or cramming for last minute midterms, the SU Robotics club had their first meeting of the semester. The club has existed at Southwestern before this semester but this meeting marks its rebirth after a period of inactivity.
Spearheading this robotic renaissance are first-year Christine Gutierrez and Professor Steven Alexander, head of the Physics department. Gutierrez, who is President, brings over 5 years of Vex and First robotics knowledge as well as artistic talent and fervid enthusiasm to the club. Alexander uses his knowledge of physics, engineering, and coding to help guide the club. Together, they worked to make sure the meeting was fun and informative for all.
The meeting started with a brief round of introductions in which everyone attending shared their name, major, what they could bring to the club, and what they hoped to gain. There were the expected physics and computer science majors, but there was also a healthy array of non-STEM majors, from English to Studio Arts, showing that there are a variety of reasons that SU students want to get involved with robots. Natalie Young, a Sociology/ Communications double major with a minor in Studio Art says that she is participating in the club because she is interested in the community the club creates.
"I have never been interested in robots before, but my friend encouraged me to go, and the people were nice. Even though I don't have any experience in STEM, I wasn't treated like an outsider, and I thought it would be nice to find out more about robotics. Because of the backgrounds of my majors, I'm motivated to find communities like the Robotics Club and interested in seeing it grow and succeed. I've even offered to help with recruitment and community outreach," Young said.
In addition to the various reasons behind their interest in the club, members each brought varying skills, from avid beginner to seasoned engineer. Some people had only written the coding for robots, never having touched anything that went into physically making the robot. Others were familiar with the various elements of robotics, from software to construction. Professor of Computer Science, Jake Schrum, who was in attendance for the meeting, pointed out that the breadth of knowledge provided a way for everyone to share their skills and learn something new. He even suggested that the club hold mini-workshops for its first few meetings so that people could learn the skills they would need for more complex projects.
This comment sparked a group discussion around the meeting's main focus: what the club wanted to accomplish. Many ideas were shared as the possibilities for what robots could do seemed endless. In addition to his earlier statement, Schrum added that he had designed an artificial intelligence program which would let robots solve mazes and though he had only ever run it in simulations, it would be interesting to see if the program would make robots smart enough to navigate mazes in the physical world. In a similar vein, Gutierrez mentioned VEX U and Battle Bots: competitions in which students design robots and fight in various ways to see which team comes out on top.
When asked about where the club would receive funding for such projects, Alexander brought up the grant programs available to Southwestern Students, namely the Green Fund and the King Creativity Fund. Because the Green Fund is focused on helping make Southwestern a more sustainable campus, Alexander suggested that the club build a sort of automated watering system for the Community Garden. He also brought out past projects to show the range of things the club could create, from a soil monitor that measures temperature and moisture to a whimsical mechanical recreation of The Sorting Hat. Though no concrete conclusion was reached by the meeting's end because of the expansive possibilities, there was a genuine excitement about the projects that might be done.
The second meeting of the semester occurred this past Friday. The main order of business at this meeting was determining the officers. After a series of elections, which were nowhere near as disastrous as the 2016 presidential elections, the officers for the 2017-2018 year were elected. Gutierrez was elected President. Alexander Hoffman was voted Vice President. And Clair Harding was elected treasurer. It was also determined that the next meeting would take place on Friday April 21st. The officers decided that this meeting would be a good time to give people the chance the build basic skills used in robotics; they have devoted the time to learning coding skills. They have also scheduled the club to meet in the library to learn how to use the 3-D printers as fun bonus activity on Thursday April 20th.