Southwestern Guest Artist Concert: Bryan Hall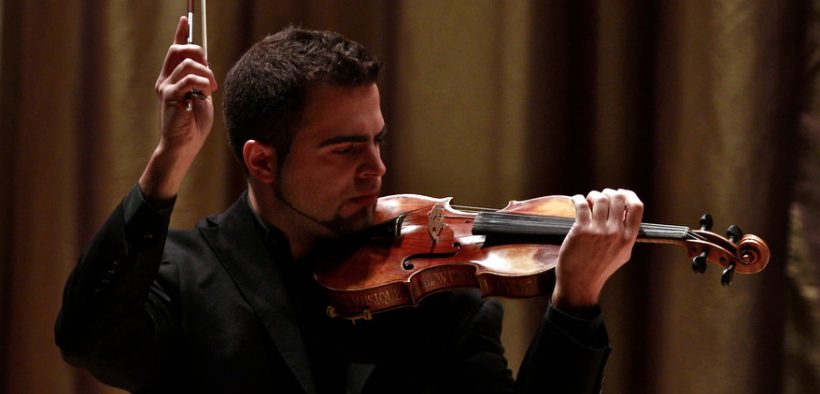 On February 7, Dr. Bryan Emmon Hall visited Southwestern as a guest artist and performed several pieces with his accompanist, Lorna Eder, on piano.
Dr. Hall enjoys success as both a performer and teacher. He has performed extensively in the United States and abroad as a chamber, orchestra, violinist, violist and conductor. Dr. Hall has appeared as a soloist to many orchestras, including the Austin Civic Orchestra, Fairbanks Symphony Orchestra and many others. He has also performed internationally in many other countries, including Korea, Argentina, Iraq and many more.
Dr. Hall currently serves on the faculty in The University of Alaska at Fairbanks as the violin/viola professor and pedagogy coordinator. He is also the concertmaster of the Fairbanks Symphony orchestra, conductor of the Northern Lights Symphony Orchestra, and conductor of the Fairbanks Youth Symphony Concert Orchestra.
Dr. Hall performed three pieces during the concert.
The first piece he played was Sonata in G minor "Devil's Trill" by Giuseppe Tartini. As the name suggests, the piece was filled with trills. The piece had many parts where the violinist would have to simultaneously play two strings while trilling on one of them. The technique needed to execute such a passage is phenomenal and he delivered. This piece accentuated his technique and displayed his skills.
The second piece Dr. Hall played was Duo Concertante by Igor Stravinsky. This piece was more dissonant sounding and had a turbulent feeling throughout the piece. This piece is a duet for violin and piano and Stravinsky seemed to compose the piece in a way that highlights the capabilities for each instrument. Stravinsky often used long, sustained violin lines that sharply contrasted to the quick, detached and running lines that the piano would play. The violin part in this piece really demonstrates the smooth, flowing sound that this instrument can produce. Eder was also excellent on the piano.
After the intermission, Hall resumed with his final piece Sonata No. 1 in D minor, op. 75 by Camile Saint Saëns. This piece is filled with runs and double stops (playing two strings). This piece showcased Dr. Hall's excellent technique once again. The piano and violin also were incredibly in sync.
In all, Dr. Hall delivered an amazing concert with these high-level pieces.
For anyone interested in more fine art showcases, upcoming Sarofim events include a musicale on February 17 and the play In the Next Room or the vibrator play which will be open on Friday-Saturday for the weekends of the 17th and the 24th.