Friday Night Live: Comedian Monroe Martin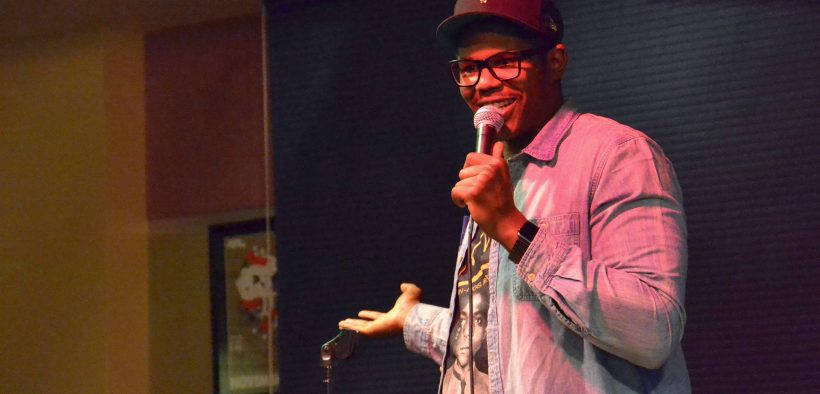 Last Friday night, January 20, comedian Monroe Martin transformed the Cove from a place of studying and chowing down to one filled with nothing but shock and laughter.
Martin, a young and rising figure in the world of comedy, goes about telling jokes in a brutally honest yet hilarious fashion. Spending his adolescence in foster care, moving about from one home to another, he was a stranger to an average, ideal childhood. He later attended community college in Philadelphia, but only for a brief time; he dropped out after setting his sights on his true passion—comedy.
As a very personable, charming individual, the stories Martin told of his humble beginnings deeply engaged the audience. . . only to be spun effortlessly into his hysterical comedy routine. Also among his repertoire were devilish stories of ex-girlfriends, humorous high school tales, and very pertinent discussion about race and the rocky political climate. Martin carried about his show with an ebb and flow of material based in his personal history countered with hilarity drawn from current events.
One standout part of his show here at Southwestern was his level of audience participation. Throughout the night, and even at almost cringe-worthy length at one point, he was engaged with several students in the crowd, exchanging banter and using their responses to make some pretty lewd jokes—all in good fun, however. He balanced any and all embarrassment from participants with just as much self-deprecating humor from his past.
Martin's creative story telling has thrust him upward in the comedy scene, allowing him to perform all across the country. He's even making his name in broadcast TV, appearing on "The Artie Lange Show" and "Last Comic Standing," and is set to appear in the upcoming second season of "Adam Devine's House Party" on comedy central.
A fun night full of laughs and guffaws, Monroe Martin succeeded in making Southwestern's Friday Night Live crowd walk away with nothing but smiles on their faces.