Art on 5th – A Wandering Disposition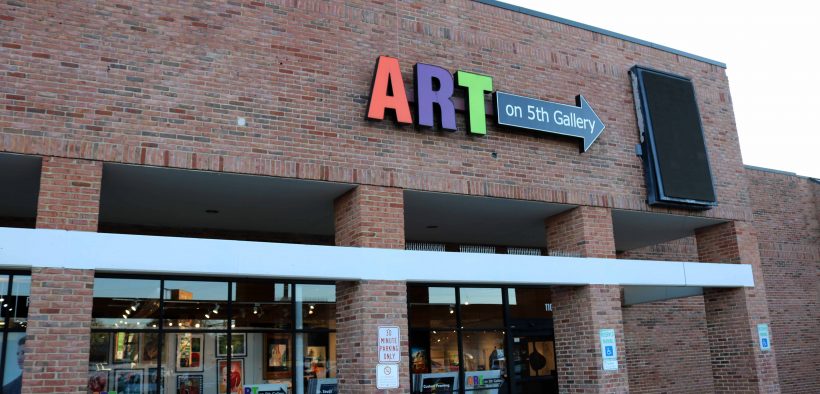 Austin's largest contemporary art gallery, Art on 5th, can be found on South Lamar right next to Kerbey Lane Cafe. Featuring original works by local, national, and international artists, the gallery has become a fixture in the Austin art scene. Art on 5th often hosts touring exhibitions along with its rotating collection. It was voted in 2016 as the best gallery in Austin, admission is free and everyone is welcome.  
From January 21st to February 15th, Art on 5th is showcasing the Print Austin Exhibition: A Wandering Disposition. This exhibition features six artists with expertise in a range of print media, from etching and stone lithography to silkscreen printing.
According to the artists, "A Wandering Disposition is a collection of work reflecting on humankind's relationship to the world around us, and the ways in which our subconscious mind may experience it."
Personally, this collection was very meaningful. Works reminiscent of old apothecary books with small yet detailed illustrations of animals and nature, prints with just enough visual stimuli to spark the imagination, and lithographs with deep symbolism that make you stop and ponder their meaning. This exhibition is truly is a study on experience and perception.
One of the gallery's boasting points includes a collection of secret Dr. Seuss' artworks. This collection is vast and enchanting.
"Art on 5th prides itself on having the largest collection of the art of Dr. Seuss in the country," their website says. "These works were rarely, if ever, exhibited during his lifetime and provide a deeper glimpse into the art and life of this celebrated icon."
The collection The Secret Art of Dr. Seuss is both familiar to someone who has grown up reading his books and foreign in its darkness. These works were created by Seuss for himself, and the self questioning surrealism is much more pronounced than in his illustrations for children's books. I enjoyed these works immensely and am amazed that the entire collection is available for purchase.
In December of 2016, the gallery hosted a collection of original licensed Star Wars art. It includes works from a multitude of artists licensed by Disney and Lucasfilm. With Warhol  reminiscent portraits of favorite characters from the original and prequel trilogies, gorgeous landscapes in impressionist and romantic styles, and scenes from movies with wonderful depth and color, this collection is both unexpected and widely appreciated.
Towards the back of the gallery is a collection of Marvel inspired artworks. Drawing heavily from the comic books, these works would definitely be much more meaningful to someone who grew up with Marvel. I cannot claim to understand it, however I can still appreciate what an impact it had on the various artists' backgrounds, as it is all very vivid.
While they are both gorgeous and delightful collections, I can't help but think how forced these two are. They are distinctly different from the Dr. Seuss collection. Where one is the self-questioning and surreal workings of a true American Iconograph, the other two seem forced through the mindset of merchandising. Licensing and corporate profits are an uncomfortable aura that clouds the enjoyment of the works. It seems less sincere, as if the artists' talents are being used by the capitalist machine.
The rest of the collection is refreshingly original and thought provoking. Art on 5th is a wonderful gallery and I highly recommend visiting. After A Wandering Disposition, they will be featuring the Houston-based artist Trá Slaughter in an exhibit called I am #1, I Am No One.
"I see us all as donning a mask, or shield in order to go out and do our battles, to handle our lives," Slaughter says. "The mask never truly reveals what's going on "behind the scenes" of our mind and emotions."
An opening reception will be on February 11th from 7pm to 9pm. To RSVP for free, visit http://no-one.eventbrite.com/