"Allow Me: Facing Identity" Art Exhibit by Southwestern Professor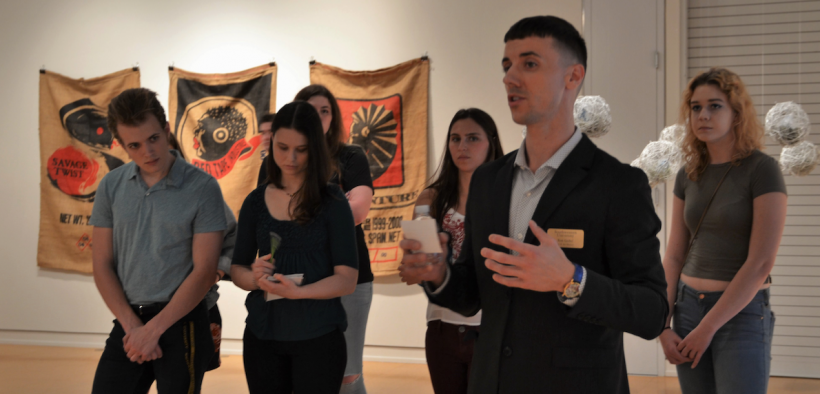 By: Colin Scruggs
Open through November 14, a new exhibit titled "Allow Me: Facing Identity" will be hosted in the Sarofim Fine Arts Gallery.
Curated by Ron Geibel, Visiting Assistant Professor of Art, this multimedia exhibit explores the forces that shape personal and social identity. Each artist's display of work reflects the challenges of finding one's self among the societal labels associated with race, heritage, gender, and sexuality. The exhibit aims to call into question the role cultural norms play in how individuals perceive themselves as well as others.
From subtleties like faces superimposed on individual feathers to the evocative, riveting imagery printed from massive woodcuts, Allow Me: Facing Identity encompasses a variety of messages that are communicated through many different mediums. Featured works in this exhibit include ceramics, sculptures, watercolors, a quilt, and even human hair; the diversity of the artwork reflects in itself the multifaceted nature of each artist's own identity.
During the nearly year-long curatorial process, Geibel gathered collections of works from a number of artists all across the country. The first part of the title, "Allow Me," was chosen as a way to politely invite viewers to enter the exhibit and create a welcoming space to spark meaningful discussion. One of Geibel's goals when assembling the collection was to create pockets of conversation throughout the exhibit, where sober examinations of racial stereotypes are balanced by satirical takes on classic gender roles.
"Going through the curatorial process for this exhibit… I thought a lot about what I wanted to show on several different fronts," Geibel explained during the gallery opening on October 15. "The first was thinking of, through enculturation, the way we're shaped and influenced by outside cultures, whether it's media or pop culture."
Allow Me: Facing Identity will be open Tuesday through Sunday from 12:00 to 5:00 p.m. in the Sarofim Fine Arts Gallery until November 14. Come by to experience a truly unique art experience.