Save the Last Dance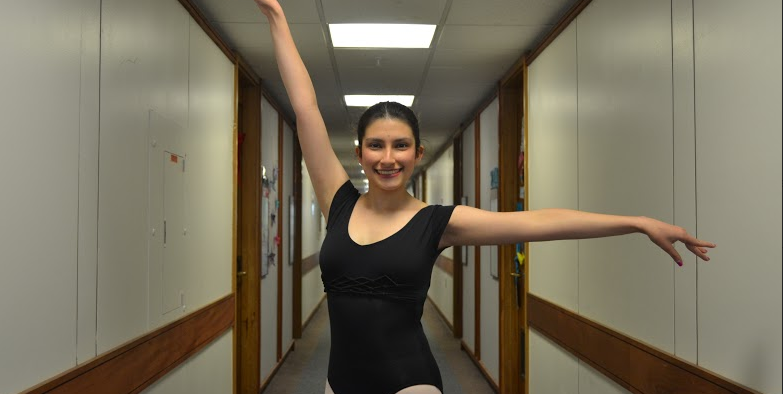 By: Sherlyn Ong
Fifteen years ago, First-year Margaret Leal began what she now calls her passion.
At the young age of two and a half years, the McAllen, Texas native was put in her first dancing class.
From that point on, her world has revolved around dance.
"My mom put me in dance and I really loved it," Margaret Leal said. "[My mom] danced when she was a child, and that's why she put me in dance, too."
One of the common misconceptions is whether or not dancing can be considered a sport or not.
According Leal, she strongly believes that dancing is a sport.
"A dancer is an athlete," Leal said. "Doing simple leaps and other dance related movements takes years of practice and is physically challenging.
"In order to do them, you need to be very flexible, have good stamina, and be very strong with your entire body, especially your core."
At an given hour practice or session, a dancer can burn anywhere from the lower 200 calories to upwards of 600 or more calories.
The higher end of that spectrum is the amount of calories that a football or basketball player can burn in roughly one hour of play.
Another bond that dance shares with other athletics is the team unity that is formed within the group.
"The bond that you have with your dance group is similar because you need to know your teammates," Leal said. "You need to watch and be there for each other in order to work as a team."
Here at Southwestern University, dance is offered as a minor as part of the Sarofim School of Fine Arts.
However, one possible fears that Leal has regards the future of the minor at the school. According to Leal, Dr Price-Thompson is retiring.
There has been no official word from the university on whether or not they will be replacing the position with someone new or dissolving the post all together.
"Part of the reason I applied to Southwestern is because I could minor in dance," Leal said.
"I was unable to get into a dance class this semester because they fill up so fast. I am not sure what the future holds for me and dance."
Though, Leal is the one to show concern, she is not the only one who feels this concern.
The loss of this major would mean those who want to continue learning dance would have to seek outside studios to practice and use. This may not be economically feasible for a college student to pursue.
"Dance was supposed to be my stress-reliever class since dance is my stress outlet and my form of exercise," Leal said. "So, by the school telling me that dance may no longer be offered as a minor makes me upset."
If the school was to eliminate the minor, this would not only affect Leal, but others who are also interested in continuing their passions or just want to learn dance.
It would limit the appeal of Southwestern and deter people away from our campus.
"Since Southwestern is a liberal arts university, I feel like it should keep it," Leal said. "It is a major art form in the fine arts area."