Leaving A Champion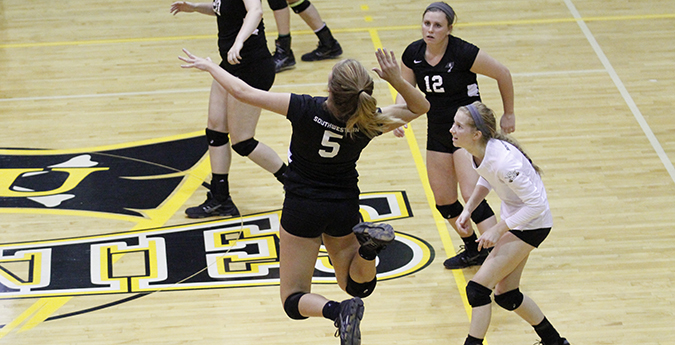 By: Andrew Kevin Pratt
At halftime during the Men's Lacrosse game against Whittier College, the Southwestern University Pirates Volleyball team had a bit of a bittersweet celebration.
The team finally received their conference rings, a reminder of all the hard work, dedication, and dominating wins that occurred this past season.
It was a parting gift for the seniors, who helped continue a winning culture for the volleyball team.
It was also a parting gift for Coach Long, who would no longer be part of the team next season.
At the end of March, Head Volleyball Coach Hannah Long stepped down from her position so that she could accept the head coach position at Queens University in Charlotte, N.C.
Queens University is NCAA Division II school that participates in the South Atlantic Conference.
Long replaces former-head coach Lettie Wilkes, who lead the Royals to a 13-16 overall record this year.
In her five years at helm, Wilkes compiled a 95-68 record, including two East Division Conference Carolinas Championships and a NCAA Tournament berth as the 6 seed in the Southeast Region.
Long's legacy at Southwestern is something that will be remembered. In her twelve seasons, the Pirates Volleyball team have had an impressive 363-94 record.
The team has won Southern Collegiate Athletic Conference (SCAC) titles three times, appeared in the NCAA Tournament 10 times, and advanced to the NCAA Regional Finals twice.
Long, herself, was named SCAC Coach of the Year five times, the most recent being 2014.
In 2009, one of the best years for the program in recent years, she was named the American Volleyball Coaches Association's South Region Coach of the Year.
That year, the team posted a dominating 35-4 record, including a 33-game win streak.
Long is just the latest in a trend of successful coaches leaving Southwestern recently.
Just last year, former-Golf Coach Dan Ruyle left Georgetown and became a volunteer assistant at the University of North Carolina.
Former-head women's basketball coach Kerri Brinkoeter resigned for personal reasons. Like Long, she left the same year the team won a conference title.
The year prior, the Men's Basketball team also changed head coaches. Then-assistant coach Janson Hightower was promoted to the head coach's position when Bill Raleigh stepped down to become the Assistant Athletic Director full time.
Back in 2013, former Tennis coach Lester Sombito left after a successful 2013 campaign that lead both tennis teams to top 3 finishes at the SCAC tournament.
While a coaching changes are not necessarily bad, there is always some worry of a decline.
For example, the Women's Basketball team went from Conference Champions one year to bounced out in the first round the next. One of the biggest differences between the two teams is the difference in coaching personale.
While you cannot blame a decline strictly on coaching changes, it is cause for concern.
Will the Volleyball team continue to be a regional power, or will we see a decline? We will have to wait in see next season.
Though Long will be missed, the fairly young team should continue its dominance, thanks to only losing five members of this season's team.
No word has been made on who would be Long's successor.