Southwestern is Under Investigation: Federal Offices Investigate SU's Adherence to Title IX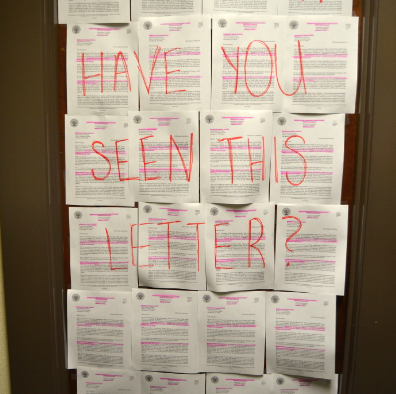 By: Michelle Hershberger and Amy Gu
Tumblr-browsing at 2 a.m. one Spring Break night, senior Katie Morgan discovered public records indicating that the Office of Civil Rights (OCR) had filed a federal investigation on Southwestern for alleged Title IX violation. According to documents in such public records, the United States Department of Education is opening an investigation against Southwestern University under Title IX of the United States over a sexual assault grievance proceeding.
By a letter addressed to President Burger dated February 28, 2016, the Department of Education notified the university that an investigation will commence over a student alleging that Southwestern failed to provide an impartial grievance hearing in response to a complaint of sexual assault filed April 30, 2015. Under the Department of Education notice, Southwestern had until March 4, 2016 to file a response.
Title IX of the Education Amendments is found in Chapter 20 of the United States Code, beginning at section 1681. In general, Title IX prohibits discrimination on the basis of sex in any federally funded education program or activity. Although Title IX is known to oversee gender equity among collegiate athletic teams, the statute also can be applied to student housing, academic offerings, and sexual harassment.
The OCR and the Department of Education has authority over private universities such as Southwestern, as well as SU's grievance hearing process due to Southwestern receiving federal funding and financial assistance. The OCR will investigate if SU failed to provide an equitable and prompt response to reports and complaints of sexual harassment and sexual violence.
The notice does not conclude as a matter of law that a violation occurred, rather it is the beginning step in the investigation. Southwestern has the opportunity to respond to the investigation and provide information and a justification for its process and decision. The Department of Education also provides a means for it and Southwestern University to settle the investigation.
Students began inquiring about the investigation via social media on March 17. The administration first publically addressed the investigation on March 21 with an email sent by President Burger to students and faculty titled "Request for Information from the Office of Civil Rights."
"The Office of Civil Rights (OCR) of the U.S. Department of Education asked Southwestern to provide some information regarding Southwestern's handling of a certain case of sexual misconduct from a previous year" Burger wrote. "Many institutions of higher education throughout Texas and the country have received similar inquiries concerning these matters, so Southwestern is not alone."
President Burger also assured recipients that SU has and would continue to show leadership in issues such as these.
According to Charlene Buckley, Dean of Student Life, the Office of Student Life was not aware of the filing of the complaint prior to receiving the OCR's notification and also is pending more information regarding this allegation.
"The University will respond to the OCR's questions and provide it with documents it requests," Buckley said. "We are confident that upon a review of SU policies, SU will be found compliant with Title IX."
The university is currently working through legal counsel to provide all requested information to the OCR.
"We don't want to speculate as to outcome," Buckley said. "Our understanding is that most OCR investigations of this type result in an agreement between OCR and the university to perhaps modify its processes going forward, while some have resulted in OCR dropping its investigation."
Dean Buckley maintains SU is committed to non-discrimination and the strict prohibition against all forms of sexual misconduct.
Students, however, were frustrated by the delay of information about the investigation and subsequently questioned the intentions of the administration withholding notice of a federal investigation.
"I feel like going through the protests last year with students asking for more transparency, it's really frustrating to be told there will be more transparency and then for this huge thing to happen and nothing to be said about it until students hounded you on social media," Morgan said.
Senior Katherine Protil, who along with Morgan, participated in last year's protests pressing the administration to do more to prevent assaults and provide a safe campus, had similar concerns.
"I think part of their calculation in not talking to students about it was the activism last Spring and even the Zero Tolerance Policy last Fall and this semester," Protil said. "They knew there were students on campus who would be angry about it."
Students also had concerns with the way the university addressed the situation, specifically the casual tone of an email alerting the student about a federal investigation.
"It's too little too late," Protil said. "You can't hide a Title IX investigation for a month and then in any way fix the situation with an email—there's really not an email that can address it."
This matter is particularly striking considering the atmosphere of social justice and activism part of SU's core values. Also included in these values is a commitment to foster challenging conversations about social issues.
"To me it shows the culture we build up at Southwestern is one where we can recognize these things in the abstract but when we are confronted with issues like this in a real life scenario, face-to-face, it's much harder for people," Morgan said. "It goes back to the all talk and no action thing. We like to pretend we are very invested in social justice and civil rights and some of us are and that's great but it's not the vast majority."
While policies surrounding issues like sexual assault can be problematic, even more concerning can be the attitude surrounding such matters.
"How do you convince people this is an issue that's not worth just paying attention to but investing in emotionally and investing your time in?" Protil said. "For some people, it's easy to ignore if it hasn't touched them or if they don't know somebody it has touched or don't know they know someone they know has been touched by sexual assault. It's easier to pretend it doesn't affect you."
Further information regarding the repercussions of the investigation can be found through Texas Association Against Sexual Assault (TASA) and  Know Your IX.
Those interested in receiving developments on the Title IX investigation at Southwestern via email can sign up on The Chronicle of Higher Education website.