Swimmers End Season on High Note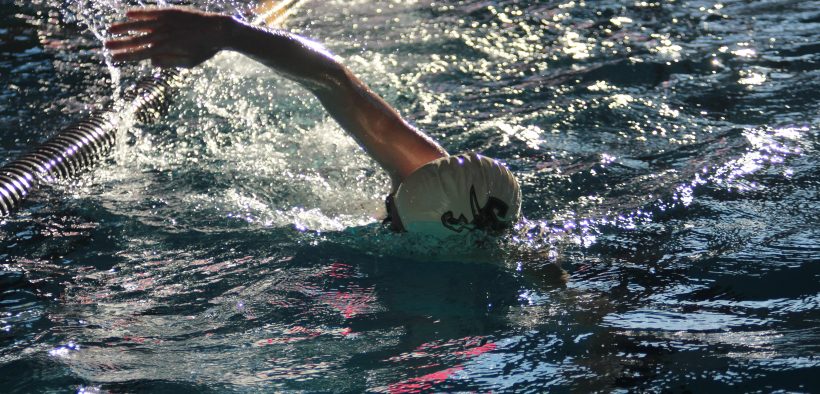 By: Andrew Kevin Pratt
The Southwestern University Pirates Swim Teams made a splash this past weekend at the SCAC Championships held in Lewisville, Texas.
The meet was held over four days, beginning on Wednesday, February 10 and ending on Saturday, February 13.
The Men finished second overall with 871 points. The Women finished third overall with 623 points. Winning the Championship, in both the Men's and Women's division, was Trinity University.
Leading the way for the Pirates was sophomore Mickey Scharbrough. The sophomore posted an NCAA "B" Cut time in the 200-meter breast stroke. His time not only made him eligible for the NCAA Championship, but it set a new school record for the event.
Another school record was set by the Men's 400-meter freestyle team. Comprised of Juniors Simmon Belaineh and Matt Sluss, and Sophomores Michael Glovers and Nathan Townsend, the foursome posted a time of 3:06:07. Unfortunately, the time was only good enough for silver in the event.
Sluss would make another splash for the Pirates, taking the gold in the Men's 200 Fly. Teammates Shelby Hall and Evan Jones would round out the top three. Both Sluss and Hall would also post NCAA "B" Cuts in this event.
After the meet, Coach Jon Duncan and his staff received the SCAC Men's Staff of the Year honors.
On the women's side, Junior Kenly Gaynor swam her way onto the podium in the 200 Butterfly, where she took silver, and part of the third place 400-meter medley relay team. She was part of the foursome of Freshmen Cara Chin, Erika Dubros, and Sophomore Natalie Lesnick.
Junior Alexandra Morris and Sarah Hachar took third and fourth, respectively, in the 1650 Freestyle. Morris and Dubros both took fourth place in other events, as well. Morris did so in the 400-meter Individual Medley. Dubros took fourth in the 100-meter breast stroke.
None of the women made any of the qualifying cuts for the NCAA Championship.
The NCAA National Championships will take place in March in Greensboro, NC. Beginning on Wednesday the 16, the competition will be held until Saturday the 19.