Sculpt Your Body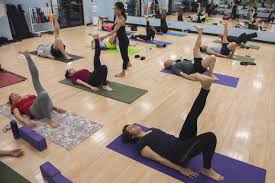 By: Zeynep Guven
Cardio Sculpt is a class that the Southwestern Intramural and Recreational Activities (SIRA) provides to the Southwestern populace, along with Yoga and Zumba. The class can be taken once or twice a week, depending on the person's preference.
On the second floor of the Robertson Center, next to the weight room, there is a room with a variety of equipment, including yoga balls, weights varying from 3 to 25 pounds, bands, body bars and mats. To the right of the door, there is a sheet that informs participants of what equipment they will be using that day.
Every week the activities change, so different equipment is used each week. Although the class rarely runs, there is always some sort of cardio work out involved along with muscle training. Through a variety of different exercises, the heart beat is kept up and physical strength improved.
Cara Cunningham, the instructor for the class, who has a master's degree in exercise Science and Health promotion. She is a certified personal trainer who creates a fun yet challenging atmosphere. Upbeat music is always playing, as she instructs her students to do crunches, sit ups, high-knees, jogging in place and other exercises. The cardio is incorporated into the strength training by continuously rotating through the exercises. For example, we do 15 pushups, then lifting weights for a minute to work the biceps, then crunches for a minute, then jogging in place, and repeat these steps for an hour.
The class allows for those of varying experience, from little to highly experienced. Participants go at their own pace, working as hard as they are able to, lifting weights and using equipment they feel comfortable with. It is encouraged to challenge yourself, but you are allowed to proceed at your own pace. With students, faculty, and residents of Georgetown, the class is a fun, fast-paced, and effective way to get healthy.
For any more information about the class, feel free to go to the SIRA Offices in the Robertson Center or contact Derek Timourian.