Go, Greek! Greek Philanthropy at Southwestern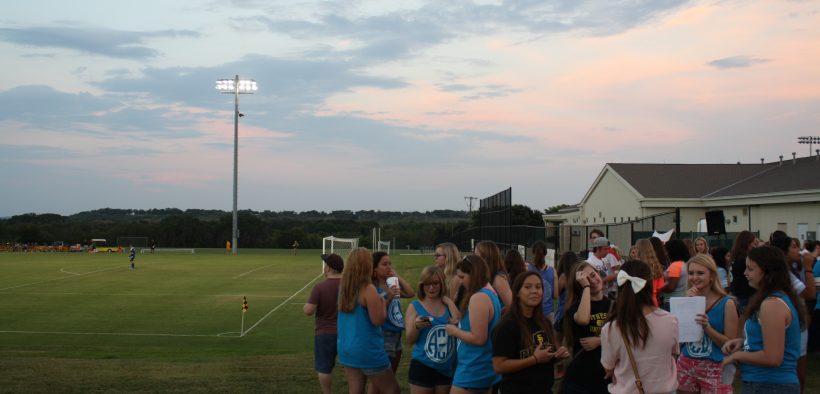 Photo by: Michelle Hershberger
By: Julie Swets
Greek life has been an important part of the Southwestern community since 1883 with the founding of the Xi Chapter of Kappa Alpha Order. With the addition of three other nationally chartered fraternities and four sororities, the influence of Greek life has only grown, around the Southwestern campus, across Georgetown and throughout the U.S, largely due to the members' commitment to service and charity.
Each chapter at Southwestern sponsors its own philanthropy in line with the philanthropy of the national fraternity or sorority and each year, each organization hosts multiple events to raise money and awareness for its cause.
Hayden Deborah, the Community Service Chair for the Texas Gamma Chapter of Phi Delta Theta, records the members' required service hours and organizes the chapter's service opportunities.
"This April, Phi Delta Theta plans to start an annual ALS Walk to support their main philanthropy, the ALS Association, which leads the fight to treat and cure Lou Gehrig's disease." Deborah said.
But that's not all: Southwestern's Phi Delta Theta also partners with the Special Olympics organization in the Georgetown and Round Rock areas, volunteering at various events and practices throughout the year. Because of these partnerships, this chapter has logged over 800 community service hours.
Tri Delta is another Greek organization on campus deeply devoted to community service. Theta Epsilon Chapter's Philanthropy Chair, Christina Rosendahl, remains proud of her sisters' commitment to their national philanthropy, St. Jude Children's Research Hospital, for which the Theta Epsilon Chapter raised over $10,000 last year alone. Fundraising events that helped Tri Delta raise this impressive amount include a profit-share with Raising Cane's and Delta Desserts, an event with an unlimited buffet of desserts, homemade by the sisters of Tri Delta.
"Giving back to the community has always been an important part of Tri Delta, which was built on the foundation of truth, friendship, and self-sacrifice," Rosendahl said. "I believe that our chapter's commitment to these three core values, coupled with our diversity in personality, knowledge, and understanding of the world, is part of what helps us to collaborate successfully to make these kinds of achievements."
So, why is involvement in philanthropy so important to the members of Greek life?
"Our founder's philosophy was, 'To do what ought to be done, but would not have been done unless I did it, I thought to be my duty.' We take this philosophy seriously at Phi Delta Theta," Deborah said. "We take it upon ourselves to do what we can to better the community because we feel it is our duty to give back and assist in any way possible."
This spring, look forward to Phi Delta Theta's ALS Walk, Tri Delta's Delta Desserts, and the many other fun opportunities to join in with Southwestern's Greek community to promote the values of innovative community development, social responsibility, and generosity around and beyond Southwestern.