Black History Month: SU Celebrations Underway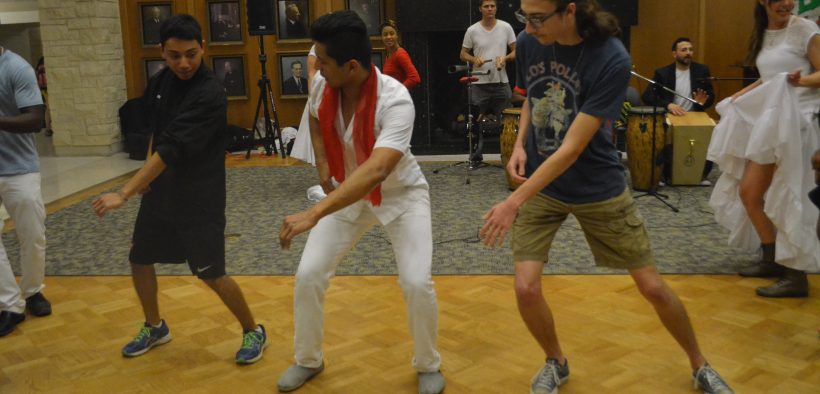 Photo by: Erica Cheng
By: Esteban Woo Kee
Black History Month celebrations are underway on campus this February. Encouraging Blacks and Others to Never Yield (E.B.O.N.Y.) has organized several events for the Southwestern community to learn about and celebrate Black History as well as current issues affecting African Americans nationwide.  E.B.O.N.Y. is a student organization under the Coalition for Diversity and Social Justice which attempts to "improve race relations and to develop an understanding of and foster education black culture campus wide.  In addition to helping new students adjust to all aspects of campus and university life. E.B.O.N.Y. also serves as a vehicle through which underrepresented students support one another."  Southwestern's first black student organization was founded in 1974 under the acronym B.O.S.S. (Blacks Organizing for Social Survival), in 1985 it was renamed E.B.O.N.Y.
Associate Professor of Sociology, Reginald Byron, and SU senior and Poltical Science major, Anne Means, presented this month's first event, Silencing Dissent: The Neoliberal Rhetoric of Black Activism, was held on February 11th. They discussed problems facing the black community especially in the realm of criminal justice, as well as strategies used by activists who are trying to improve race relations in the U.S.  Byron distributed summaries of his research about colorblindness and how it contributes to American perceptions about police brutality.  His research suggests that in 2015, black people were over-represented in the percentage of people shot or stunned to death by U.S. police and that the over-representation between blacks and other racial categories is greatest when looking at cases where people were unarmed when shot by police.
Latinos Unidos will co-sponsor the second event, Afro-Latino Groove, scheduled for February 18th from 6:00-7:30pm in the Bishop's Lounge.  There will be live music and catered cuban cuisine.   
"It is meant to "celebrate, educate, and acknowledge how people of similar racial profiles, have distinct cultures and experiences" Senior Biology Major and President of E.B.O.N.Y. said.  
E.B.O.N.Y. has planned a Film Week for the last week of Black History month events.  They will show two documentaries, Chisholm '72: Unbought & Unbossed (2004), on Tuesday February 23rd.  It documents the story of Shirley Chisholm the first African American Congresswoman who ran for President in 1972.  The second film, Slavery by Another Name (2012), examines the realities of forced labor in the post-Emancipation Proclamation South and will be shown on Thursday February 25th.  There will be Chipotle for the audience on the first night and soul food catered for the second film.
E.B.O.N.Y. will be tabling during the month of February to collect monetary donations as well as water bottles and filters for the victims of the Flint, Michigan water crisis.  Additionally, they will be accepting donations for this cause at all of the events this month.  The Southwestern community will surely benefit from taking advantage of the educational and cultural opportunities offered by E.B.O.N.Y.'s Black History Month events which seek to address a diverse range of historical and contemporary issues.