Snovely, Men's Tennis Aims for Success in 2016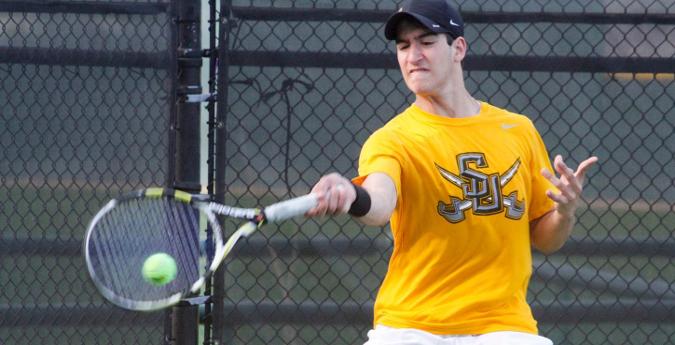 Photo Courtesy of SU Athletics.
By: Julie Swets
The Southwestern Men's Tennis Team is back in action and ready for revenge. Since a tough loss to Trinity in the conference championship match last Spring, the Pirates have been awaiting this season with extreme focus and determination to reach even more success.
"One of the team goals for this upcoming season is to create an even bigger gap between us and the schools we beat last year, while narrowing the one between us and Trinity," the men's team captain, junior Nickoloz Snovely, said. "The last thing we can do is be satisfied by last season's results."
Two components are key to the team's success this season: the new first-years and the team's improved, goal-oriented mindset. Approaching his third team season here at Southwestern, Snovely recognizes how these factors will interact.
"Our three first-years are very motivated to contribute and compete for the team," Snovely said. "I've definitely noticed an improvement in our overall work ethic, which the first-years have definitely contributed to."
First-year Alonso Fernandez is also confident that he and the other two first-years, Haluki Nakayama and Tyler Wilkie, are already capable of building on the team's past successes. Fernandez mentioned that in order to reach their goals, the team trained over the summer for a fitness test, diligently attended practice and conditioning sessions in the Fall individual season, and spent many hours on the courts even through the offseason. "We've been working extremely hard to achieve these goals," Fernandez said. "I also want to do everything I can to reach my full potential as a tennis player through dedication and hard work."
Very soon, Snovely, Fernandez, and the rest of the Pirate Men's Tennis Team will hopefully start to see the results of their hard work and resolve as they kickoff their season with a home match vs. St. Edward's University of Austin, Texas, on February 6 at 4:00 P.M., and their first conference match vs. Austin College in Sherman, Texas, on February 13.
Snovely knows his team is ready to play and aiming to win. "I hope to see us continue to push ourselves in the right direction with everything we have in hopes of stringing together another memorable season."