Review: Ms. Lauryn Hill Reaches Transcendence at Fun Fun Fun Fest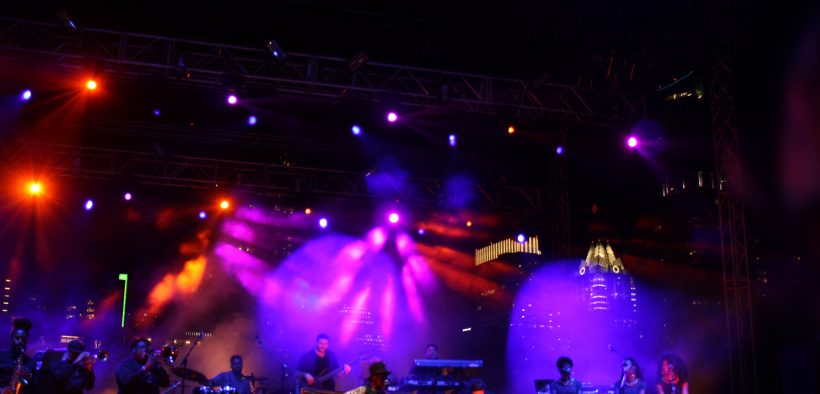 By Michelle Hershberger
The Miseducation of Lauryn Hill not only made Ms. Lauryn Hill a legend, her spiritual, political, and deeply personal masterpiece defined an era of hip hop where artists wrote and sang about the struggles and experiences they were going through.
The neo soul album was released in 1998 and won five Grammy Awards, including Album of the Year and Best New Artist. It remains Hill's only solo studio album though she did release a live album in 2001, MTV Unplugged No. 2.0.
The year 1998 was a long time ago but the presence of Hill, who commands so much respect she is referred to by her band as Ms. Hill, brought the audience to a transcendent state by the end of her hour and a half long set at this year's Fun Fun Fun Fest.
The excitement began to build long before Hill took the stage with a buzzing large crowd. Fifteen minutes before she was scheduled to go on, a loveseat and table of lit candles were set up. Not even one candle was extinguished by a gust of wind during the show, implying Hill had the respect of Austin weather as well.
Hill's band of 12 members came out in waves and by the time three female backup singers took the stage, the audience began to beg for Hill to come out.
When she did, she took position on the loveseat and began with a new song "Conformed To Love." Hill then followed with a few songs from 2.0, including "Mystery Of Iniquity."
The table and loveseat were removed from the stage and Hill performed several numbers from Miseducation, including "Ex-Factor," "Final Hour," and "Lost Ones," which is when the show took off.
Next, Hill sang "Fu-Gee-La" and "Ready or Not" from her time with the Fugees, another career high point for her, which kept the show going. She performed her famous rendition of "Killing Me Softly" which was a particularly strong moment for her and a crowd pleaser.
When the lights on stage turned red, yellow, and green, it was time for her Bob Marley medley, including "Jammin," "Is this Love" and "Could you be Loved," during which she danced around the stage, keeping it fun.
She hit her stride with her last three songs where the Hill the world fell in love with was on full display. Her strong streak began with Nina Simone's "Feeling Good," which highlighted her vocal and spiritual depth as she brought the audience to the transcendent state she defined for her fans 17 years ago with Miseducation.
She concluded with "Everything is Everything" and "Doo-Wop (That Thing)" her massive hits. Hill herself and the audience had their eyes closed during parts of these two numbers, taking in the music and the legend.
Pinning down the quality which makes Hill a revolutionary and extraordinary musician is difficult. Perhaps it is her perfection as a singer, rapper, and lyricist. Perhaps it is the way she combines elements of social consciousness, African power and her testimonial as a black woman with styles of soul, hip hop, reggae, R&B and doo-wop. Or, it could be Miseducation offers the first remarkable union of old and new hip hop. Whatever reason Hill's Miseducation connected with the audience the way it did, the masses of people with their eyes closed, taking it all in, is proof she still has it.