Review: Chvrches Charms at Fun Fun Fun Fest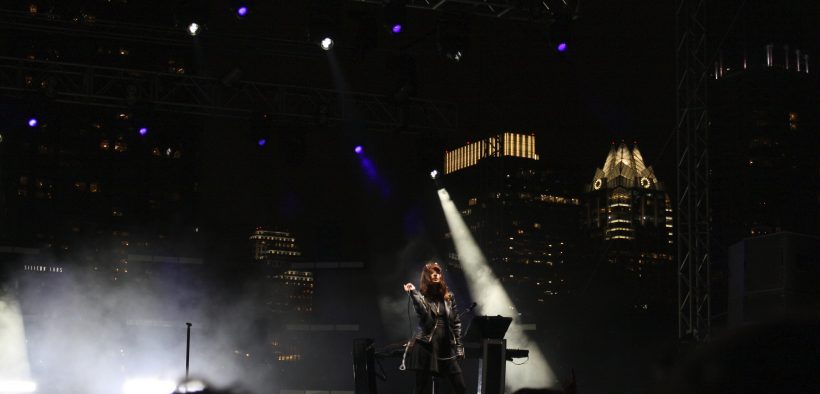 By Michelle Hershberger
On the last night of their US tour, Chvrches proved themselves to be synthpop with emotional depth and intelligence at Fun Fun Fun Festival.
A relatively new band, their debut studio album The Bones of What You Believe was released in 2013 and their sophomore album Every Open Eye was released earlier this year. Their set was a balanced representation of both albums, which was brilliant and dance inducing almost the whole way through.
Though Chvrches is noted for their clean sound, they also bring a character and personality to pop music which sets them apart and makes for a great show. Their lyrics are their strong suit, covering themes of loss, shame, desire, innocence and joy, all within a single set.
They started with the ethereal "Never Ending Circles" then hit another high point with their hit "Make Them Gold." Right after, they played "Tether" which slowed the show down in a moment of much needed calm. The crowd had been bouncing for a long time by that point. "Gun" followed with a powerful stick and "Bury It" finished off a particularly strong streak in the performance.
Above all else, the performance was fun and positive. The overwhelmingly charming lead vocalist Lauren Mayberry's commentary between songs added to the good vibe surrounding the band.
"I have to go see what Bananarchy is because I love puns and bananas in puddings which I assume is what that is," said Mayberry.
Her feminist understanding of the James Bond movies and Daniel Craig also came up in her commentary, eliciting a huge response of approval from the audience.
Also central to the performance was the group's appreciation for Austin.
"I don't like to get emotional but this is a special city for us," said keyboard player and vocalist Martin Doherty. "In 2014 we played at SXSW Festival… It will always mean something to us."
The group won the 2014 Inaugural Grulke Prize for a non-US band at SXSW and expressed nostalgic gratitude for Austin as the place where several milestones have occurred.
"Last time we were here we played ACL so thank you guys for having us back. It was hotter than the sun so this is a lot better," said Mayberry. "I'm wearing a jacket and I'm not sweating so I feel pretty good about it."