MULLY Documentary Wins Hiscox Audience Award at Austin Film Festival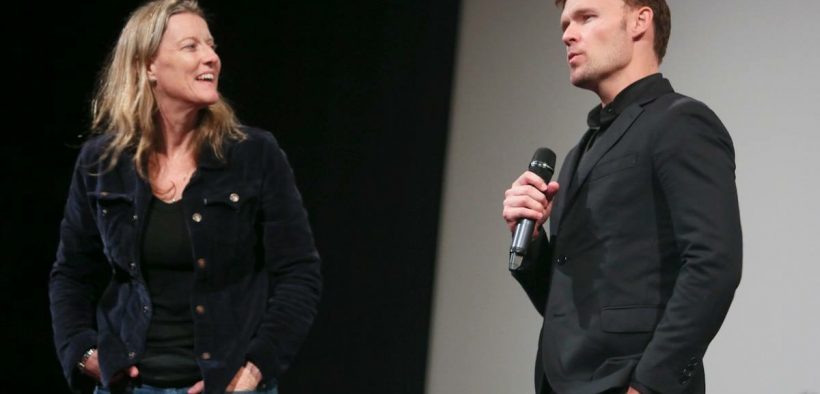 Director Scott Haze answers questions asked by Barbara Morgan, the Executive Director of the Austin Film Festival, at the Q & A session that followed the premiere of his new documentary, MULLY. Photo courtesy of MULLY  Productions. 
By: Jayden Beatty
As a drone flew, filming, over the heads of a children's choir in an African chapel, Director Scott Haze stands on stage hyping up the crowd. He manages to turn that small chapel into a fun, bona fide rock concert. While this moment didn't make the final cut, Haze says it was a highlight of filming his newest documentary, MULLY.
MULLY premiered this month at the Austin Film Festival where it won the Hiscox Audience Award for Documentary Feature. The award is sponsored by Hiscox Entertainment Insurance and is determined based on the votes that audience members submitted after the festival film screenings.
Haze along with his producers Lukas Behnken, Elissa Shay and Academy Award Winning Executive Producer James Moll created the film, based on the life of Charles Mully, over a period of two years.
"The mission was to make a movie for the world to see and to hopefully feel inspired to show among their friends," Haze said. "It's not made to be any sort of propaganda or with any agenda. It was literally made to look at this guy's life."
Haze was introduced to the project by one of the Executive Producers of the film, John Bardis, who emailed him about Charles' story. When describing his first encounter with Charles, Haze said that it was an amazing experience.
"We sat down and just talked to him," Haze said. "It was a really good time because he was willing to open his stories to us. He wanted to make sure that our intentions were good and that we would honor the story. John [Bardis] and Wayne Clark had developed some trust with him so we had a nice set up. With them behind the movie he really thought this film could be a reality."
Charles' story is depicted in his book titled, Father to the Fatherless: The Charles Mulli Story. Mully's Children Family (MCF) was founded in 1989. According to the website it is a Christian rehabilitation organization for street children, orphaned, abandoned, abused, desperate and neglected children regardless of their religion, sex, color or tribe, who have nowhere to call home and no one to care for them.
The film chronologically follows the creation of the family and highlights the challenges that Charles wife and biological children faced throughout the process. To tell the story Haze used selections from about 400 hours of home footage provided by the Mully family in addition to reenactments, interviews with the family and interviews with a few rescued children.
Two of the featured interviews with rescued children highlight the sexual violence that many young women face in Africa. The interviews with the young women are filled with raw emotion as the women speak of the abuse they have survived. The women were recommended for the project by Charles who Shay said felt that they were part of a group of rescued children who had healed enough from their past to speak their truth. Great care was taken during the interviews that at times lasted about four hours long.
"They [the girls] were key to the story line because they get to be the voice of the street children," Haze said. "My strategy [for the interviews] was to be very kind and to make it to where they were just talking to a friend so I could get a very honest feeling. I didn't want to just be some white man from America, I really got to know them and they knew that I was there to treat the story with the care and consideration that it needed."
The film reveals internal tension within the Mully family who each faced different struggles with accepting their father's mission to commit his life to saving street children. After seeing an unfinished version of the movie Behnken said he was told that Charles was very moved.
"This was the first time they saw each other talk about the hardships of their youth. They sat down and talked a couple of hours about what had happened and they apologized for some of the things that had happened. They forgave each other so a lot of family healing occurred." Behnken said.
The actors for the reenactments in the film were chosen based on how physically similar they were to Charles and on how they were able to take direction. They were chosen from the rescued children and went through a process similar to that of a regular acting audition.
"We set up a meeting in one of the chapels and they brought in 40 or 60 people who were possibilities," Behnken said. "They [the locals] can very much differentiate themselves tribally based on the nose or forehead so we wanted to find someone the same features as Charles so that when the local people saw it they would believe it."
A young boy who was recently rescued named Lucky Hassan played six-year-old Charles. An older boy named Clinton Odour, who was rescued at the age of 15, played Charles as a young man. Haze said that Clinton was chosen because of his smile.
"One of Charles' things is that he has one of the warmest smiles you'll ever see that just warms your heart up," Haze said. "This kid had just come out of a very rough environment but I knew he was the right guy to play the role. When you made this young man smile, he had a very warm smile. He has that in him because he just wants to be loved like anyone else."
Charles' story is a religious one as he speaks of the moment he decided to sell his businesses to start helping children as a call from God.
"I wanted to make a movie that was for everybody," Haze said. "I didn't want to categorize it. The God elements are there but they're there in the same way Al Pacino was in an army outfit the first time you meet his character, Michael Corleone in the Godfather. He was in the army at that time so he had the outfit on, simple as that. Charles prays because that is what that character does. Michael Corleone wore an army outfit the same way Charles has God in his life."
Behnken said that a highlight of filming for him was getting to work with Charles everyday who he says is incredibly humble and has a great sense of humor.
"What's amazing is that there is this man with so much need in front of his face who doesn't ask for or solicit donations," Haze said. "If you say, 'Can I help you?'  he will say yes but he really just relies on his faith. That's the amount of humility and faith that this man has."
Haze said that what he finds the most interesting about this story is what people can learn from what Charles has done.
"He has created a sustainable system for the actual rescue and rehabilitation of the human life," Haze said. "You can give someone money to help but money in my life has never helped me. It's the people who come up to me and show love or be kind that have helped. He's doing it to where they not only get food, rehabilitation, and healthcare but also education where people speak to these kids about their futures. People there don't really speak in the future tense. Charles is integrating future tense into their language because he is telling them what they can be. There are examples now of rescued children who have gone on to universities, and who have become doctors and lawyers. If that's not the most miraculous thing you can do to impact a life in a sustainable way then what else is there to do? It doesn't get any better than that."
The crew is currently taking meetings to discuss international distribution.  Haze said that this is a global story so they are looking for someone who really believes in the film and their goal is to take the movie to every country in the world.
"What is truly amazing about this movie and what it all boils down to is that love conquers all," Shay said. "It's the idea that family, love, and values are the cure."
Lukas Behnken, producer of the Scott Haze documentary titled MULLY, answers questions at the film premiere. Photo courtesy of MULLY Productions.
James Franco attended the premiere of MULLY in support of his friend, Director Scott Haze. Photo courtesy of MULLY Productions.
The production team for MULLY is currently taking meetings in search of international distribution deals for the film.