The Coach's Corner: Linda Hamilton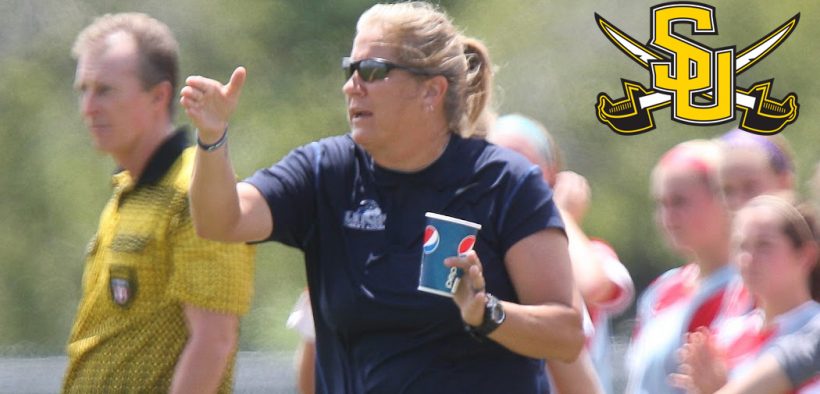 By Floraine Omont
SU welcomes Linda Hamilton as the new Women's Soccer Coach this year. 
A New Orleans native, Hamilton grew up in a family of tennis players. She became interested in soccer when her older brother began to play.
"I played on a boy's team first for five or six years as a youth player and managed to make my way to the US National Teams Program," Hamilton said. "I was a member of the US National Team in the 1991 World Cup. I got to be a member of the team that got the first star anyway and played in the second World Cup as well, where we got the bronze."
Hamilton began to look into coaching opportunities in college at North Carolina State University and the University of North Carolina, when her college soccer coach encouraged she do so.
"I started to realize, I could make a living and do this," Hamilton said. "It sort of fell into play that way and I've enjoyed it."
Hamilton has worked for various divisions and schools. Most recently she coached the Illinois College women's soccer team in Jacksonville, Illinois.
She also coached for a division one team in Jacksonville, Florida at the University of North Florida for approximately eight years.
In describing her transition between divisions, Hamilton explained that there was a uniqueness to choosing to be a division three athlete.
"I really made the leap to division three," Hamilton said. "I really enjoyed the fact that kids were here to get a college degree and they are getting paid to be students, and choosing to be athletes. I really have enjoyed the work rate and dedication they have presented when not motivated by athletic scholarship," Hamilton said. "It's been fun to coach kids that are really out there for the sake of getting better and wanting to compete."
Hamilton had wonderful reviews of each player on her team. 
"I have been really impressed with the team's desire to win, their work rate, their dedication," Hamilton said. "They have steadily improved from people that have watched us play to the kids themselves feel like they are a much better team now than they have been in the past. My favorite quality is this team doesn't give up. They really hustle and they work hard and they don't give up. I think with that quality, they pay attention a little bit and work hard and practice, I think they can have some positive results this year."
That drive and hustle has shown in an improvement in play. The Pirates have had a rocky start to the season but have started to come together as a team.
"The captains are really great leaders and play vital role force," Hamilton said. "Kristen "Dirt" Mazur helps keeps things organized in the backs. We have a lot of good experience from Audrey Silver and Megan McGrath."
Hamilton said that the way she looks at the current non-conference games as more of a tune-up for the major conference games coming down the stretch.
"We look at the non-conference games as an opportunity to experiment a little bit and get a firm grip on the our line up," Hamilton said.
The team to beat this year in Coach's eyes is Trinity.
"They are sort of the standard right now and our goal is going to be to compete against them," Coach Hamilton said. "We will see what we can do and how far we still need to go.The thing I like about this team is that they don't give up. They really hustle and work hard."
Hamilton encourages the Southwestern community to support the Women's Soccer team on the field.
"It's a lot of fun," she said. "The students will see a competitive team. And they will support their university team."