Leading the Pack: Brianna Timourian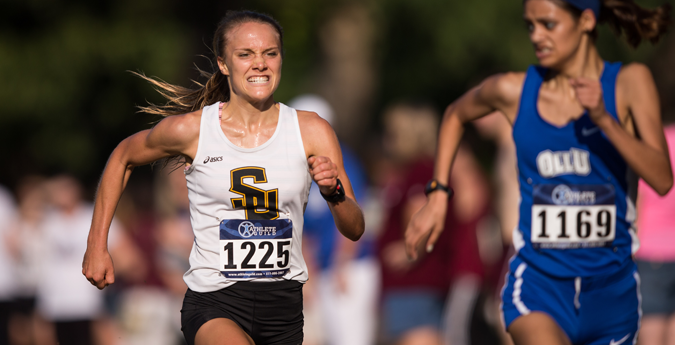 by Emily Boujemaa
At 6am, most pirates are fast asleep. But not Brianna Timourian. She's lacing up her running shoes and racing out the door for another 7 mile day at cross country practice.
Timourian, a junior Kinesiology major and Female Captain of the Month, is kicking off the new cross country season at full speed, winning the Southwestern University Opener by over a minute. She then followed up that performance by taking fourth place at the Our Lady of the Lake Invitational this past weekend.
Timourian returns to help lead the Pirates this season after a good first season. Originally a runner for Trinity University, she transferred to help Pirates reach sixth place in conference. Being one of the few returners from last year, she is leading the way for a more successful season.
Her personal best time for a 5K race has been a 19 minutes and 2 seconds. That is equivalent of running a 6-minute mile for over three miles.
Yet while all of this early success is precedential, Timourian has her eyes on the real prize: a top ten individual finish at the conference meet and a top four team score to advance to the regional meet.
How does she plan to achieve these goals? Timourian has taken her training to the next level by training with Southwestern's Men's cross country team.
Rotating between interval workouts, hill repeats, tempo and hard runs, and eleven mile long runs, she is not only pushing herself, but has become a serious competitor for the men as well.
She has quickly risen as a leader and role model for both teams, filled with younger underclassmen potential. "My favorite thing about cross country is the people," Timourian said. "My team and my competitors are always very supportive of one another. It is not uncommon to be congratulated by your competitors after a race and be genuinely happy for one another after reaching a new personal record."
Comparatively, Brianna thinks that the sport of cross country just has a special feel to it.  "Growing up, I played a variety of sports, and I find cross country to have the most supportive team and competition atmosphere," Timourian said.
Nonetheless, Timourian and the Pirates still have some work to do. The women's team is hoping to edge out Austin College and Schreiner University at Conference to earn a top four finish and qualify for regionals.
Timourian is personally aiming to challenge Trinity's and Colorado College's runners for a top ten individual spot, which would be automatic qualification to the regional meet. "It is a real challenge to take that number one overall spot," Timourian said. "There is a lot of quality runners out there."
Brianna believes that all it will take is to keep a calm composure when it comes time to put herself to the test.
Before all of her races, she focuses on her love and appreciation of running and staying relaxed. "The gratitude I have for running keeps me calm before the races," Timourian said.
Timourian and the Pirates will be back on the course at the University of the Incarnate Word Invitational on October 10th in Live Oak, Texas. An opportunity to see the Pirates in action live will be here a week later, as Southwestern hosts an invitational meet at the Berry Springs Park here in Georgetown.
Again, congratulations to our Female Captain of the Month. Keep on running.