Response to Rape Culture: The Hunting Ground Screening and Teach-in Occurring this Wednesday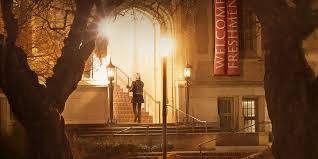 Photo courtesy of the Huffington Post
By Amy Gu
To continue recent discussions about sexual assault, a team of faculty, staff and students are planning a screening and teach-in of the documentary, The Hunting Ground. The screening will occur this Wednesday, April 15, from 4:30 to 7 p.m. in Olin 105 and Olin 110.
Twenty-four students, staff and faculty will help facilitate small group discussions following the film screening. To provide support during the event, several counseling staff members will be present at the event. The event-planning group welcomes all of the Southwestern community, including current students, faculty, staff, administration, and university trustees to attend.
Interest in screening The Hunting Ground increased after recent protests regarding sexual misconduct on campus. Created by Academy Award-nominated filmmakers Kirby Dick and Amy Ziering, The Hunting Ground presents national statistics on campus sexual assaults and testimonies from survivors. The film also follows Title IX activists who are working to address the issues of campus sexual assaults.
"After the campus forum [on February 27], it was clear that we as a community have more work to do in terms of understanding the issue of sexual violence, supporting survivors and promoting social change in response to what is widely recognized as a national epidemic of sexual assault," said Molly Jensen, Assistant Professor of Religion.
According to senior Charlotte Dennis, The Hunting Ground exposes the pervasion of rape culture on college campuses, but does not discuss rape culture from an intersectional viewpoint.
"Unfortunately, the film doesn't do much in terms of intersectionality – marginalization based on race/ethnicity, sexuality, and non-binary gender identity, and how these and other dynamics might interweave with people's experiences of rape culture, aren't explored; I hope that's something we can address in our discussions after the film," Dennis said. "I think these conversations can be a step in the process of making Southwestern a place where sexual assault is finally regarded in practice as the deeply harmful and totally unacceptable act that it is, and where survivors are trusted and supported."
The screening and discussion event is a collaborative community effort sponsored by six Paideia clusters (Americas, Global Health, Investigating Identity, Representing Gender, Situating Place, The Anthropocene), the Office of Diversity Education (ODE), and the Coalition for Diversity and Social Justice (CDSJ).
Over the last month, Jensen worked with a group of students, staff, and faculty to secure screening rights and develop a model for collaborative and inclusive discussions. Given the sensitive nature of the topic of sexual assault, the planning team arranged for the presence of several counselors. The film contains scenes and information that may trigger intense emotional responses. During the discussion portion of the event, designated faculty, staff and students will serve as discussion assistants. Discussion assistants will help to promote a collaborative conversation in which participates feel free to offer responses, questions, concerns and ideas related to the film and the issue of sexual assault. These assistants have a list of discussion guidelines and a set of potential discussion questions to which the group can respond if they choose.
"[I am disturbed by the thought that] even in a close-knit campus community like ours, predators might assume that we aren't looking out for one another and may feel free to target and violate others," Jensen said.
Jensen describes the event as a step toward promoting a culture of respect and care in which campus members recognize and "look out" for one another.
"A culture of respect and care is only possible through ongoing dialogue and collaboration," Jensen said. "The screening and discussion sessions are efforts at keeping the conversation going, bringing more and more folks to the table, and nurturing a caring community."
The Hunting Ground event connects recent Southwestern conversations about sexual assaults to a national dialogue on this issue, suggesting that campuses large and small are confronting similar challenges to ensuring the student safety. An opportunity that Jensen, other event organizers and sponsors recognize is the size of Southwestern.
"Fortunately our size makes it possible to hold collaborative community discussions and to work together in addressing campus sexual assaults…Our size gives us an opportunity for leadership on this national issue," Jensen said.