One Big Day, One Big Thanks, One BIG Event: Sustain member reflects on 2015 success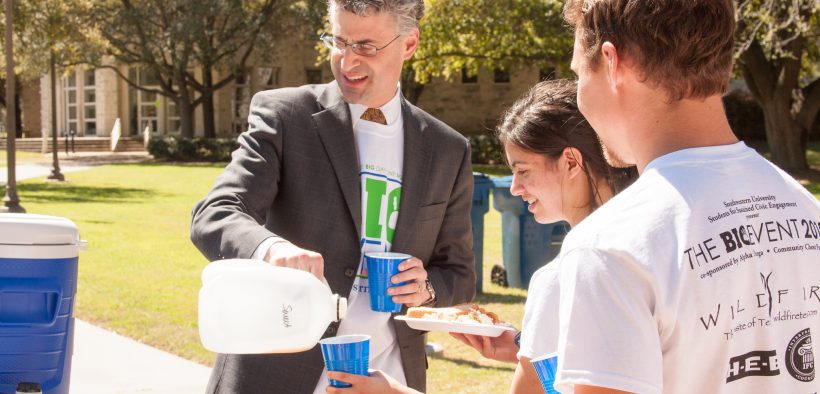 By Javi Fuentes
6:15AM. My alarm duly goes off and I try to stumble out of bed without waking up my roommate. It is March 28, the day a team of others and myself have been working towards for several months in preparation for The BIG Event (TBE). 6:45 AM eventually rolls around and I make my way to the McCombs flagpole to meet the other, tired but excited individuals who are ready for the day ahead. Kathryn Reagan, director of The BIG Event, excitedly delegates different tasks to others as we prepare for the growing crowd of volunteers throughout the student body.
Over 400 SU volunteers contributed 1,200 service hours to Georgetown in the span of a single day for The BIG Event 2015. Members of Sustain have been actively coordinating with sponsors and gathering donations from different restaurants and businesses throughout Georgetown for the BIG Event since August.
Other preparations included coordinating with different worksites, preparing lunch for the first three hundred people, and organizing volunteers into groups.
When asked about what her favorite part of The BIG Event was, Kathryn answered, "The lunch hour was my favorite part of TBE this year. Volunteers were coming back from the morning shift, exhausted and fulfilled after morning work, and afternoon volunteers were preparing to head out, excited for what was to come. While we were working to get lunch ready to be served, a few participants jumped in to help without even being asked. Once we got everything under control, I was able to step back, relax, and enjoy watching the participants intersect between shift times, assigned worksites, groups, etc. I thrived off the energy from that hour."
Our biggest obstacle was bringing together different lunch vendors for a large amount of people. Initially, we had some difficulty in getting a consistent response from vendors but as the date came closer and closer, things came together and we were able to make our promise of feeding the first three hundred people who came. Some of the lunch vendors included The Pit, Canes, Hello Sweetie's and McAllister's. Lunch was served beneath the trees by the McCombs building where hungry volunteers sat with each other and enjoyed the weather and music. President Burger came by and helped serve drinks to volunteers. He also was the guest speaker and talked about the importance of student volunteers to the Georgetown community.
In organizing different worksites, we had a variety of choices that volunteers went too. All of the worksites were non-profit and ranged from the Boys and Girls Club, Williamson County Regional Animal Shelter, Getsemani Community Center and The Williamson Museum. In both morning and afternoon shifts, volunteers dispersed and made a huge impact at these different worksites whether it was manual labor, cheering on others, or just picking up trash around town. Some of our biggest worksites included the Special Olympics that were held at Forbes Middle School and our very own Southwestern garden.
"I really enjoyed getting to connect with the greater Georgetown community through an opportunity such as the BIG Event," Sophomore Rebecca Dowlearn said.
The BIG Event committee was thrilled to see students from all walks of life within the campus body come out and serve the community. Campus was alive with students, faculty, alumni, and prospective students who all got to enjoy a little bit of the Southwestern experience. We hope that The BIG Event 2016 will exceed this year with more volunteers going out and serving the community that has served them in various ways throughout their time here at Southwestern.