Adams, Devine Team up to Break Records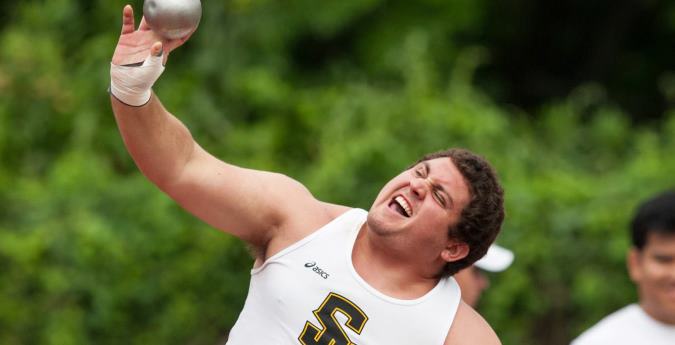 By Jennifer Layer
Breaking records is not something often heard of on Southwestern University's campus. However, last year one record fell, twice. It wasn't a team. It was just one person.
Will Devine, a sophomore, said that he is constantly striving to be the best when it comes to athletics. Devine started off his freshman season on as part of the first Pirate Football team in over 50 years. He was recruited to play offensive line and became one of the key members for the team.
However, success for Devine came off the field and onto the track. Devine was one of two football players to join the Southwestern Track and Field team that season. Within weeks of his first shot put practice, Devine broke the school record. His success in Shot Put was not something he anticipated.
"It was kind of unexpected," Devine said. "I was really excited at first and now I keep resetting myself to make this a continuous goal."
Now into his second season, Devine is hoping to keep reaching that goal and pushing it more and more. In preparing for this goal, Devine has faced some time constraints with football practice and track practice sometimes overlapping. However, he has not let this hurdle slow him down.
"Coach Eboh practices with us every day," Devine said. "when football runs over track, coach will stay late with us to work to compensate for that."
Devine said that he is doing all he can to break his old record.
"I have been changing up my form, even though they are just little changes" Devine said. Although he plans to achieve his goal this season, he does not see that as a stopping point. "I will definitely try to continue to beat my records" Devine said.
Devine accomplished this feat last weekend in San Antonio. Once again, the thrower broke his previous best with a throw of 12.48 meters. The throw was good enough for a top ten finish and a new school record.
Following in Devine's footsteps is a freshman who has a few records of his own. Tyler Adams, a freshman hammer and discus thrower, finished the Tiger Invitational with two personal bests and two school records.
In the discus toss, Adams threw 36.42 meters. In the hammer throw, Adams threw 34.50 meters and finished in the top ten in the event. Both records were set in 2013 by former Southwestern athlete Joseph Quintero.
Adams said that he is inspired by what Devine has done and is motivated by him to keep pushing himself. Devine and Adams compete every day in practice trying to see who can be better.
"Tyler is a good thrower," Devine said. "We like pushing each other. It has become our thing to see who can break their record first. It's fun to have something like that going."
The Track and Field teams continue their schedule throughout the month of April as they inch closer to conference. The season concludes in two weeks in a return trip to San Antonio to the SCAC Conference Championships. The two day meet will be hosted by Trinity University on April 24 and 25.